Church of Saint Mary in the Castle
Discovering the Medieval church of Saint Mary in the Castle in Tarquinia: history, location, opening hours and how to get there.
Not far from the Etruscan Museum of Tarquinia there is the Church of Saint Mary in the Castle, magnificient example of Medieval Romanesque art.
Located outside the city walls, the church can be reached in a few minutes by foot from the city center, going along Via di Porta Castello and passing under the Tower of Matilde di Canossa. Going through these arcades you will feel catapulted 1,000 years back in time!
The atmosphere here is simply magic, specially at night, when the streets are illuminated only by the light of street lamps... an ideal place for a romantic walk through history.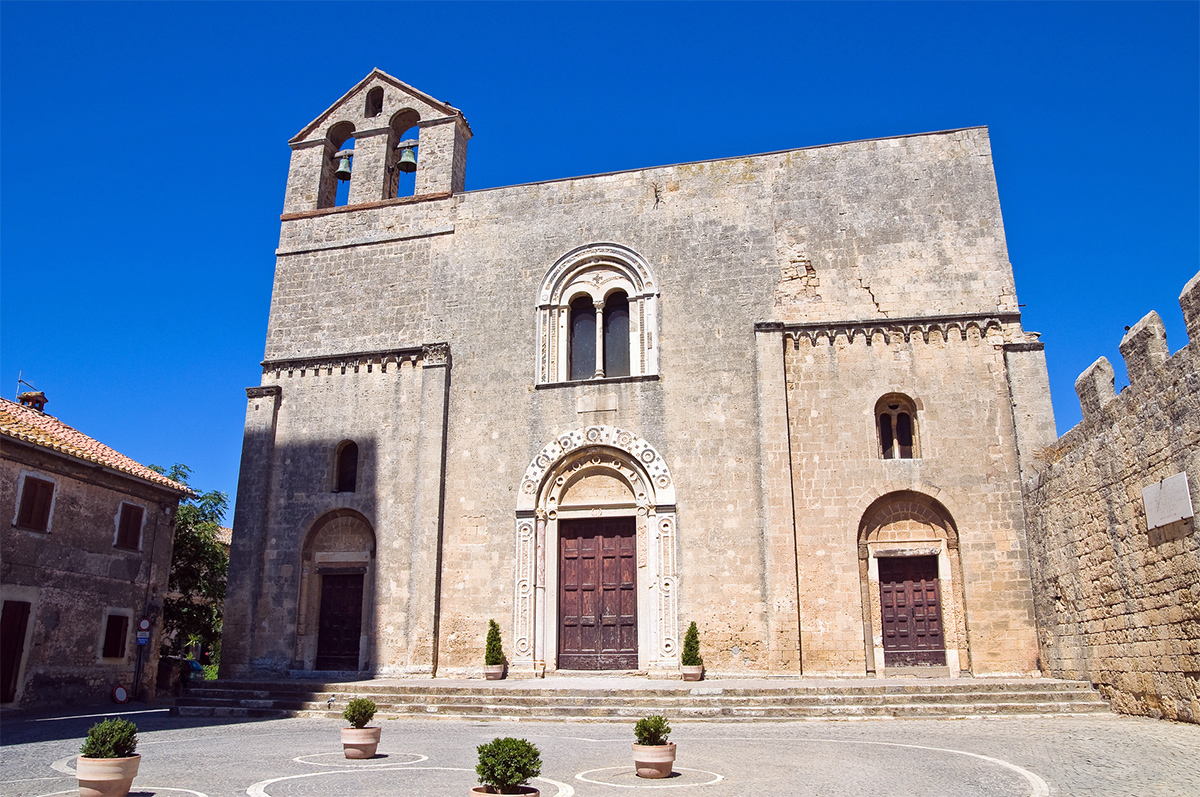 This Romanesque-style church, built between 1121 and 1208, is in the oldest area of Tarquinia, where the Castrum Cargnetum was placed, the original core of ancient Corneto.
The tripartite façade of the church is extremely simple and presents an horizontal crowning element with the central gate characterized by Cosmatesque decorations. As the Latin inscriptions remind us, these were made by Nicola and Pietro di Ranuccio, while the other two smaller gates have elegant Romanesque friezes on top of the windows.
Over the gate there is a mullioned window, and the belfry located on top of the roof of the church was added in the eighteenth century.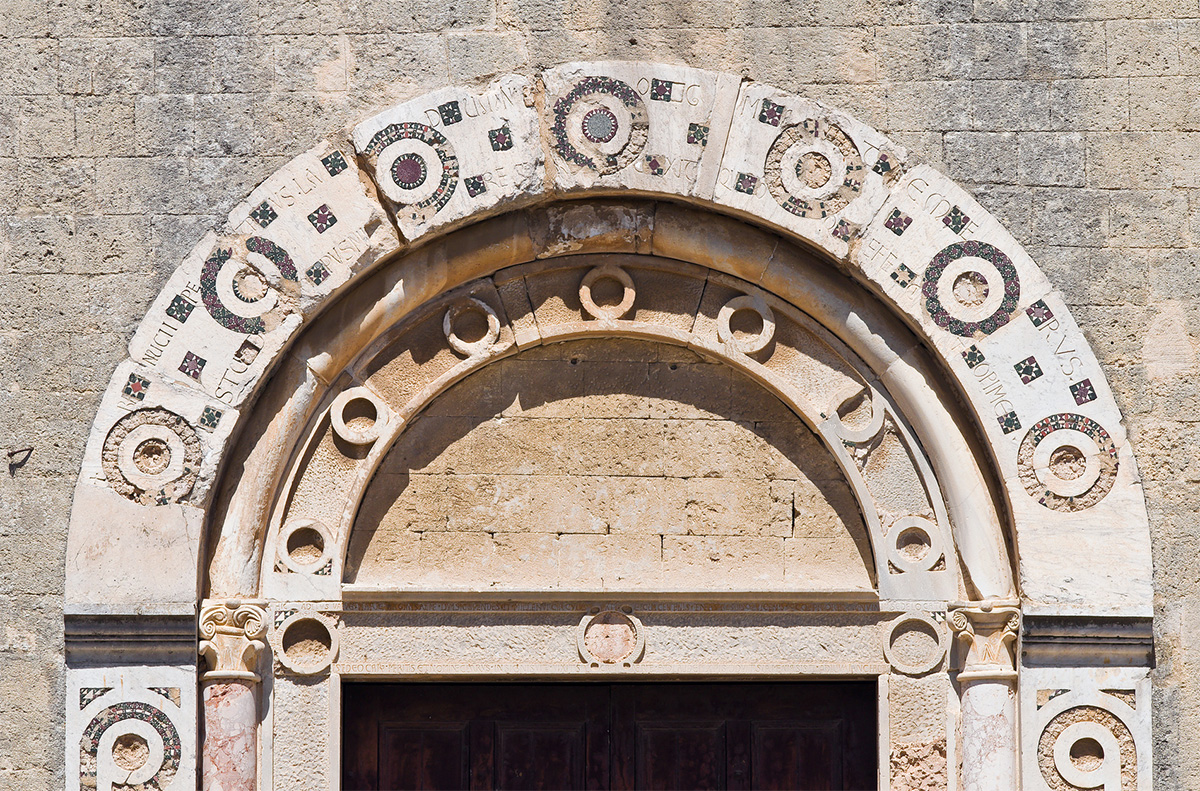 Also the huge interior of the Church of St. Mary in the Castle is built in a Romanesque style. The space is structured in three naves with massive pilars where lay round arches.
On the sides are four big aisles covered with cross-vaulted arches. Above the third aisle used to be a dome, of which unfotunaltely only some fragments have been preserved, after the earthquake of 1819. The incident seriously damaged the mosaic pavement of the aisle. However, the pavement is luckily well-preserved in the left aisle and in the central nave.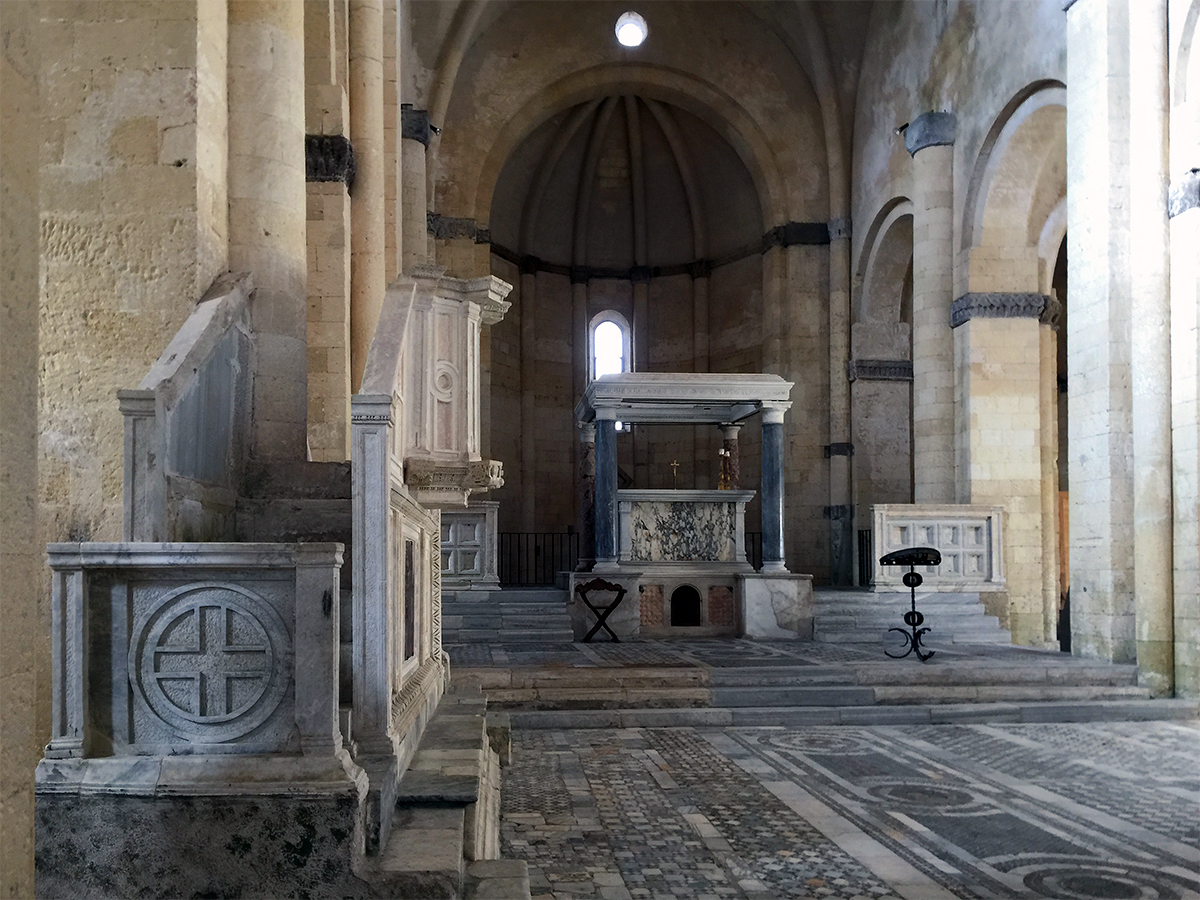 To end with, the church contains a refined thirteenth-century pulpit by Giovanni di Guittone, a ciborium and an octagonal baptismal font made with marble coming from an ancient sepulchre.
At the enf of the nave you can access a terrace from where you can admire nice views over the Valley of the river Marta and the churches of San Salvatore and San Giacomo (Saint James). On the lower side, note the Medieval Fontana Nova (New Fountain).
This church was a cathedral until 1435, but it is now deconsecrated and it is used to house events such as classical music concerts or exhibitions.
The church of Saint Mary in the Castle is the most typical Medieval monument of Tarquinia: unmissable stop for all history lovers and art passionates, as well as suggestive destination for photographers, tourists and, generally speaking, anyone willing to experience an authentic and thrilling jump into the past!
Useful information
Church of Saint Mary in the Castle
HOW TO GET THERE

Public Transports

If you don't want to rent a car, from the

Port of Civitavecchia

you can reach the train station in about 10 minutes by foot. Take the first train (bound for Pisa Centrale/Grosseto - €1,50) and get off in the following stop, in Tarquinia (Museo). For bus timetables you can refer to the

official site

. From there continue 10 minutes further by foot along Via di Porta di Castello and you will get there.

Going back from Tarquinia Station you will only have to get the first train bound for Civitavecchia/Roma Termini. For train timetables refer to the

Trenitalia website.

Alternatively, from Piazza Vittorio Emanuele (Cathedral) you can get a COTRAL bus line bound for Tarquinia (Barriera S.Giusto) that will drop you within walking distance to the Museum.

By car

- From Rome: take the highway until Civitavecchia and then the main road Aurelia (90 km).

- From Grosseto: Main road Aurelia towards south (90 km).

- From Viterbo: via Vetralla - Monte Romano or via Tuscania; in both cases, no more than 45 km.

TIMETABLES

Opening hours: Monday to Sunday from 9.30 to 15.00.

PRICES

Free admission