Getting around Rome
How to get around Rome? Everything you need to know about buses, subways and tram operated by ATAC, the city's public transport. Maps, waiting times, mobile apps.
Getting around Rome using Atac's public transport is easier than you think. Read this short guide carefully and you will find all the information you need to get around easily in the capital of Italy.
If you want to know the prices, schedules, waiting times and the types of tickets that can be purchased, we recommend you to go directly to the "Useful information" section, located at the bottom of this page.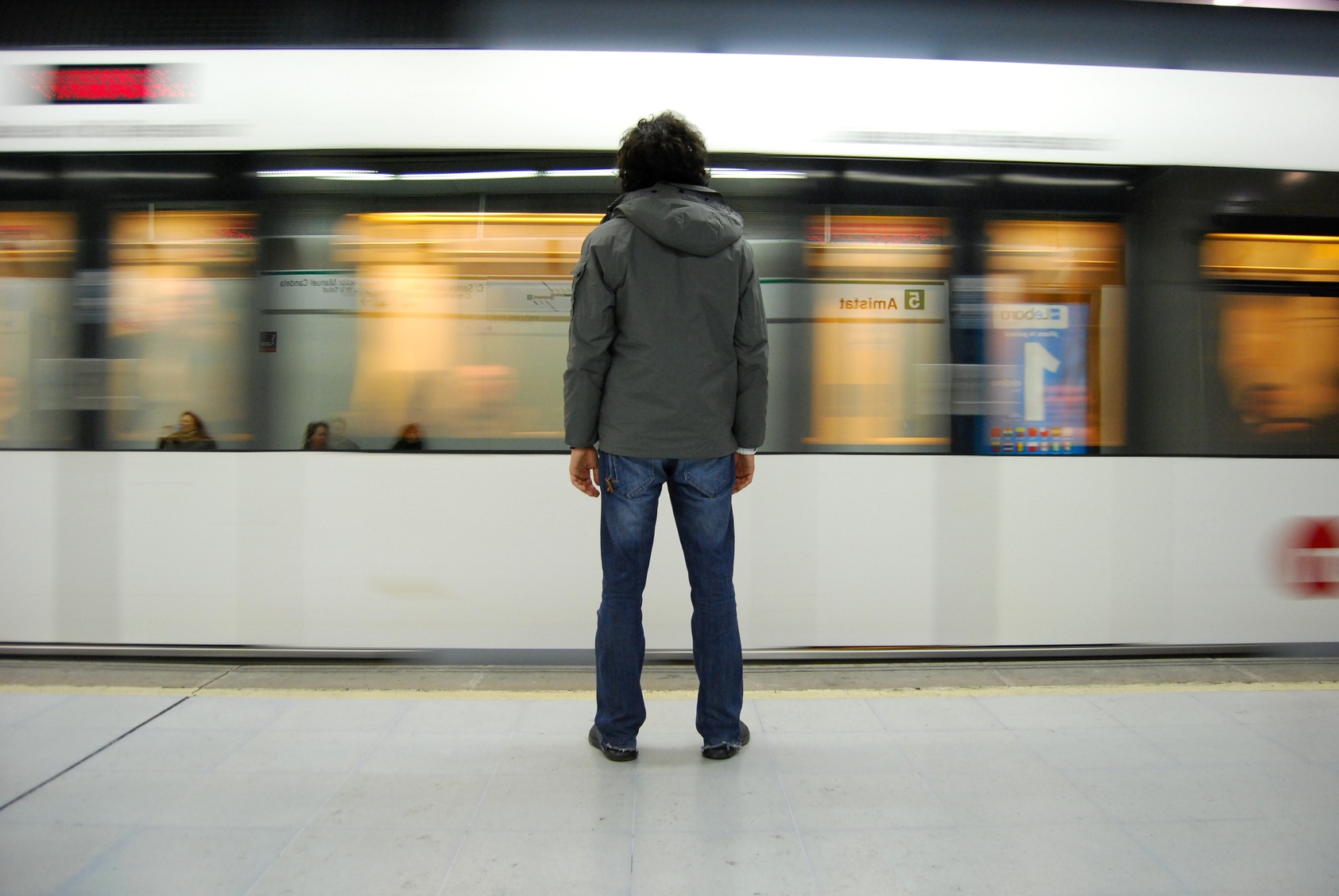 Rome is a very big city but fortunately the main tourist attractions are all located in the area of the historic center or immediately nearby. So if you start visiting it from Roma Termini or Roma San Pietro stations, or from the subway stops Colosseo and Ottaviano, you will have Rome at your fingertips...if you like to walk, of course!
Once in Rome, our advice for getting around quickly is to use the city's public transport. Using the car is not convenient, both because of the difficulty of finding a parking space and because of the traffic, which can make you lose precious time.
In addition, it is highly recommended to buy the Roma Pass, the tourist and cultural card of the capital. With it, you can benefit from discounts on transportation, museums, archaeological sites and much more. For more information:

48H ROMA PASS         72H ROMA PASS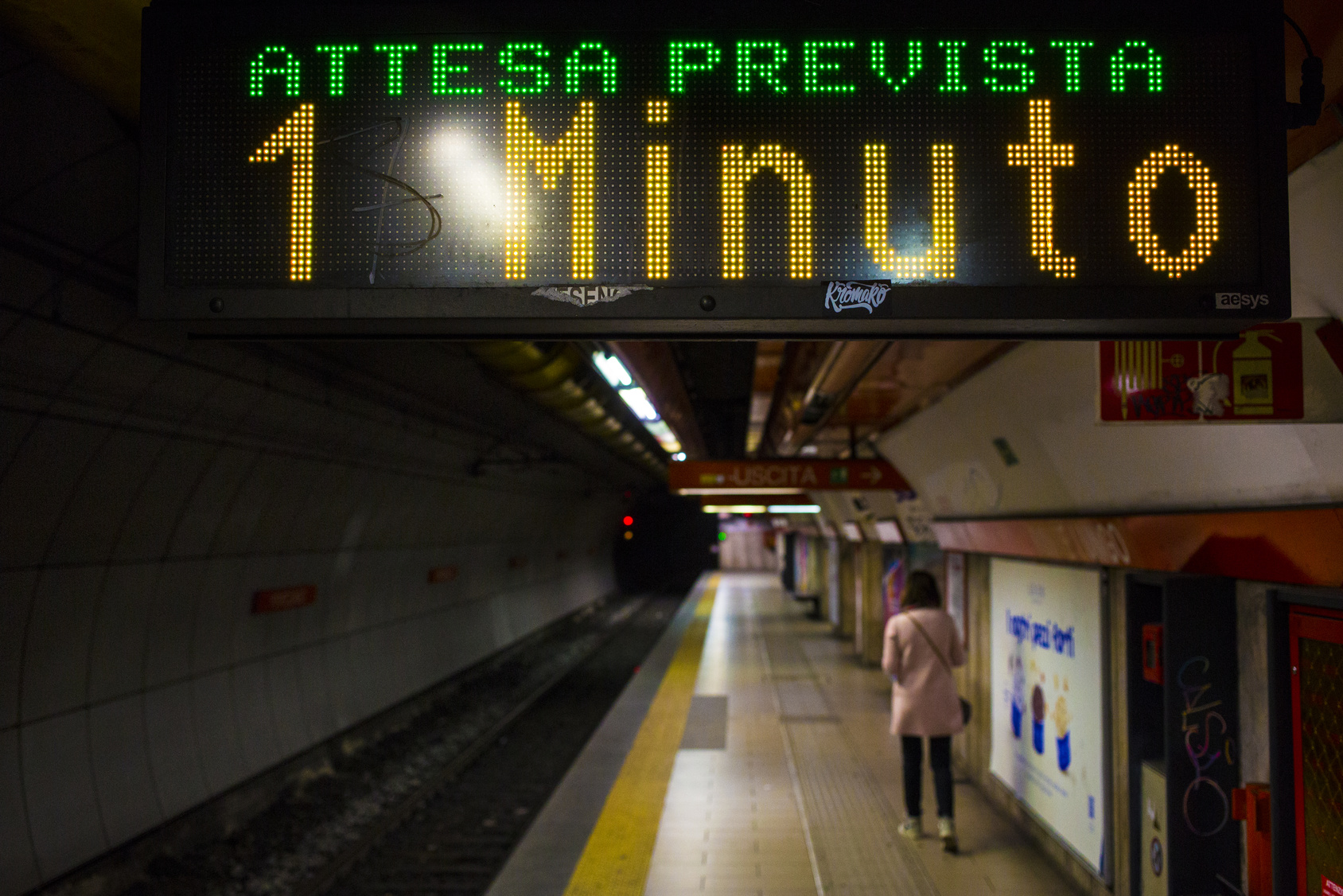 THE SUBWAY IN ROME
There are currently three metro lines: line A or red line, line B or blue line and line C. Line B has a branch (the B1) while line C, inaugurated on November 9, 2014, currently connects some suburban areas with the "San Giovanni" stop (line A). Here is an illustrative map with all the stops of lines A, B and B1: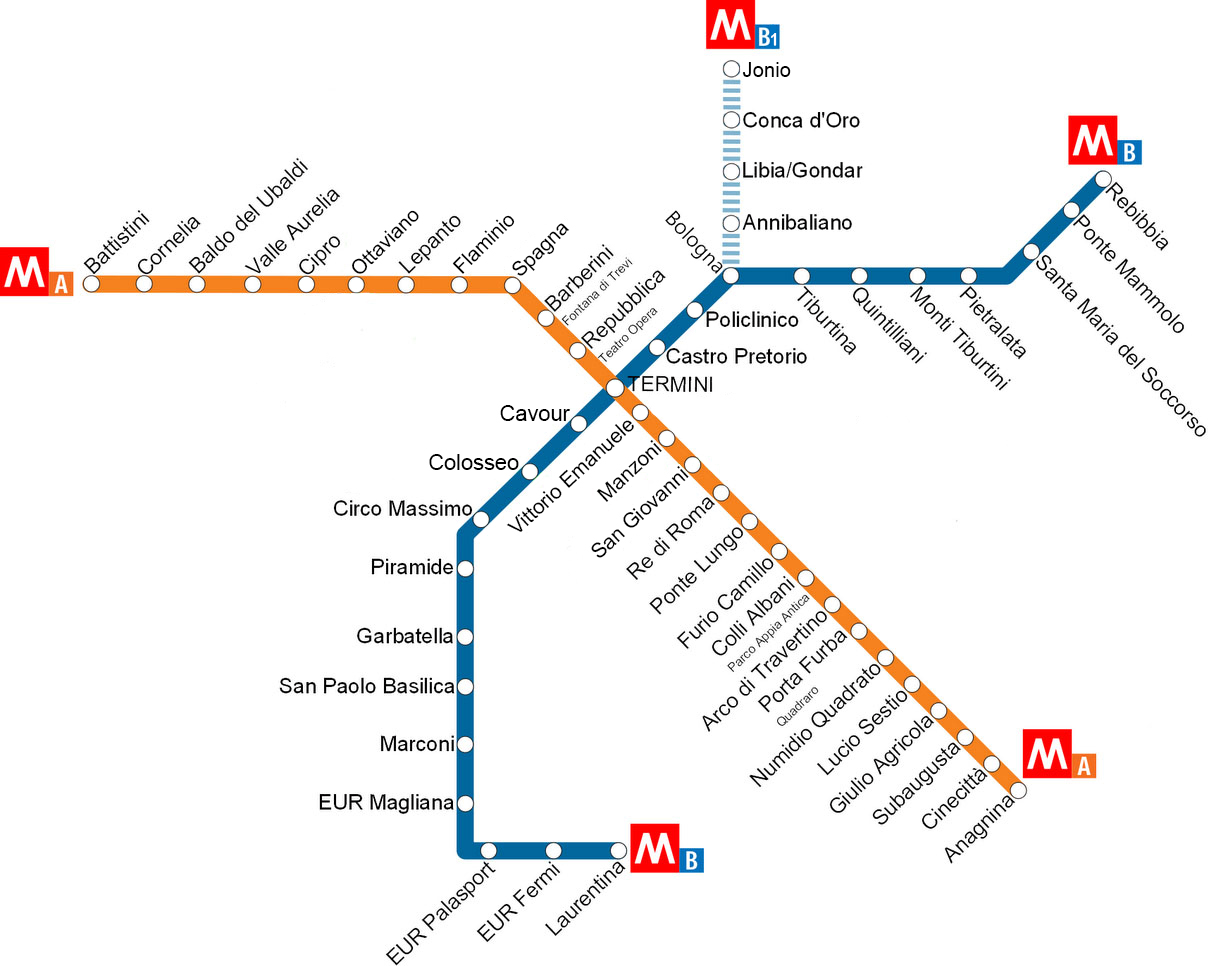 Save and Print Rome's Subway Map

The lines A and B allow you to get to the main attractions in Rome like the Colosseum, St. Peter or the Imperial Fora. There are, however, many interesting areas that are not yet connected to the subway, for which you will have to use the bus, tramway or trolleybus (all ATAC services).
ATAC ROMA – BUS, TRAM AND TROLLEYBUS
Atac is Rome's public transport company: bus, tram and trolleybus. The public transport services connect quite well to the main tourist attractions. We recommend you to visit the Atac official website, where you will find all the information about line routes, timetables and connections.
GETTING AROUND ROME: ATAC MOBILE APP AND MORE
There are several mobile applications that are very useful to stay updated in real time. In addition to the official app launched by Atac "Viaggia con Atac", you can also download "Moovit" or "Probus Roma".
We recommend downloading and using one of these mobile applications to avoid unpleasant surprises or inconveniences.
If you do not have a mobile data connection, here you can find the main free WiFi hotspots.
From Civitavecchia to Rome: cruise passenger's guide
If you are looking for a practical guide to easily reach the main tourist spots in Rome and to orientate yourself around the capital, here is a solution for you.
Click on the link below and download the digital version of our Cruise Passenger's Guide - Welcome to the Port of Civitavecchia, print it from your computer and you will have everything you need!

CRUISE PASSENGER'S GUIDE: WELCOME TO THE PORT OF CIVITAVECCHIA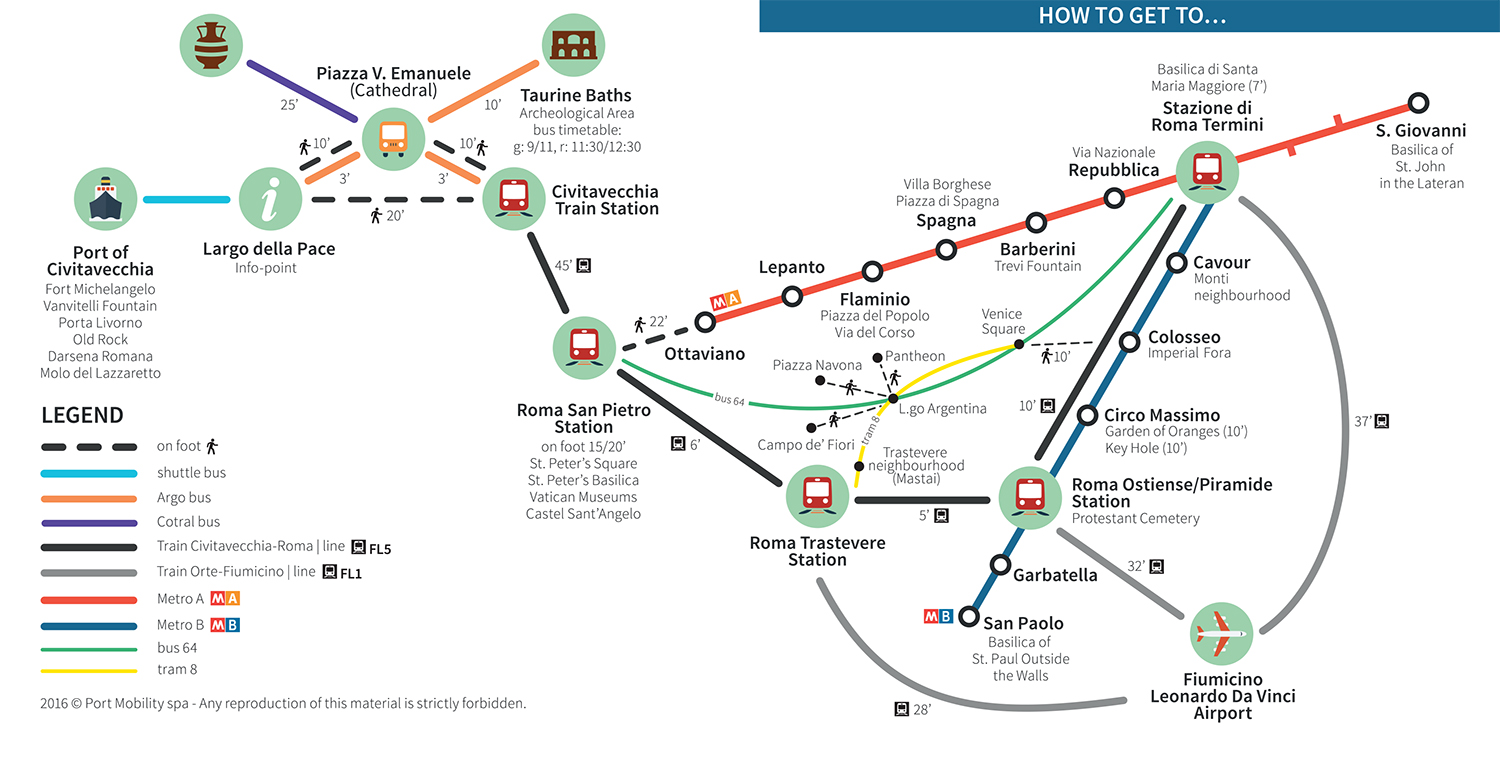 Regional Trains
From 1st August 2016, the Trenitalia regional train tickets work in a new way (except tickets bought online or via App):
- When you buy the ticket, you will be asked which day you want to travel: the new tickets, in fact, are valid until midnight of the date stamped on the ticket.
- When you stamp the ticket for the first time, it will be valid to travel during the following 4 hours.
- If you change your mind, you can modify the departure date or the itinerary or ask for a refund until midnight of the day before the departure date.
You can do so for free at the self service ticket machines and at the Trenitalia ticket office, paying a €0.50 fee at any SiSALPAY point, LisPaga by Lottomatica, SIR Tobacco shops or paying an extra fee at your travel agency. You will be handed a reminder with the new departure date, that will have to be shown together with the original ticket.
Train Civitavecchia Express
You can reach Rome using the Civitavecchia Express. This train has four daily departures and connects the Port of Civitavecchia with the stations of Roma San Pietro and Roma Ostiense.
Useful information
You can use the same ticket for both the bus and the subway trains, as long as you use it within 100 minutes from when you stamp it the first time.
If you are travelling from the Port of Civitavecchia to Rome by train, we advise you to buy a BIRG ticket (that covers 5 zones). This €12 daily ticket allows unlimited trips in all public transports between Civitavecchia Station and Rome until the midnight of the day you stamp it for the first time. You can buy BIRG directly at the station.
TIMETABLES

Subway opening times: Sundays to Thursdays 5:30 - 23:30 | Fridays and Saturdays 5:30 - 1:30
The subway trains run in average every 5 minuti in rush hours and on weekdays. Be patient on the weekends and bank holidays, since there are fewer trains, so they don't run very often

For further information about timetables and bus routes, we advice to check the Atac website.

PRICES

We present the 5 most common tickets used to move about Rome by bus, tram, trolley bus and subway:

BIT (€1.50) Valid for 100 minutes from the moment it has been stamped

ROMA 24 HOURS (€7) Valid for 24 hours from the moment it has been stamped for an unlimited number of journeys

ROMA 48 HOURS (€12.50) Valid for 48 hours from the moment it has been stamped for an unlimited number of journeys

ROMA 72 HOURS (€18) Valid for 72 hours from the moment it has been stamped for an unlimited number of journeys of journeys.

CIS (€24) Valid for 7 days from the moment it has been first stamped meaning until midnight of the seven day including stamping, for an unlimited number of journeys in the city of Rome

BIRG (€12) Valid until midnight of the day it has been stamped and for an unlimited number of journeys within the Lazio region, in the areas indicated on the ticket. It includes train, subway, trolley bus and tramway.

You can get to Rome with the Civitavecchia Express. There are four daily trips available and it only stops at the main stations of Roma San Pietro and Roma Ostiense.

*All children up to 10 years old travel for free by public transport in the city of Rome if accompanied by an adult.