Shuttles
Shuttles in the Port of Civitavecchia: timetables, frequencies, stops and end of the line. Useful information to get around the port.
The Port Mobility shuttles allow all passengers, tourists, visitors and operators to move easily and quickly within the Port of Civitavecchia.
The service, carried out with vehicles suitable for the transport of people with disabilities, is divided into:
Direct Cruise / Railway Station Service
Cruise Shuttle Service
Ordinary Shuttle Service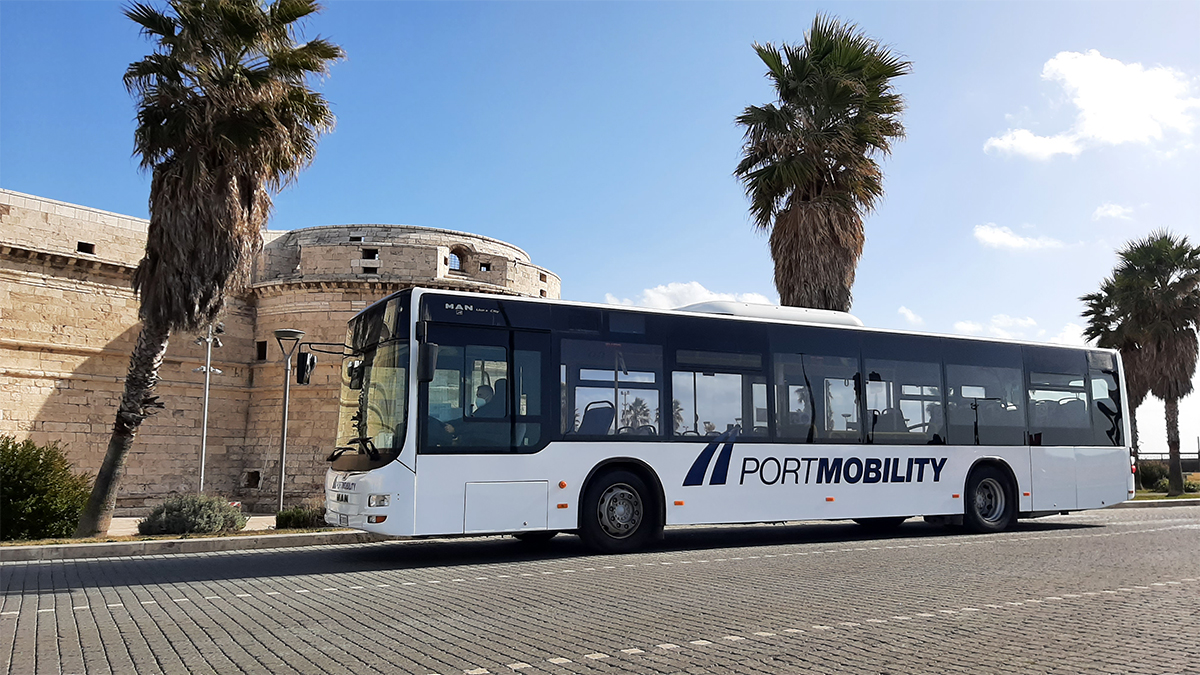 DIRECT CRUISE / RAILWAY STATION SERVICE
The special public transport line service connects the Civitavecchia train station with the Cruise Ships and vice versa.
The service, aimed exclusively at cruise passengers, is operational from 7:00 - 7:30 am until 06:30 - 07:00 pm only on the days of departure / arrival of the ships. The shuttle takes approximately 15 minutes to reach the destination.
The cost is €6 each way. Tickets can be purchased directly on board.
CRUISE SERVICE
Cruise passenger can use a shuttle bus service connecting piers directly to Largo della Pace to facilitate embarking and disembarking. The service is planned and works in synch with the arrival of ships, as follows:
LINE A (green line)*
For all cruise passengers who embark/disemabark at piers 10 a.m to 1 p.m, the new route includes the following stops:
Cruise Terminal | Bramante| Largo del Pace | Molo del Bicchiere (hop on only)
LINE B (light blue line)*
Intermediate shuttle bus stops are not established for cruise passengers embarking/disembarking at pier 25. This means that cruise passengers are picked up, as soon as they get to the quay, and taken directly to Largo della Pce. Vice versa for the way back.
*The connection between Largo della Pace and Pier 25 works only when cruise ships arrive.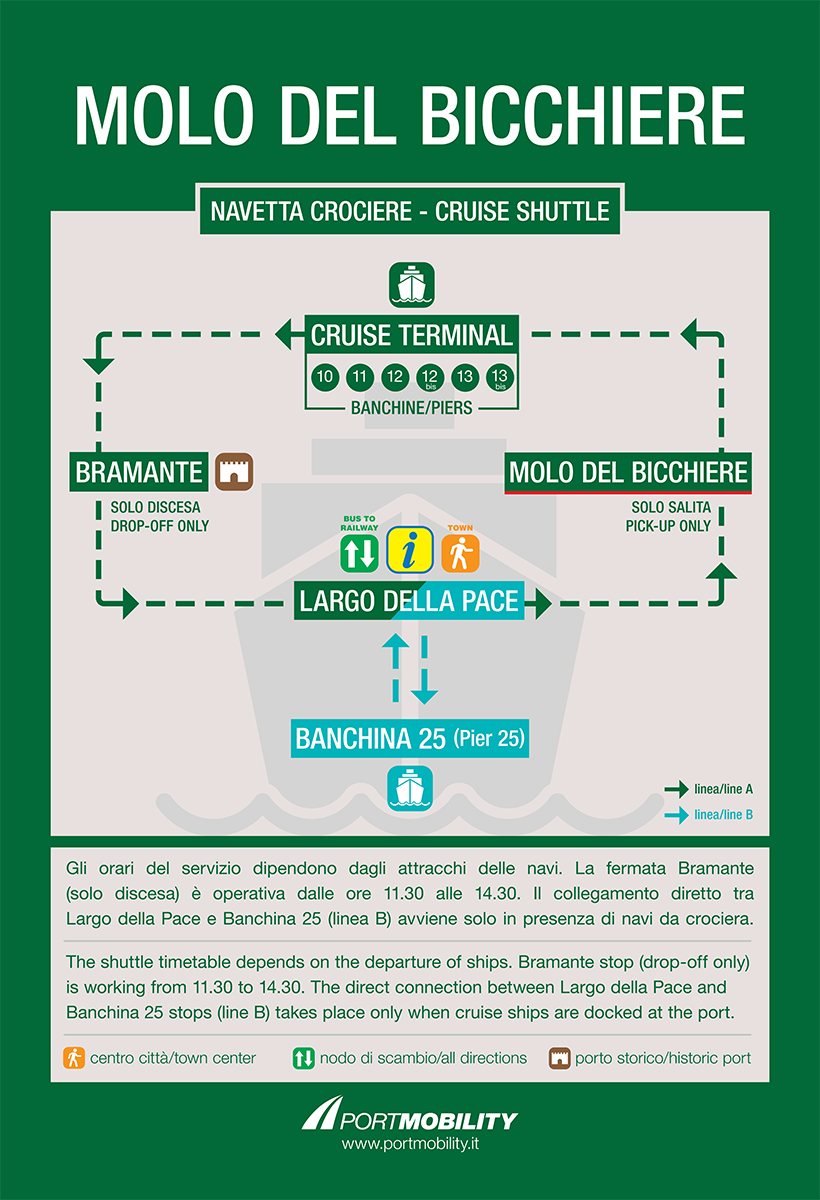 ORDINARY SERVICE
Service is established between two ends of line:
Here's the complete route (Blu line) with all the stops:
Molo del Bicchiere (terminal) | Fortezza | Darsena Nord | Largo della Pace | Varco Vespucci | Terminal ADM Sud | Dogana Nord | Punta S. Paolo | Mattonara Nord | Parcheggio Nord | Banchina 27 | Parcheggio Cruise | Dogana Sud | Banchina 18 | Terminal ADM Sud (terminal) | Banchina 20 | Banchina 21 | Autorità Portuale | Banchina S. Stefano | Largo della Pace | Darsena Sud | Banchina Sardegna | Molo del Bicchiere.
As shown in the new graphic accompanying each stop (see image) the circular route includes 2 stops at Largo della Pace and at Terminal ADM Sud.
The service is active from 05.30 a.m to 11.00 p.m.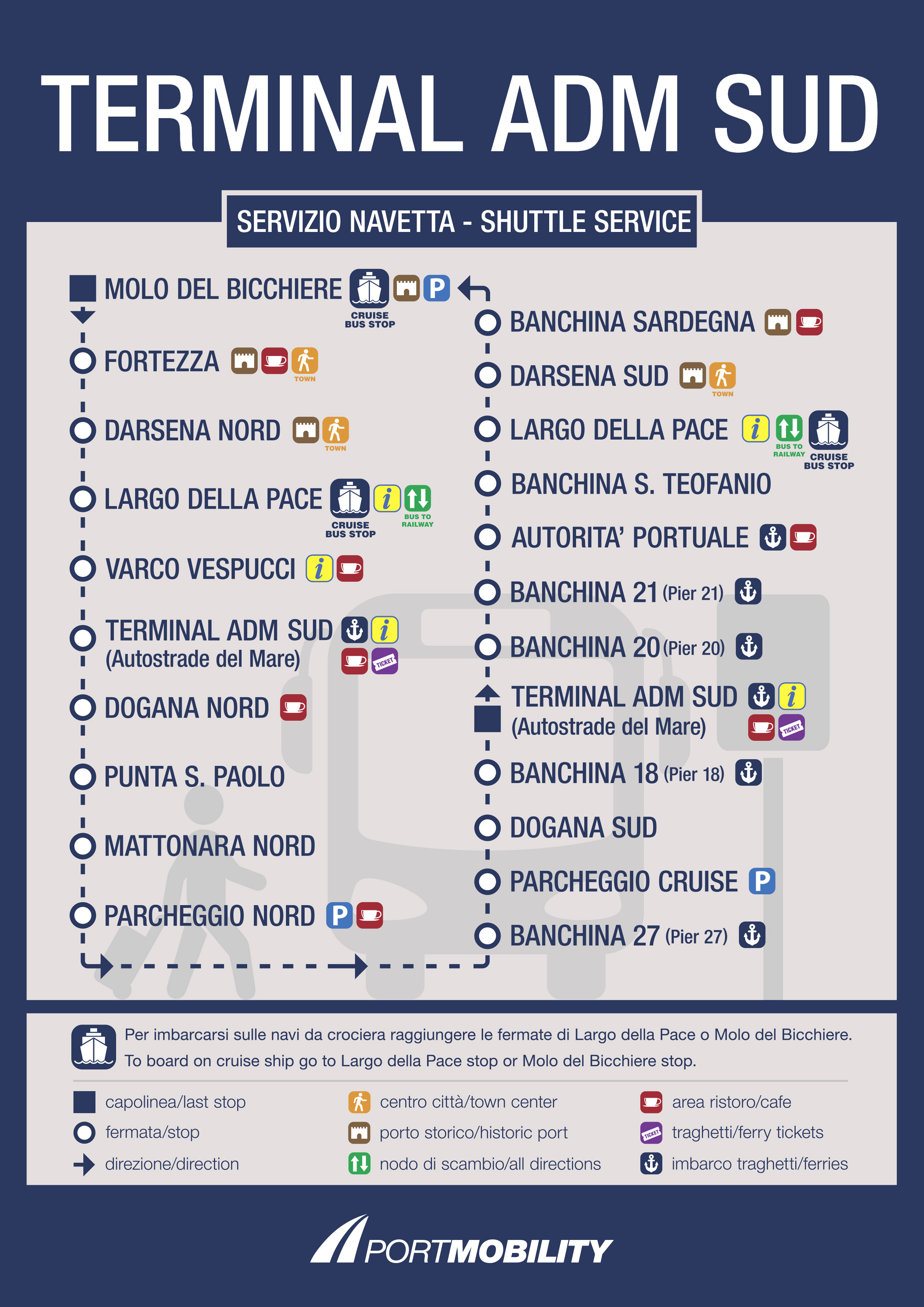 See the Google map to find stops and move easily within the Port of Civitavecchia.
Useful information
Shuttle buses of the Port of Civitavecchia
Transport of animals: small dogs must travel in the owner's arms, medium and large dogs must be muzzled
HOW TO GET THERE

TIMETABLES

Shuttle buses run about every 25 minutes.