Shuttles
Shuttles in the Port of Civitavecchia: timetables, frequencies, stops and end of the line. Useful information to get around the port.
IMPORTANT: due to the COVID-19 emergency, the shuttle service has undergone changes until later date.
CRUISES:
DIRECT SERVICE TRAIN STATION/SHIP
7:30 - 13:30: Urban Bus CSP (red bus);
13:30 - 19:00: Port Mobility Shuttle (white bus).
DIRECT SERVICE SHIP/VARCO VESPUCCI GATE (infopoint)
Cruise Shuttle Service active from 8 a.m. to 8 p.m.: connection Banchina/Varco Vespucci Infopoint.
The Cruise shuttle service operates only on the days of passengers' embarkation/disembarkation.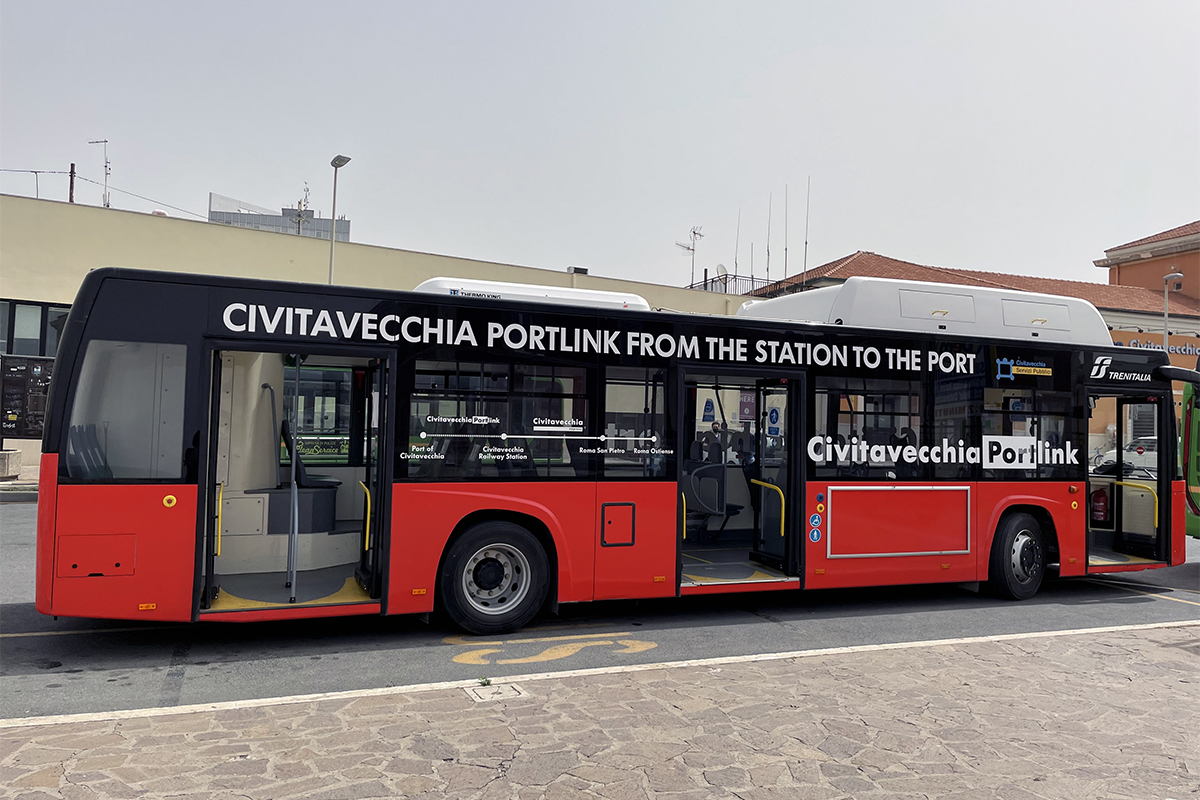 FERRIES/ ORDINARY SHUTTLE SERVICE:
The ordinary service operates from 5:30 a.m. to 11.00 p.m, with 1 shuttle for the transportation of disabled people.
The ordinary shuttle service and the cruise service are carried out in compliance with COVID-19 safety regulations.
Shuttles allow the passengers of the port, but also tourists or simply visitors, to move easily and quickly within the vast port area.
The service, totally free, is carried out with vehicles suitable for the transport of people with disabilities and is divided into:
Ordinary Shuttle Service
Cruise Shuttles Service
ORDINARY SERVICE
Service is established between two ends of line:
Here's the complete route (Blu line) with all the stops:
Molo del Bicchiere (terminal) | Fortezza | Darsena Nord | Largo della Pace | Varco Vespucci | Terminal ADM Sud | Dogana Nord | Punta S. Paolo | Mattonara Nord | Parcheggio Nord | Banchina 27 | Parcheggio Cruise | Dogana Sud | Banchina 18 | Terminal ADM Sud (terminal) | Banchina 20 | Banchina 21 | Autorità Portuale | Banchina S. Stefano | Largo della Pace | Darsena Sud | Banchina Sardegna | Molo del Bicchiere.
As shown in the new graphic accompanying each stop (see image) the circular route includes 2 stops at Largo della Pace and at Terminal ADM Sud.
TIMETABLES AND FREQUENCY
Service is guaranteed from 05.30 to 23.00.
Shuttle buses run every 20 minutes and provides a minimun of 2 buses at the same time.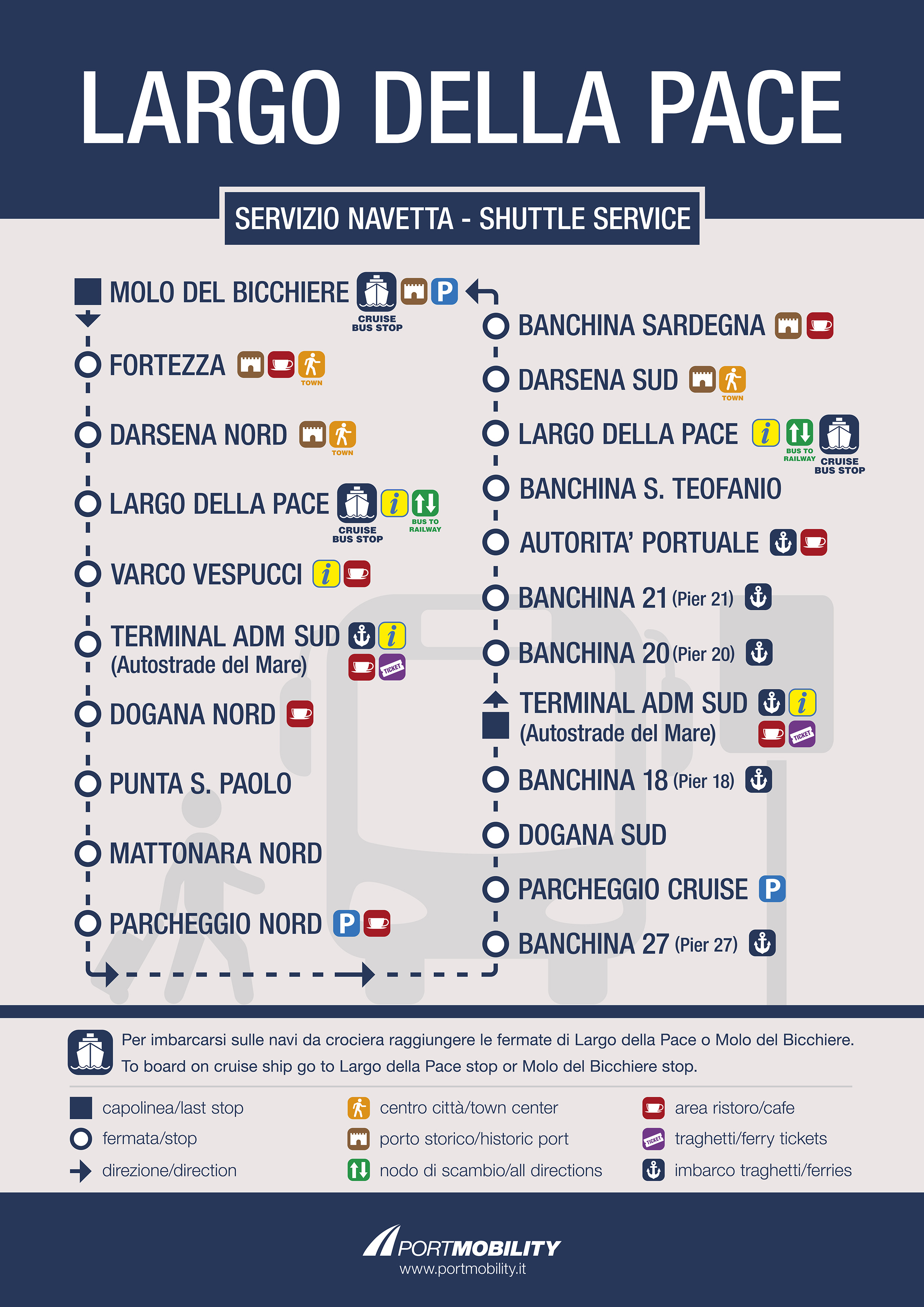 CRUISE SERVICE
ATTENTION: the following route is not currently operational. For the cruise service, see the information at the top of the page.
---
Cruise passenger can use a shuttle bus service connecting piers directly to Largo della Pace Service Center to facilitate embarking and disembarking. The service is planned and works in synch with the arrival of ships, as follows:
LINE A (green line)*
For all cruise passengers who embark/disemabark at piers 10 to 13, the new route includes the following stops:
Cruise Terminal | Bramante (hop off only) | Largo della Pace | Molo del Bicchiere (hop on only)
LINE B (light blue line)*
Intermediate shuttle bus stops are not established for cruise passengers embarking/disembarking at pier 25. This means that cruise passengers are picked up, as soon as they get to the quay, and taken directly to Largo della Pace. Vice versa for the way back.
*Timetables are synched with the arrival of ships. The stop Bramante (hop off only) works only from 11.30 am to 2.30 pm. The connection between Largo della Pace and Pier 25 works only when cruise ships arrive.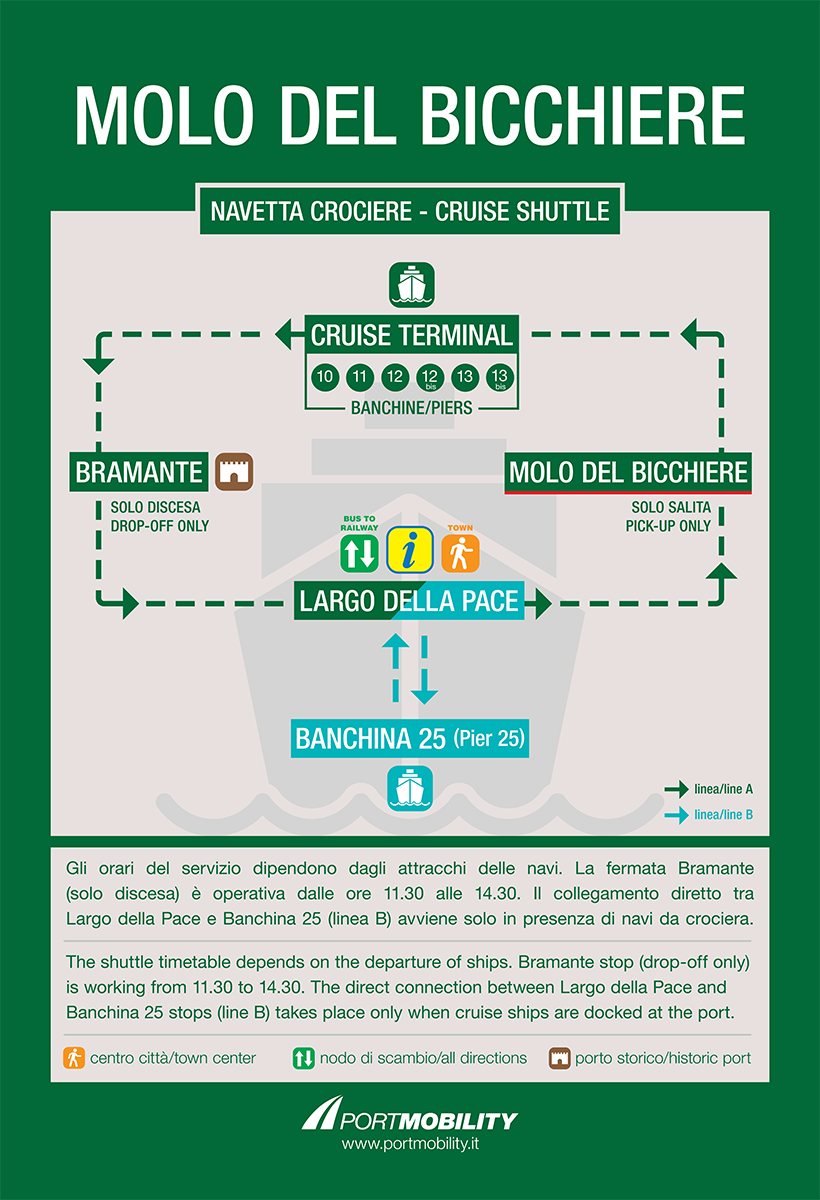 See the Google map to find stops and move easily within the Port of Civitavecchia.
Useful information
Shuttle buses of the Port of Civitavecchia
Transport of animals: small dogs must travel in the owner's arms, medium and large dogs must be muzzled
HOW TO GET THERE

TIMETABLES

Shuttle buses run about every 20 minutes.

PRICES

Shuttle bus service inside the port of Civitavecchia is completely free.

Minimum bus capacity is at least 48 places, with suitable spaces for luggage transportation.