Bomarzo and the Park of the Monsters: photos and useful info
A little guide to visit the Sacro Bosco of Bomarzo: opening hours, prices, what to see and what to do in this fantastic Park of the Monsters.
In the province of Viterbo, in the hearth of Lazio's "Tuscia" there is the Sacro Bosco (Sacred Grove) of Bomarzo, better known as Park of the Monsters: a real hidden treasure to be discovered!

TOUR TO BOMARZO + CIVITA DI BAGNOREGIO FROM CIVITAVECCHIA
Inside this grove you will be catapulted into an imaginary world, populated with mythological animals and huge stone monsters, which since over 500 years ago instill fear, surprise and wonder into every visitor. That is, since architect Pirro Ligorio built it by commission of Prince Pier Francesco Orsini.
If you want to know more about this grotesque and surreal garden of wonders, follow us!
Ogre - Picture by aurelio candido, Creative Commons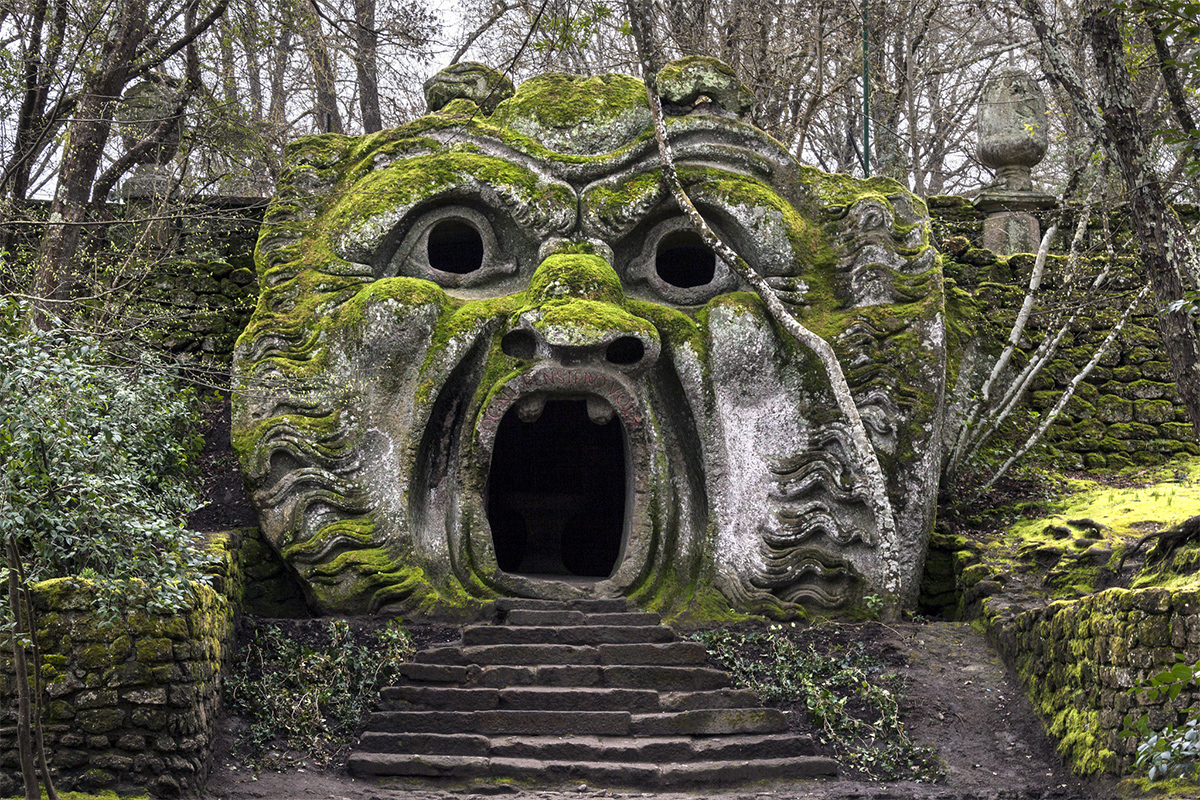 THE MISTERY OF THE GARDENS OF BOMARZO
Over the years, many academics, artists and intellectuals have wondered which were actually the intentions of Prince Orsini and the hidden meanings scattered accross the park.
In fact, its attractions are loaded ith simbolysm, with continuous references and reminders to mythology and the world of fantasy. Here, visitors are lead through a route made with big statues, surreal buildings, inscriptions and riddles, continuously surprising or disorienting them.
It is no coincidence that the park be known also as Bosco Sacro (Sacred Grove) or Iniciation Grove. Very likely, the intention was actually to create some kind of initiation journey, where it were possible, as the Prince put it, "to give bent to one's heart", but at the same time, to stun the eyes of the guests.
A reign of dreams, where the visitors' intelligence and culture could be stimulated, thanks to a continuous gmae of mythological references and riddles, among statues of mermaids, sea monsters, giant turtles, satyrs, sphinxs, dragons, masks, false sepulchres and illusion games.
"Voi che entrate qui, considerate ciò che vedete e poi ditemi se tante meraviglie sono fatte per l'inganno o per l'arte". - See more at: http://www.cyberitalian.com/en/html/gal_36.html#sthash.Bzy6115y.dpuf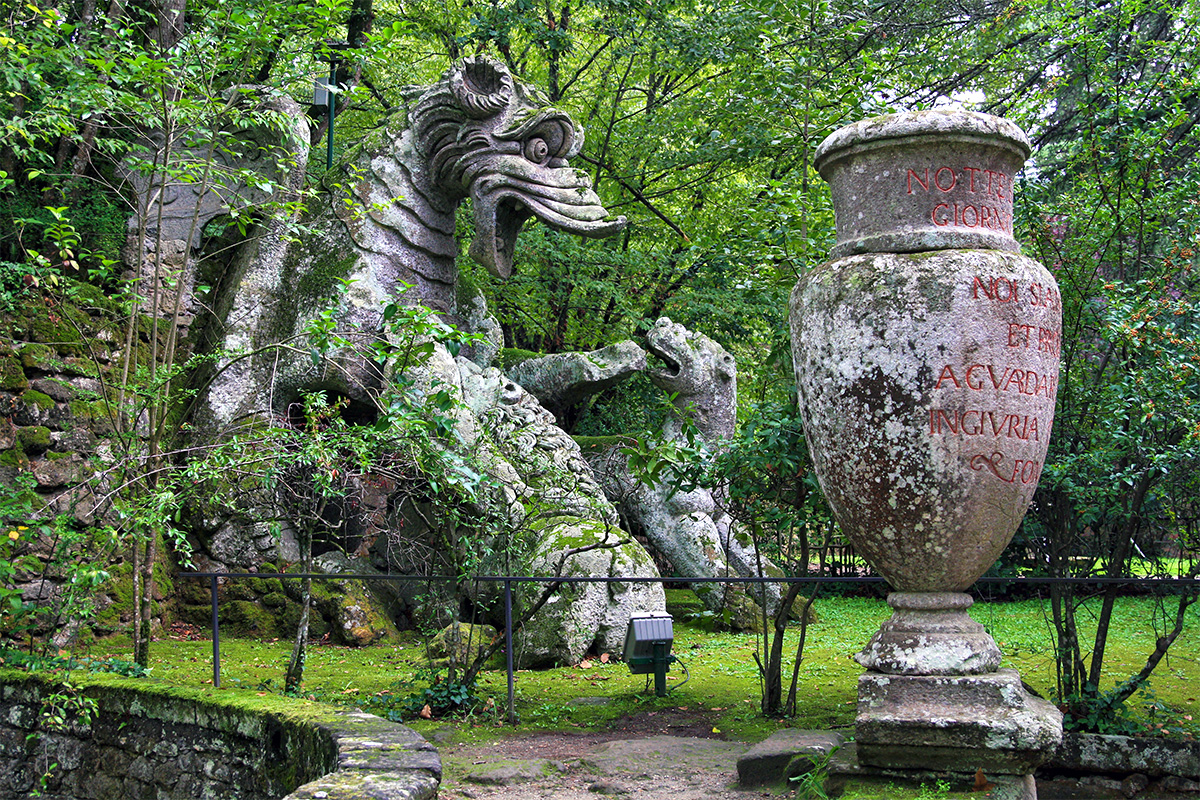 Beyond whichever reasons Prince Orsini actually had, truth is that the whole complex is a great celebration of love addressed to his wife Giulia Farnese. In fact, the Tempietto (Little Temple), located over a small hill surrounded by a green space where you can stop to take a break and have a picnic, is devoted to her.
After the Prince died, his heirs abandoned the park. It wasn't until 400 years later that the Bettini family recovered the park with restoration works, thanks to which we can admire it today. That is why, inside the Temple, there is also a memorial stone to Tina Severi Bettini.
This garden of wonders was redescovered and revalued over time specially thanks to many artists, like Salvador Dalí. The surrealist painter was so struck by his visit to the park that he found inspiration for one of his paintings: The Temptation of St. Anthony.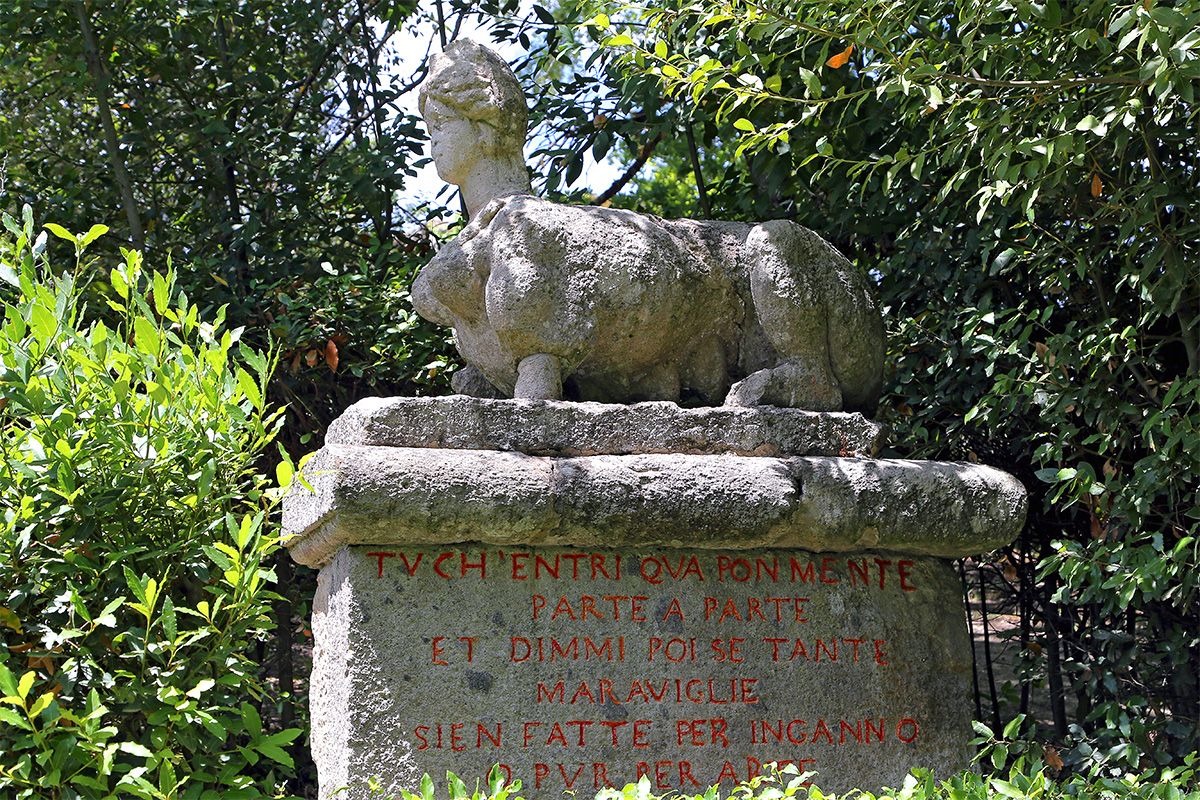 "You who enter here, consider what you are seeing and tell me if so many wonders are made by tricks or by art"

Reads the inscription on one of the sphinxs at the entrance to the park.
VISITING THE GARDENS OF BOMARZO
Once you cross the entry threshold and go beyond the two sphinxs, one of the first great works that you will find is the colossal head of a sea monter: it is Proteus-Glaucus, the fisherman who became a sea god after eating a magical herb.
Up ahead, you will find in front of you a scene representing a fight between giants: it is the statue of Hercules and Cacus. Hercules, the legendary heroe, is butchering Cacus, son of god Vulcan, with his bare hands.
---
Proteo-Glauco, Photo by Alessio D'Amato - CC BY-SA 3.0, Wikipedia Creative Commons
Ercole e Caco, Photo by Livioandronico2013 - CC BY-SA 4.0, Wikimedia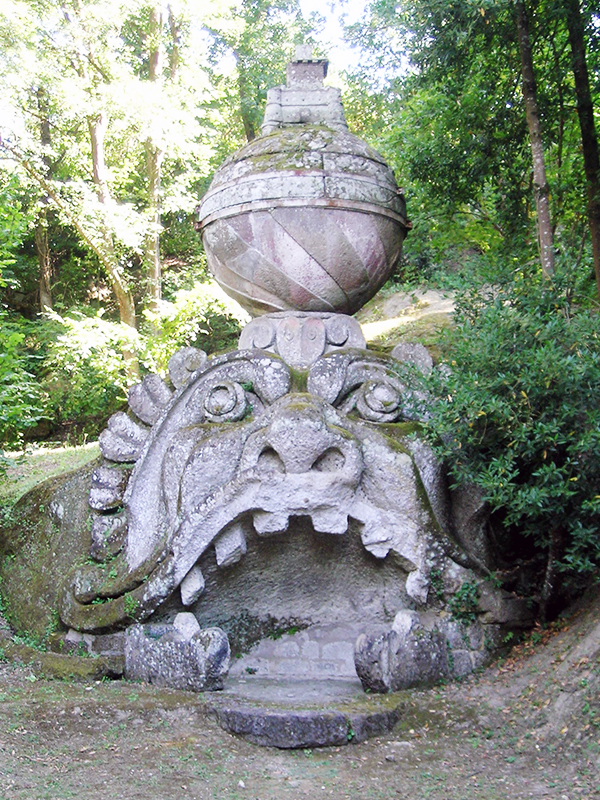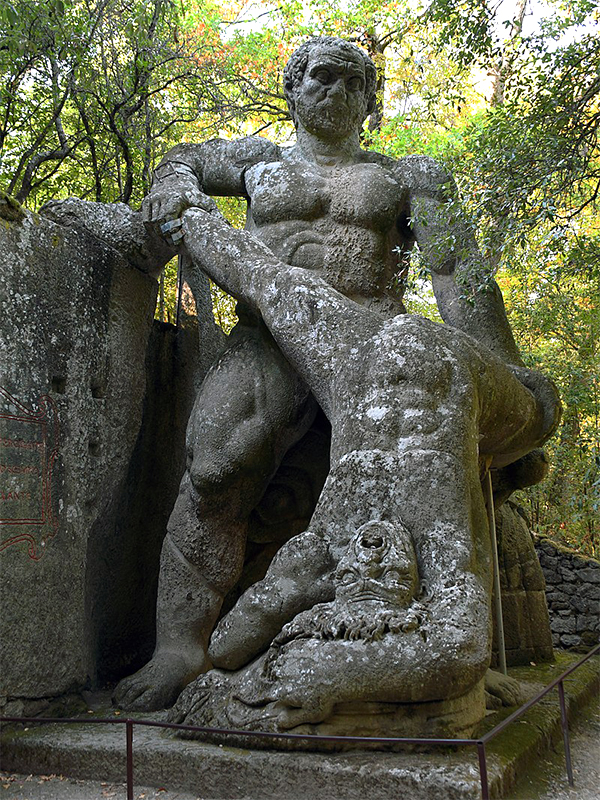 And we are just at the beginning! There are so many works contained inside the park. After buying your ticket, you will be handled a map where well 36 points of interest are marked. Our tip is to follow it to the letter, so as not to miss any of the wonders.
Among the most suggestive and important pieces that you will find here, are certainly the sculpted groups of the Turtle and the Winged Pegasus, as well as the Elephant and the statue of god Neptune.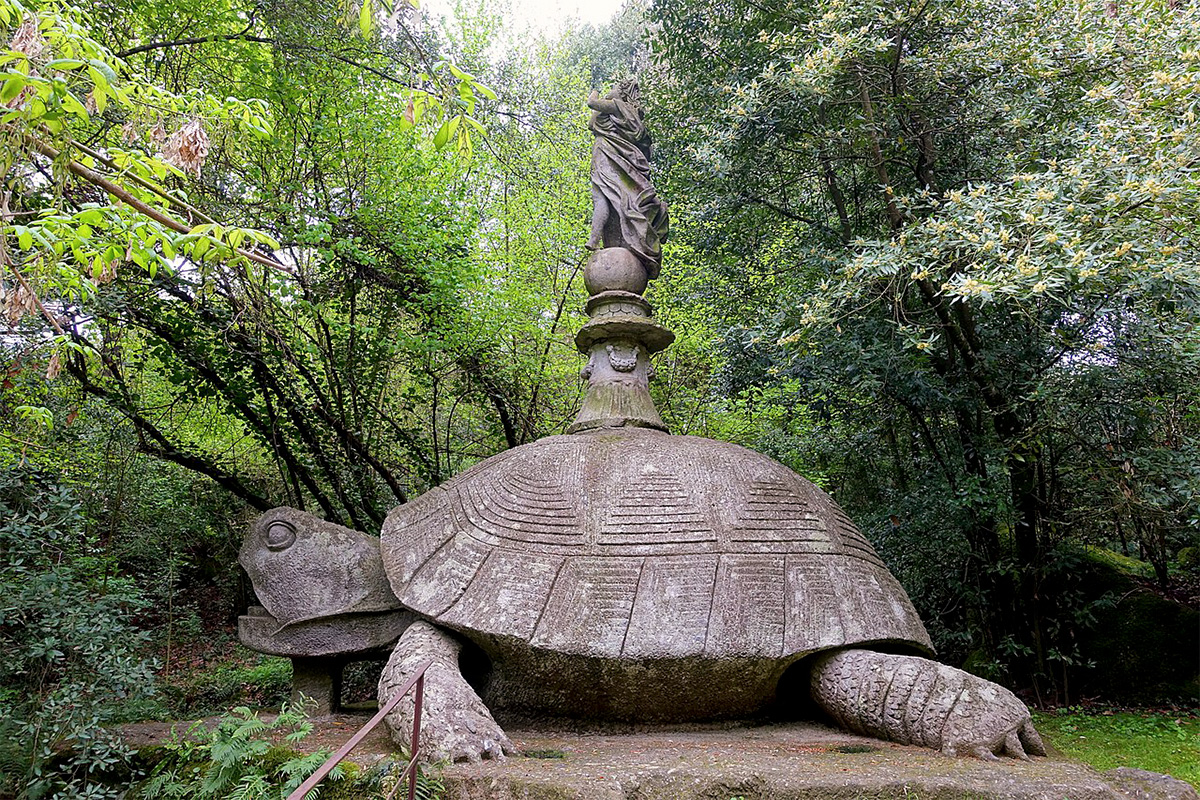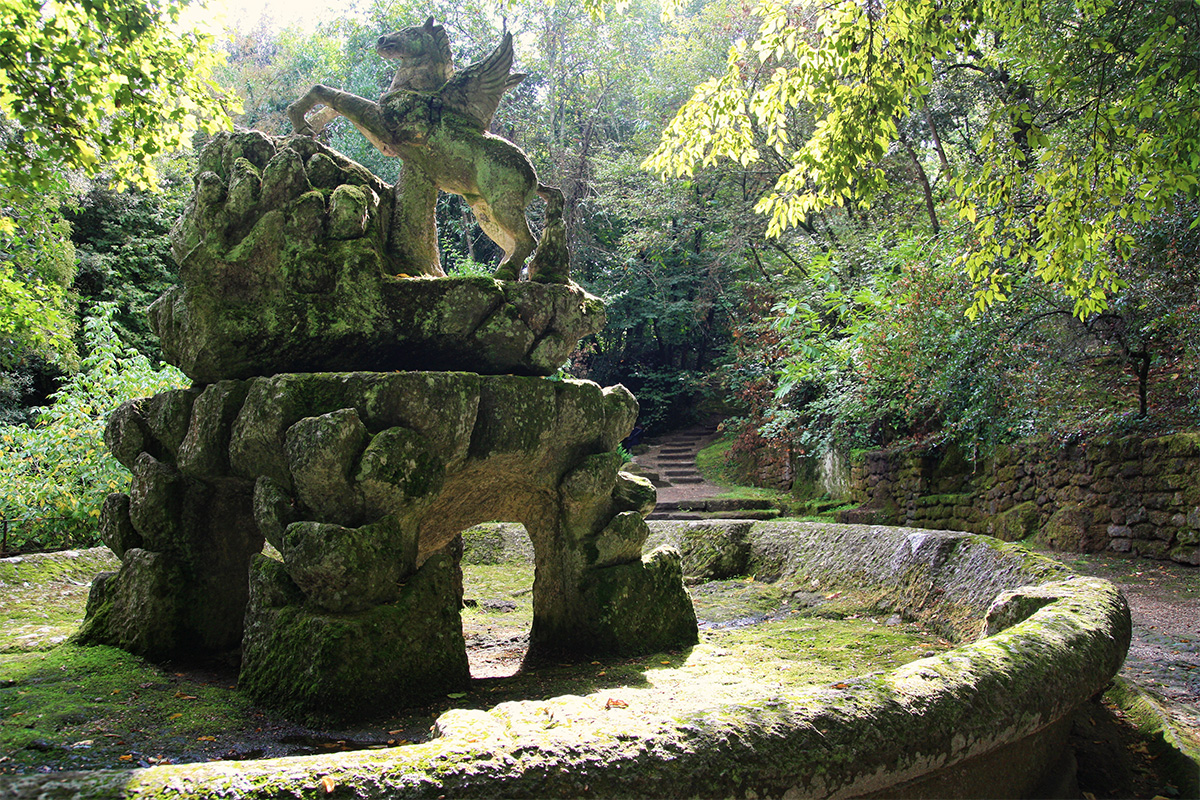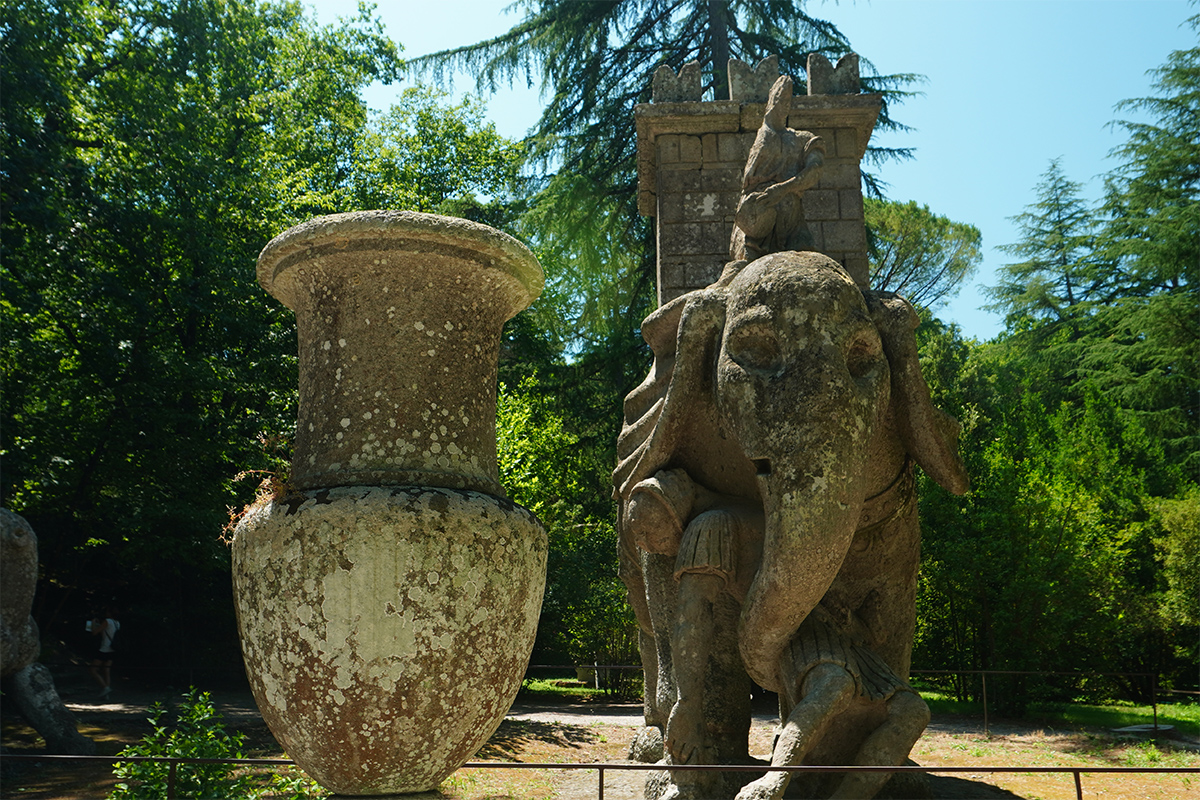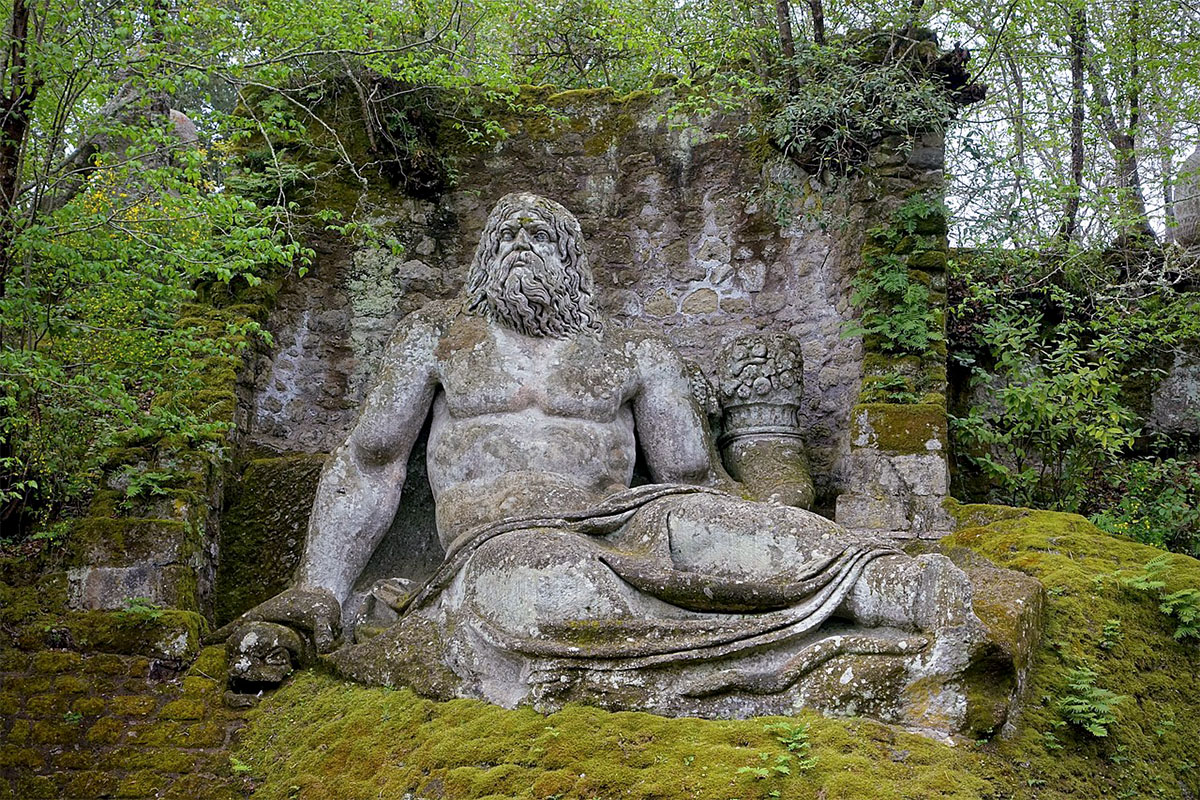 But the eccentricities don't finish here! Continuing your route you will find a very particular building: the Leaning House, a dwelling built on top of a sloping rock which can be visited thanks to a small bridge connecting it to the outer wall.
Get in but pay attention... right after crossing the threshold you will be tricked by perspective and you will lose your balance. You will certainly be floored by this sensory experience!
In the surroundings, there are also the statue of the Dragon attacked by a dog and a lion, the Giant, the Wizard and the disquieting Ogre with his mouth wide open. Inside of it, there is a table complete with some chairs.
Over the mouth of the Ogre, a writing says "Abandon all thought, ye who enter here" encouraging you to leave your rational beliefs to rejoin your more instinctive and authentic side with the aim to find yourself again.
Isn't this maybe the meaning of the message that Prince Orsini wanted to transmit to his guests?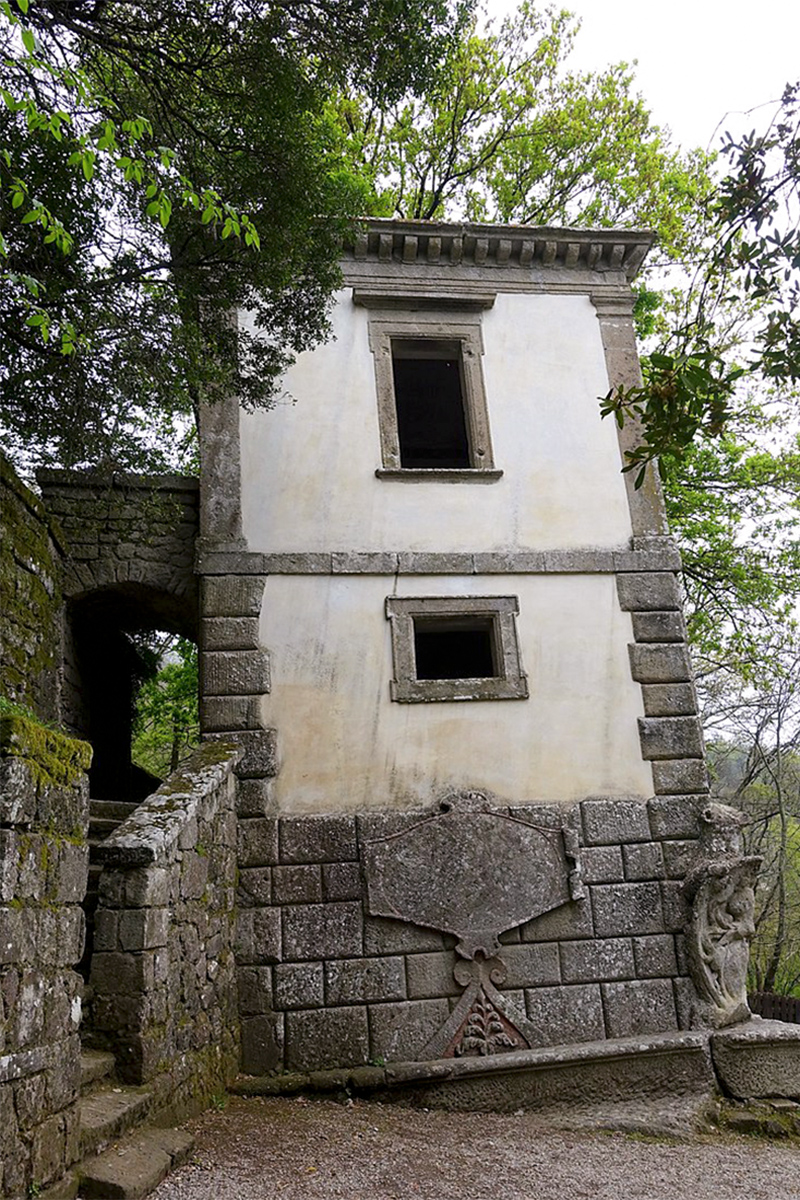 Continuing further, you will find a delimited space with Decorative Pine Cones and Acorns and with two Heraldry bears in the back: the one on the left carries the family coat of arms and the one on the right, the Roman rose.
On the oppostie side, there is the group of Echidna, the Lions and the Fury, that is, two mythical figures, half women half snake, with two lions in-between.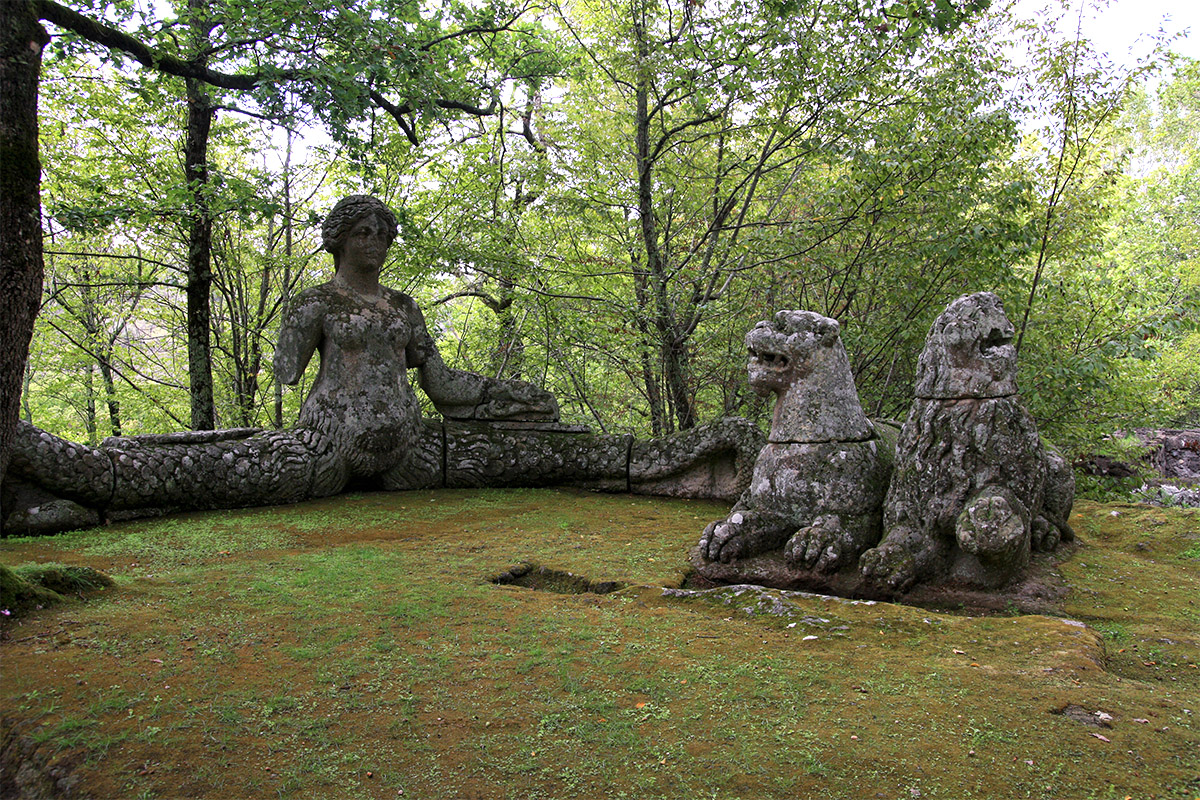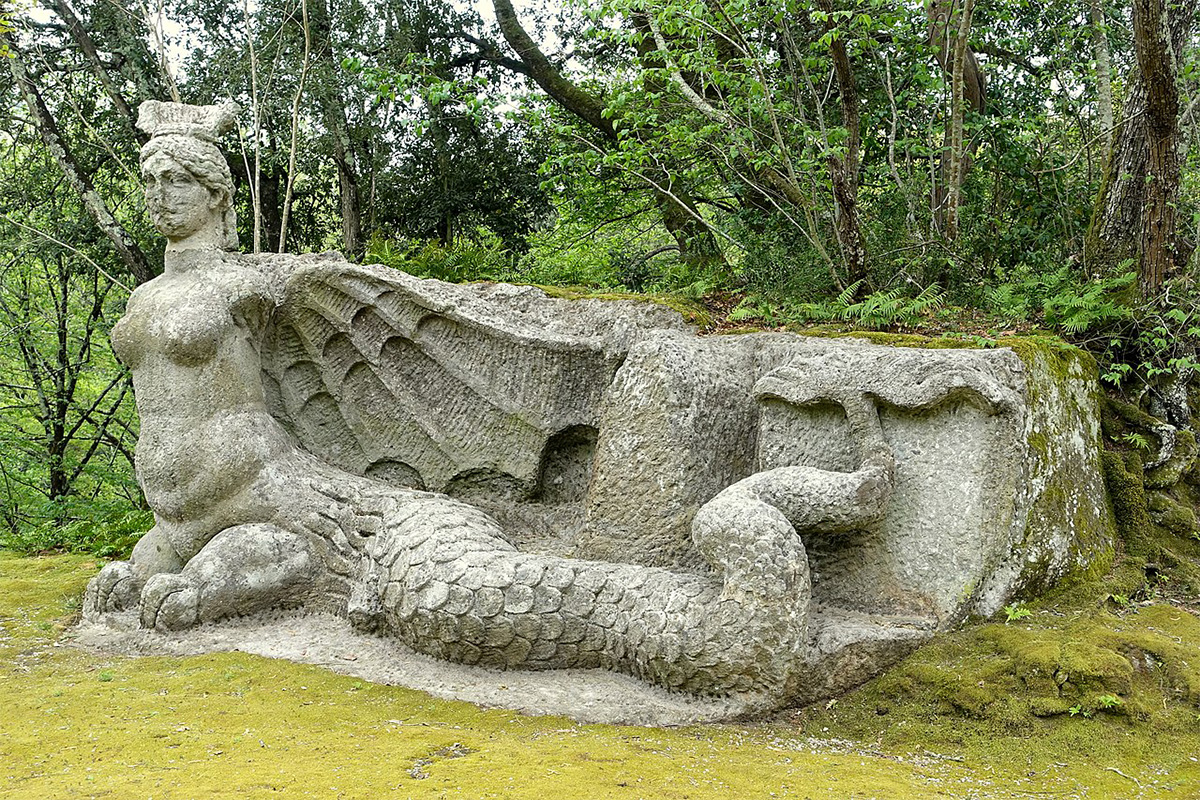 The attractions of this wonderful park of wonders don't end here. We leave the rest to you to discover it in person. We hope, at least, we have made you want to visit it. We are sure you will leave a gret experience in this magic garden, only in the world.
If you have children, we totally recommend to take them with you... they will have plenty of fun!
Take a look, the most amazing pictures here:
Useful information
Sacro Bosco of Bomarzo
Landline phone/fax: +39 0761 924029
HOW TO GET THERE

The Park of the Monsters of Bomarzo id in the province of Viterbo in a town named Bomarzo. It is better to reach it by car, taking the highway "del Sole" A1. Arriving from South, you just need to exit at Orte. Arriving from North, instead, take as reference exit Attigliano. In both cases, to reach the park you will only have to follow the local directions.

Public Transports

Bomarzo is not easy to reaach by public transport, but if you want to try, from Rome you can get off at train station

Orte Scalo

(Line FL1) or

Viterbo

(Line FL3) and continue towards Bomarzo with a COTRAL bus. For timetables, refer to the

official site.

TIMETABLES

The park opens every day non-stop:

from 8.30 to 19.00 (from 1st April to 31st October)

from 8.30 to sunset (from 1st November to 31st March)

PRICES

Individual Tickets:

Full: € 10.00

Reduced: € 8.00 (children aged 4 to 13)

Free admission for disabled people

*Reservation is not required

Group tickets:

Price per person: € 8.00 (minimum 30 people; 1 free entry for every 30 paying visitors)

Free admission for disabled

Free admission for the bus driver + a free guide book

* In addition, paid guided visits are available with reservation

* for groups, reservation is required, up to 2 days before the visit

For further details and to know more about offers for school groups refer the

official site.