From Olbia to Golfo Aranci: best beaches
An itinerary along the coast discovering the most beautiful beaches to visit between Olbia and Golfo Aranci, to the promontory of Capo Figari and the Island of Figarolo.
Reading this article you will discover the most beautiful beaches that can be reached from Olbia, driving along the way leading to Golfo Aranci, to the island of Figarolo.
The best way to explore this splendid stretch of coastline is beyond doubt embarking your car on a ferry from the Port of Civitavecchia, since the area has many hidden shores and bays to be discovered.
Are you ready to visit the most beautiful spots in Olbia and Golfo Aranci? Then let's start!

ATTRACTIONS, TOURS AND ACTIVITIES IN OLBIA
PITTULONGU SHORE
One of the first sea towns that you will find arriving from Olbia is no doubt Pittulongu shore, only 7 kilometers away from the town center, it boasts of splendid beaches.
The beaches in this shore are distinguished by a strand of white and fine sand, overlooking a light blue shallow sea.
First of these is La Playa beach, very appreaciated by Olbia locals, surely the most frequented and best equipped beach. Beach umbrellas and beach chairs can be hired and water sports can be played. This beach offers also excellent restaurants and bars in front of the sea.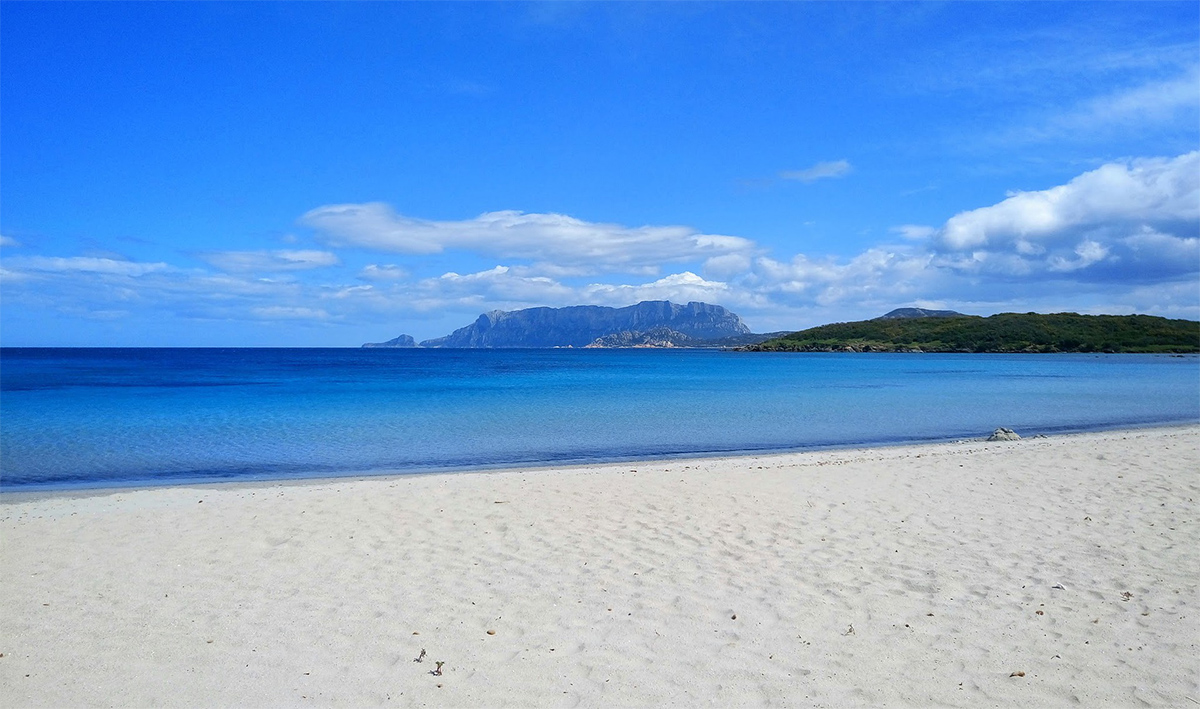 Right afterwards, you will find the beach of Squalo (Shark), also very beautiful and welcoming, separated from La Playa only by a small cliff. Passed the promontory over which are many houses of the Pittulongu shore, is the beach of Pellicano (Pelican), smaller than La Playa but not least beautiful.
Up ahead, since both beaches are separated only by some rocks, you can reach on foot the beach of Mare e Rocce (Sea and Cliffs), as beautiful as the others and with a kiosk standing by the sea.
BEACH OF BADOS
Continuing towards Golfo Aranci, only 3 km away from Pittulongu, is the tourist village of Punta Bados, which shore is easily reachable. Besides, you can park in front of the beach.
Bados beach is always heaving with people in high season. It has clear fine greyish sand with reefs and light blue shallow waters.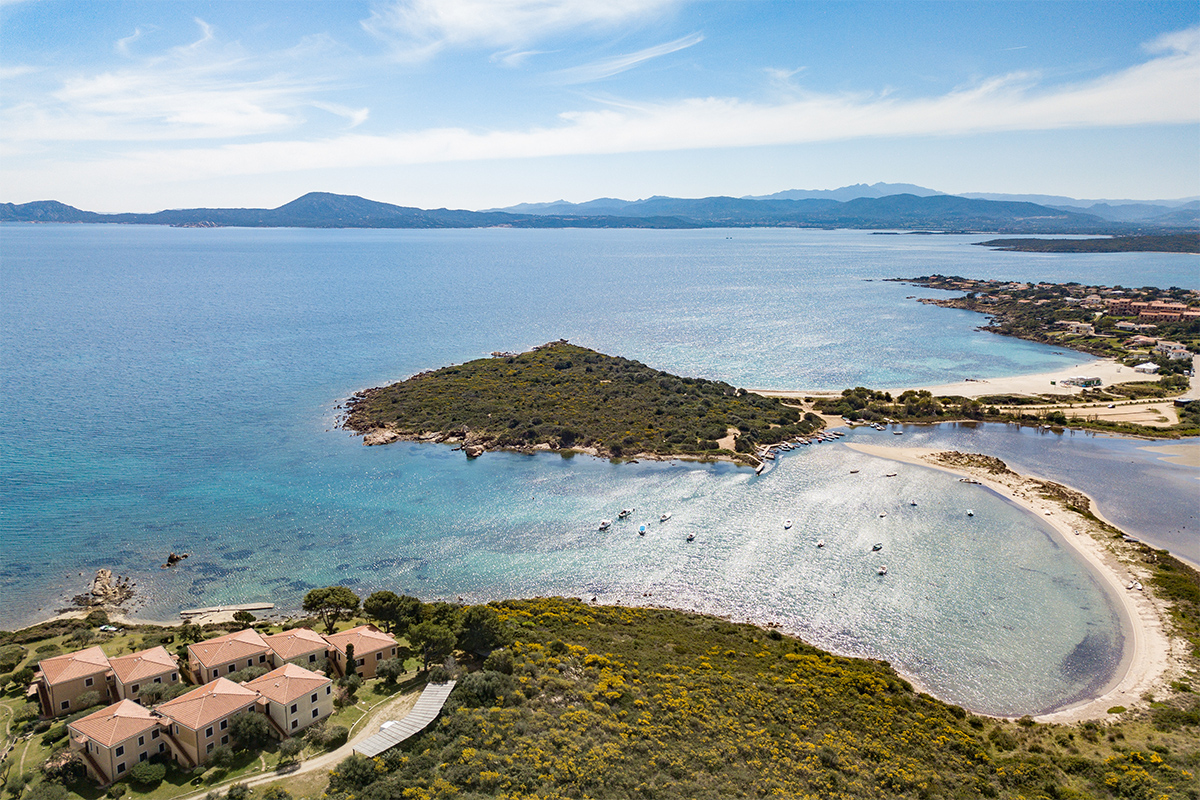 CALA BANANA BEACH AND NODU PIANU
Further on along the coast is Cala Banana, among the wildest beaches of the area. Its name might come from its banana-like shape, although fishermen keep calling it by its old name Su Polt 'e Paza.
Cala Banana has a clear and fine sand strand, distinguished by low sand dunes surrounded at some points by Mediterranean maquis, combined with rocks reflected in light blue and emerald waters.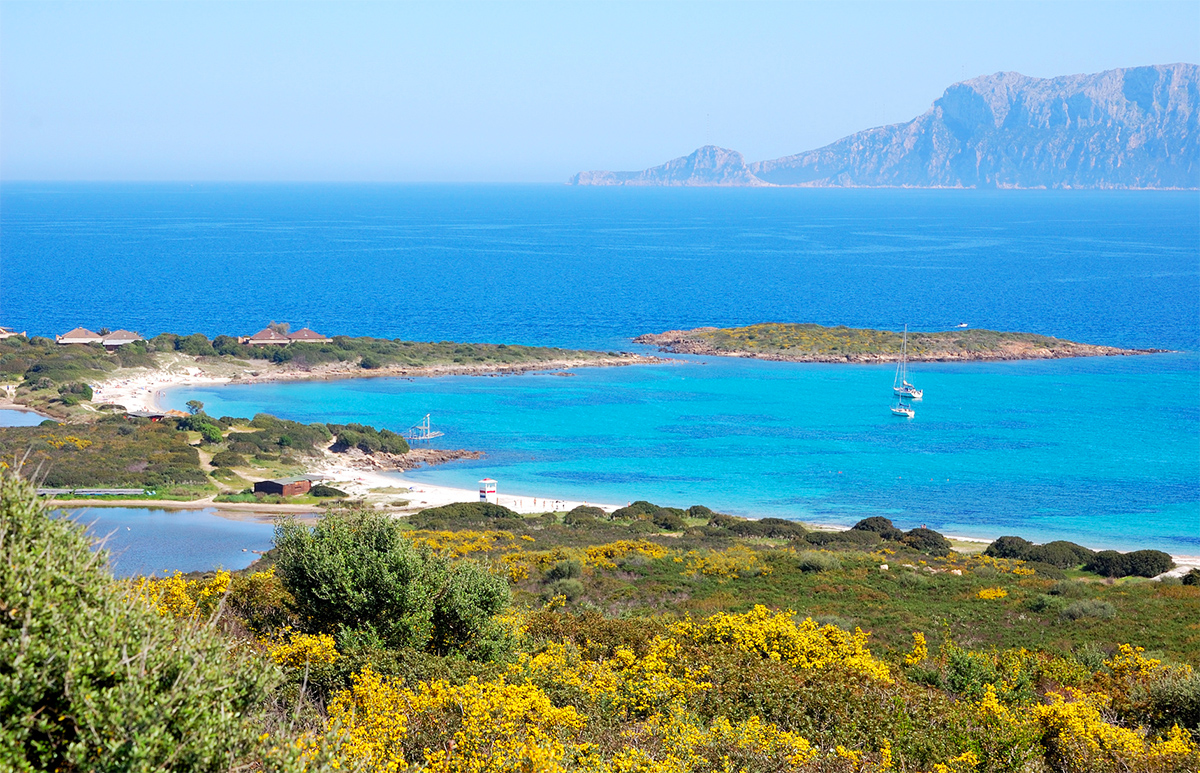 Not far from Cala Banana is the beach of Nodu Pianu, which is separated from the first only by some rocks. It is located on the slopes of the rocky promontory with the same name and it belongs to the municipality of Golfo Aranci.
Nodu Pianu is famous for its white fine sand, smooth reefs slightly emerging from the crystal clear sea and small ponds. The beach is partially equipped, there is a free area and another one more organised, with a small kiosk where canoes and rubber dinghies can be rented.
Finally, opposite to the promontory which delimits the inlet to the east is Porri Island.
SOS ARANZOS BEACH
After the so-called Punta delle Casette, from the promontory of Nodu Pianu you will get through the main road 82 to Terrata, part of the municipality of Golfo Aranci. From Terrata, you can reach the small Sos Aranzos Beach, considered the most beautiful beach south to Golfo Aranci. It has clear and fine sanda and blue and shallow waters.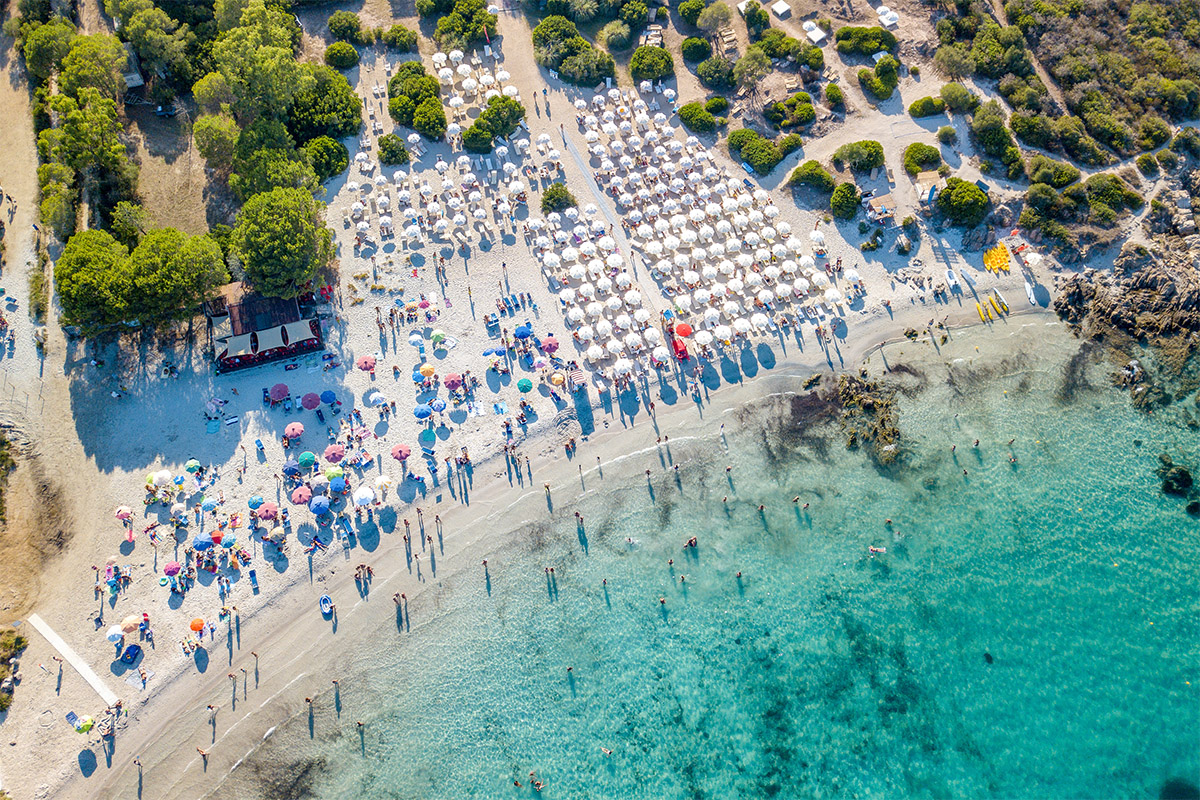 PUNTA PEDROSA AND CALA SASSARI
From the beach of Sos Aranzos, continue now for about 3 kilometers passing through Sottomonte, also part of Golfo Aranci and get to the promontory of Punta Pedrosa.
700 meters south to the hill are the two small beaches of Punta Pedrosa, and 400 meters further on is the beautiful beach of Cala Sassari, which strand is made up of fine, golden sand, alternating with areas of more coarse sand and granite surfacing rocks, looking out onto a green shallow sea.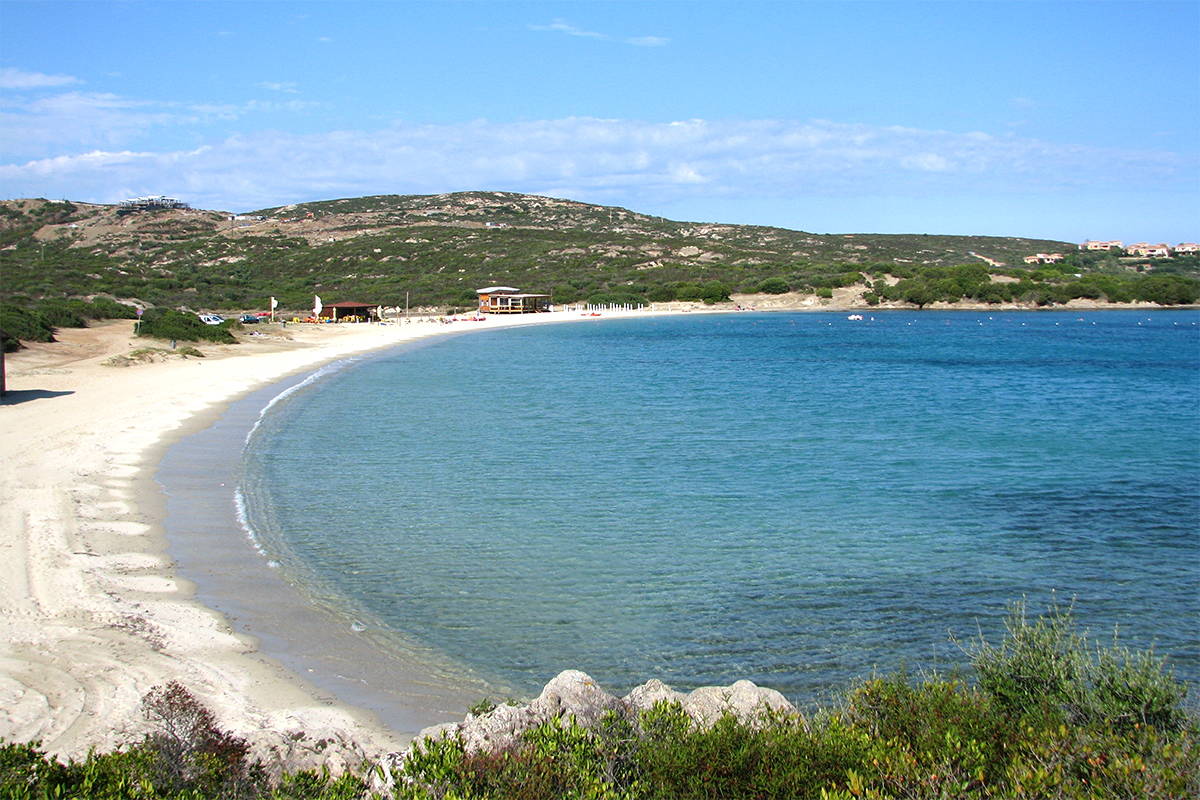 SPIAGGIA BIANCA
One of the most famous and appreciated beaches close to Golfo Aranci is beyond doubt Spiaggia Bianca, only 12 km away from Olbia.
This beach stretches for a few hundred meters and is occupied by some beach facilities and it is sheltered by two rocky strips. Its strand is formed mainly by extremely fine white sand alternating with rocks. It is enhanced by wild lilies and low Mediterranean scrub.
This beach has plenty of facilities and it is an ideal place for families with children. It has bars ad restaurants and beach umbrellas and deckchairs are available for hire. Finally, we must mention that this beach is a great favourite of windsurfers and snorkelling enthusiasts.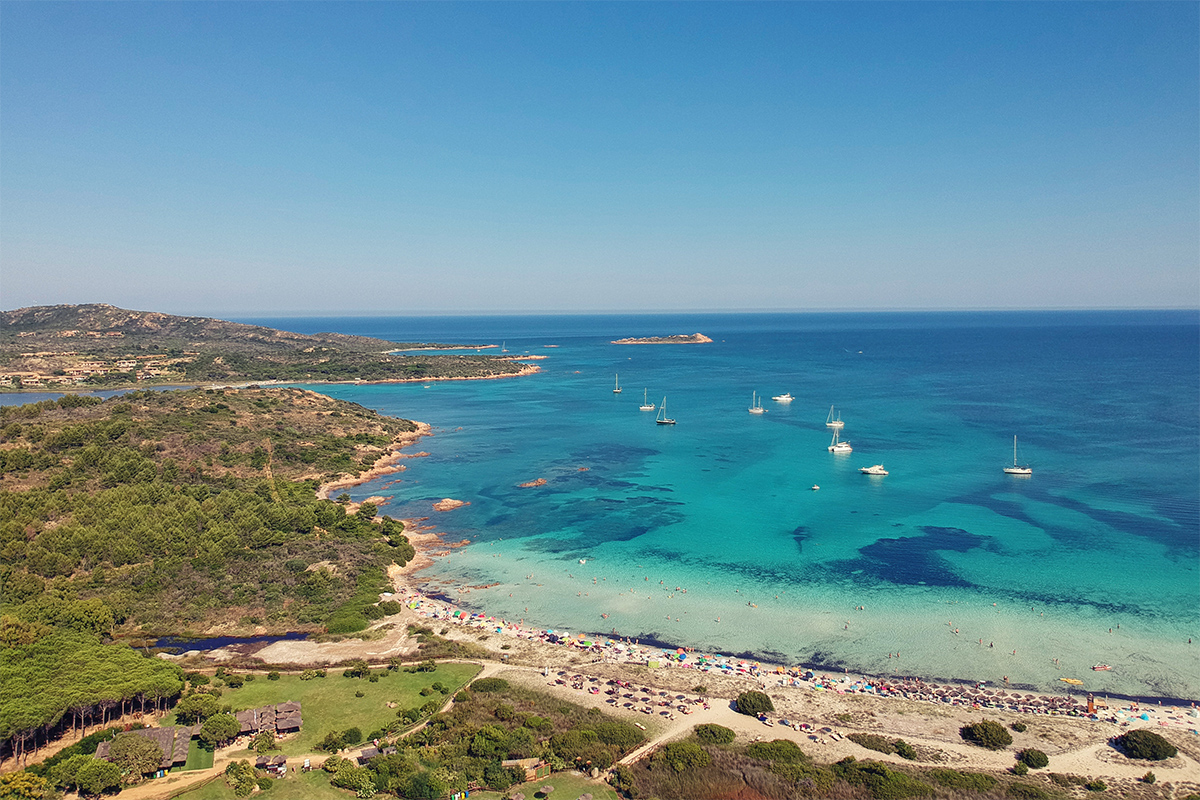 THE FIVE BEACHES OF GOLFO ARANCI
The Five Beaches of Golfo Aranci, the third of which is the widest, extend from east to west along the whole coastline. They have very similar characteristics: extremely white sand strands that remind of talcum powder, surrounded by Mediterranean maquis and which house tourist buildings and beach resorts.
All beaches have toilets, hotels, bars, restaurants and they are accessible. There are also beach umbrellas, beach chairs and small boats like paddle boats and watercraft available for rent.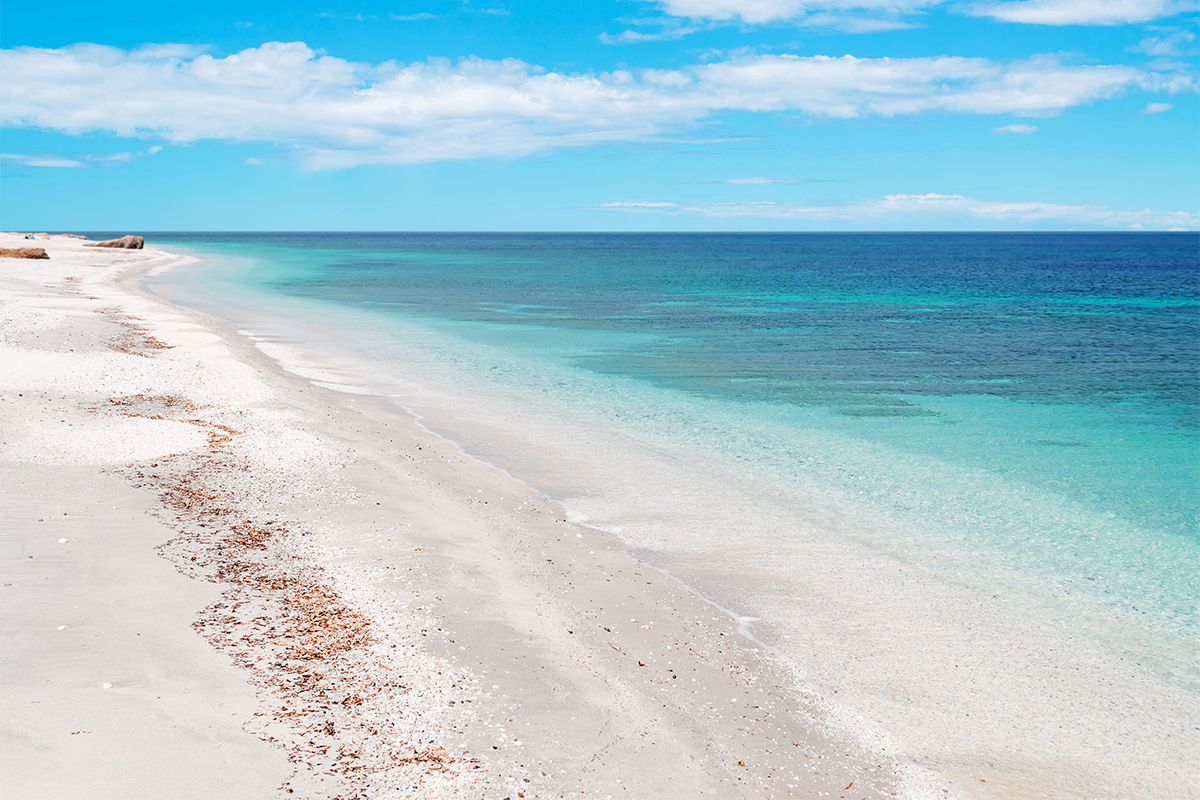 CALA MORESCA AND THE ISLAND OF FIGAROLO
Leaving the five beaches of Golfo Aranci behind, start exploring again, driving alongside the promontory of Capo Figari. This hill, approximately two hundred meters of rock is characterized by high cliffs perched over the sea.
All sea bottoms surrounding Capo Figari and the island of Figarolo are a great destination for scuba diving, since there are many inlets, and there's a huge variety of rocks and sea fauna.
In front of the issano of Figarolo is the famous beach of Cala Moresca, formed by two smaller beaches separated by a small promontory over which rise some tourist buildings. The sand is light and fine, with some shades of grey, mixed with gravel, overlooking a deep green sea.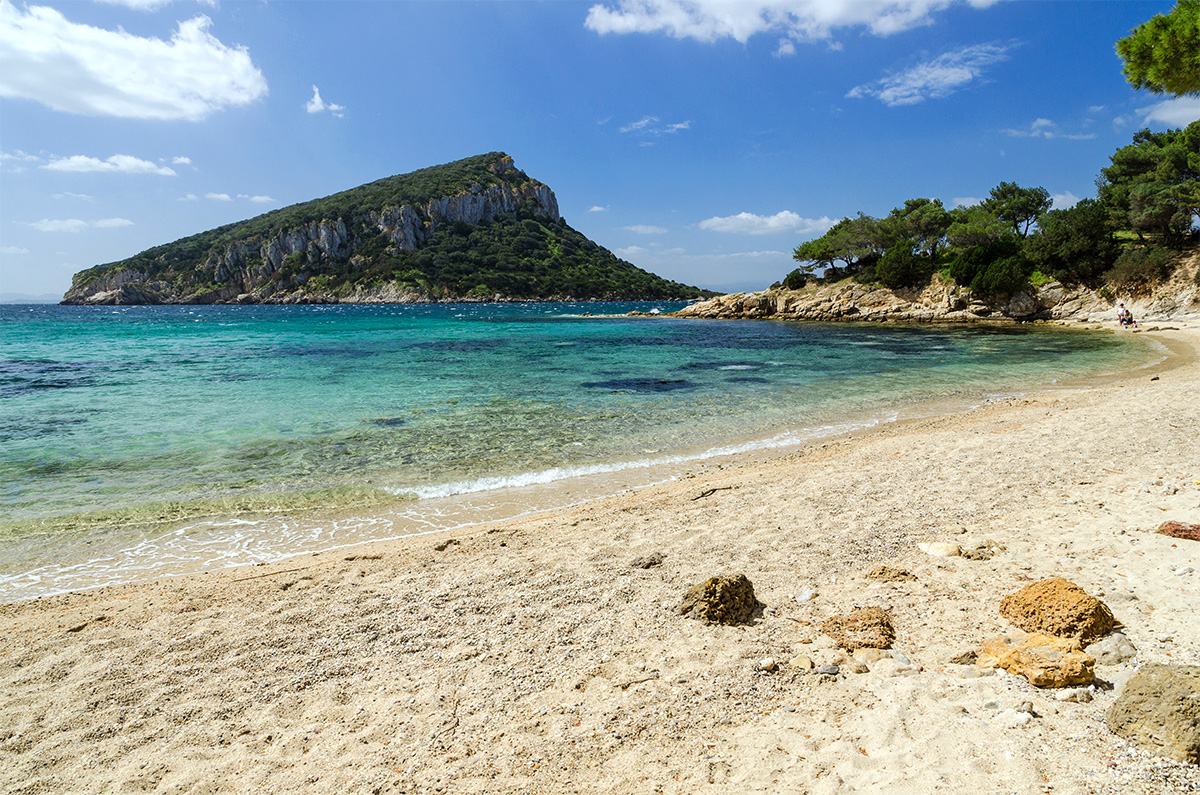 On the island of Figarolo, which can be reached by sea with small boats, is a nice small beach shaped by sea streams, and it is precisely called beach of Figarolo.
Not too far out from the island you can visit the small wreckage of a wooden merchant vessel that sank in these waters in mid 20th century and is now an integral part of the sea landscape.
Here we are at the end of our route! There are many beaches to sea and explore in this beautiful stretch of Sardinian coast... we have just suggested to you the most beautiful ones... the choice of where to spend your holidays is yours!
If you liked this article, recommend it to your friends on Facebook, Instagram, Twitter or WhatsApp.

ATTRACTIONS, TOURS AND ACTIVITIES IN OLBIA
Useful information
HOW TO GET THERE

For information about arrival and departure times of ferries from Civitavecchia to Olbia: