Port of Civitavecchia: FAQs
A practical guide of the main questions of passengers of the Port of Civitavecchia: getting around, connections, stations, points of interest and much more
Dear passenger,
In this page you will find useful information about the Port of Civitavecchia and all the answers to the most FAQs we receive daily. We hope this page will help you!
2. And the other way round... from the Port of Civitavecchia to the station?
If you are on a ship and you want to get to Civitavecchia Train Station, you can go by bus, on foot or using a private transfer (taxi, hire with driver services).
By bus, you can get on a free shuttle connecting the piers with Largo della Pace and then wait for the PortLink bus (CSP - Civitavecchia Servizi Pubblici), that will take you to the station in about 15 minutes for €2 per passenger.
On foot, you have 2 options:
1. you can get on a free shuttle, but instead of arriving at Largo della Pace, you stop at "Bramante". The stop is a few ateps away from the Fort Michelangelo and really close to the pedestrian exit "Varco Fortezza". From there, walking for about 600 meters along Viale Garibaldi you will arrive at the station.
Please Note: the stop Bramante (drop-off only) works only from 11.30 am to 2.30 pm.
2. you can get to Largo della Pace with the free shuttle and then go on foot to the station, but it will take a bit longer: this is the best option if you are not in a hurry and you wish to go shopping in the city.
5. What is and where is Largo della Pace?
The area called Largo della Pace, main hub and information point of the Port of Civitavecchia is close to the port entrance of Varco Vespucci: point of boarding and disembarkation of cruise passengers.
From Largo della Pace, in addition to getting on a shuttle bus to reach the piers of the port, you can also get on the PortLink bus (CSP - Civitavecchia Servizi Pubblici) that will take you to the train station, get on a SIT Shuttle Bus (Società Italiana Trasporti) that will take you to Roma S. Pietro and Roma Termini, get on foot to the stop in Piazza Vittorio Emanuele and get on a Cotral bus (to Tarquinia) and finally contact many Tour Operators, Taxis and car hire services, where you can buy tourist packages and other services.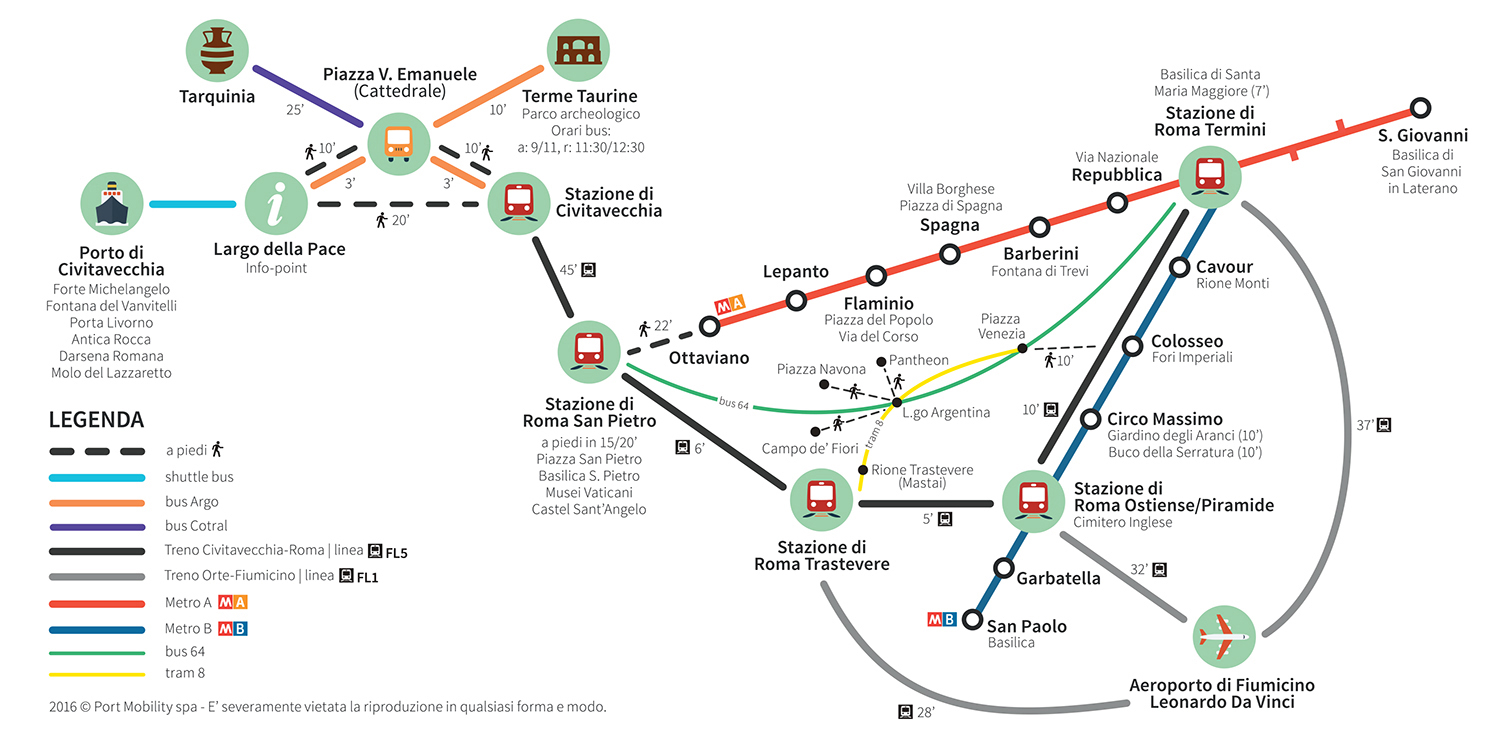 8. Where can I park inside the port?
There are three parking facilities inside the Port of Civitavecchia: Bramante, Cruise and Nord.
The three surveilled parking facilities are connected with the shuttle bus service that allows you to get easily and without wasting your time to the boarding pier.
To learn more and to book your parking space, click here.
9. Where are the information points?
Inside the Port of Civitavecchia, our qualified staff provides accurate information about boarding and disembarking of cruise ships and ferries.
The service is available at the 3 Tourist Information Points located in the main areas of interest: Largo della Pace, Varco Vespucci, Terminal Autostrade del Mare.