Civita di Bagnoregio: how to get there and what to see
Discovering Civita di Bagnoregio, the town that is dying: history, pictures, where is it, how to get there and what to see in one of Italy's most beautiful Medieval villages
Civita di Bagnoregio is a magical, surreal, fantastic place located on top of a tuff hill that can only be reached by crossing a narrow pedestrian bridge. From there you can enjoy one of the most stunning panoramic views of the whole Lazio region.
Nick-named "the town that is dying", due to the constant erosion of the tuff rocks where it is placed, this citadel half-way between Orvieto and Lake Bolsena has Etruscan and Medieval origins. Suspended in time and space, Civita di Bagnoregio is beyond doubt one of the most beautiful and characteristic Italian villages.
On foggy days, this wonderful town seems literally suspended in mid-air... want to find out more? Follow us!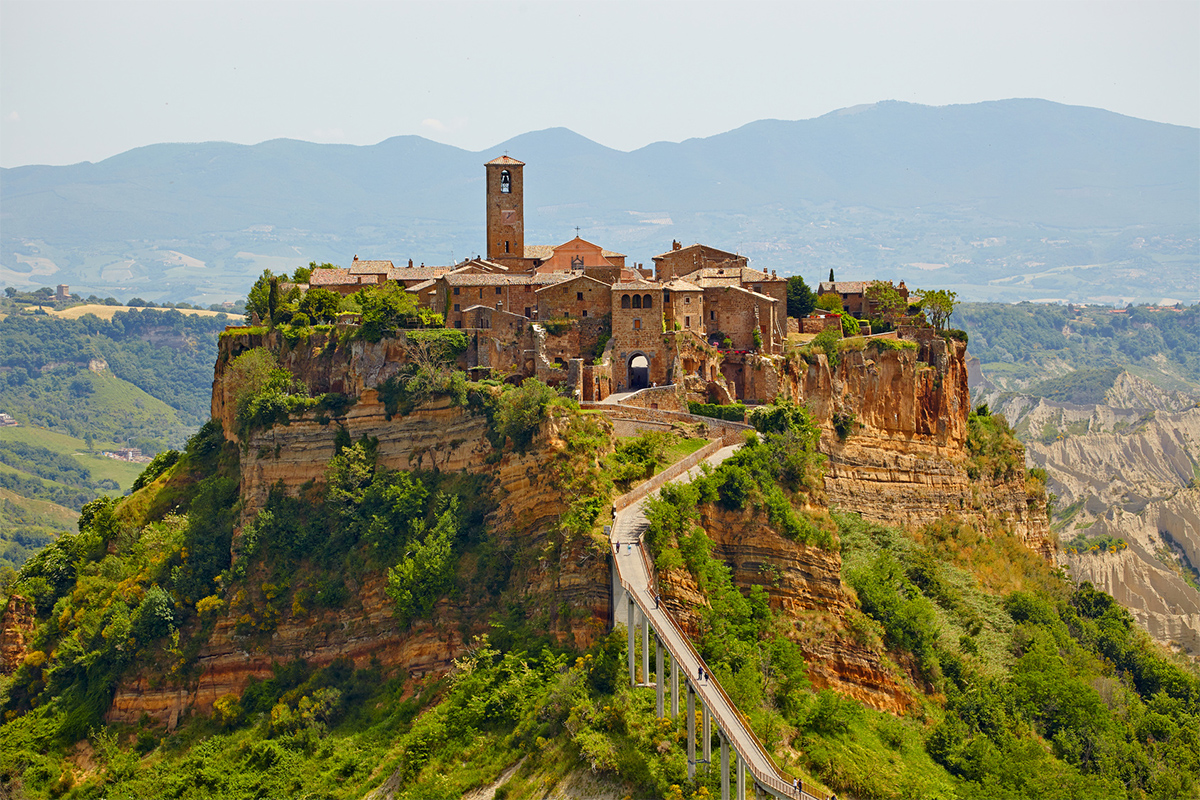 HISTORY OF CIVITA DI BAGNOREGIO
Civita di Bagnoregio was originally founded by Etruscans 2.500 years ago! The city at the time was formed only by a group of houses and where the modern Civita stands, there was the acropolis with a temple and a forum, core of civil and religious life of the whole town. Where Bagnoreggio stand now, there used to be the inhabited area of Rota.
Enclosed between to rivers, Rio Chiaro and Rio Torbido, surrounded and protected by Valley of Calanchi, this small upland was placed in an absolutely strategic position. In addition, the close mouth of river Tiber consituted an important commercial and communication way.
Etruscans already knew about the seismic instability of this area and built some structures aimed to protect the village from earthquakes, containing rivers and building drainage channels for a better flow of raiwater. Romans, in turn, restarted the works but ater them, their works were disregarded and the area fell soon in decay and it was finally abandoned.
To make things worst, the tuff hill where Civita stands is mine-strewn at its base by continuos erosion caused both by the action of two streams and by rain and wind. Civita is slowly and inexorably crumbling. It is no coincidence that writer Bonaventura Tecchi described it as "the town that is dying".
The wonderful village of Civita di Bagnoregio is today a very small town center where time seems to have stopped. It can only be reached by foot, walking along a concrete bridge built for the few citizens that remain here and for tourists coming to visit it from all over the world.
WHAT TO SEE IN CIVITA DI BAGNOREGIO?
As already mentioned, to get to the village of Civita you must cross the suspension bridge of 300 metres linking it to Bagnoregio. Arm yourself with a camera because at every step you will be faced with breath-taking views!
Once you cross the bridge, the first important monument that you will find is Porta San Maria, surmounted by a pair of lions grabbing two human heads, symbol of the despots defeated by the inhabitants of Bagnoreggio
Up ahead, via San Maria widens into the main square, where you can admire the Romanesque church of San Donato restored in the sixteenth century. Here are kept very interesting works, like the wonderful fifteenth-century wooden Crucifix by the school of Donatello, and a fresco by the school of Perugino.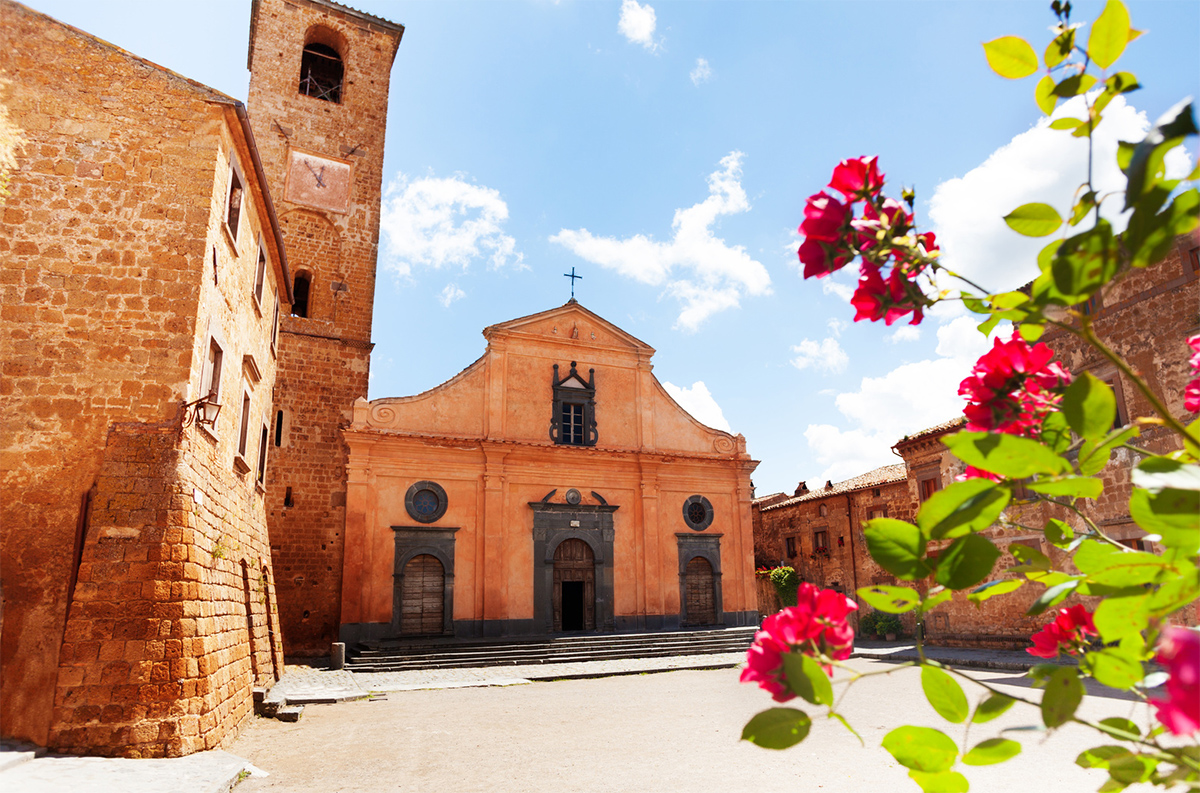 The Renaissance buildings of Colesanti, Bocca and Alemanni stand out in the tiny alleys with the typical low-rise houses with small balconies and little ladders, typical of Medieval architecture.
You will surely not run out of things to do here in Civita. We underline the small Museum Antica Civitas, built inside a residence and the grotto of San Bonaventure, an old chamber tomb digged into the sheer tuff wall, named after Friar Bonaventure of Bagnoregio (1217-1274) biographer of St. Francis of Assisi.
It is said that during his stay in Civita, St. Francis cured a young boy named Giovanni di Fidanza, saving him from death. His mother promised to the Saint that once the boy would grow up, he would become a server of God. That is how Giovanni became Friar Bonaventure of Bagnoregio.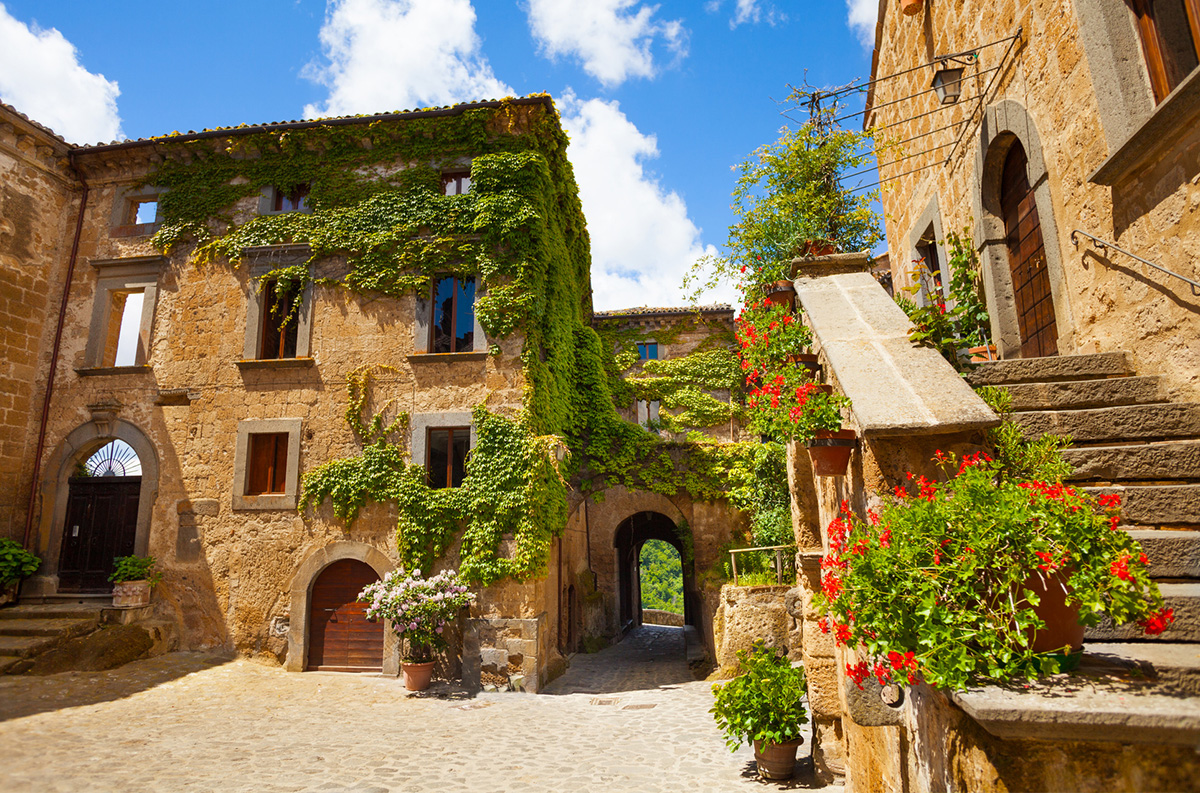 This suggestive village offers an authentic surreal and unforgettable atmosphere. Try to climb the East Cliff to admire the wonderful sight of the so-called "Ponticelli" (little bridges), clay massive walls, last trail of an erosive process started thousands of years ago and that still goes on.
Within the village, there are some restaurants, trattorias and bars and also bed & breakfast and local artisan shops.
Our article ends here. You just need to read the useful information box at the bottom of the page to organize your visit at best. As always... bon voyage!
Useful information
Civita di Bagnoregio
HOW TO GET THERE

First of all, bear in mind that visiting Civita di Bagnoregio takes usually between 2 and 4 hours, not counting lunch or dinner time. The only way to get there is crossing the bridge that links the village to Bagnoregio. If you come by car, you will have to pay a fee to park it in the valley below the bridge. A bus will take you to the beginning of the bridge. You can as well get there by foot, but the road is uphill and quite steep. We have warned you!

Anyway, in our opinion, the best way to get to Civita di Bagnoregio is by car:

- from North: follow Highway A1 towards Rome and exit in Orvieto. After the toll both turn left and follow directions to Civita di Bagnoregio. Alternatively, driving along SS2 Cassia, by Montefiascone take the SS71 Umbro-Casentinese. After about 14 km turn right towards Bagnoregio.
- from South: leaving the A1 road after the toll both of Orvieto continue along the state highway (Rome and Bagnoregio are distant about two hours).

By train:
Train stations where you can get to reach Bagnoregio are: Viterbo and Orvieto, where you can take a COTRAL bus line to get to Bagnoregio.

PRICES

To cross the bridge and get to the village, there is a €5 fee.