Basilica of Saint Sebastian outside the walls
Visiting the Basilica of Saint Sebastian outside the walls: catacumbs, opening hours, location and description of what to see in one of the Seven Pilgrim Churches of Rome.
The Basilica of Saint Sebastian outside the walls is located along the Via Appia Antica, between the Park of the Caffarella and the Catacombs of St Sebastian and it is part of the so-called Seven Pilgrim Churches of Rome, traditional itinerary travelled by pilgrims from all over the world in the occasion of the Holy Year.
The basilica stands where, according to legend, were taken the remains of Saint Peter and Paul during the Christian persecution. That's why the original name of this church was Basilica Apostolorum, before being devoted to Saint Sebastian, who was buried in late third century in the catacombs located underneath the basilica.
Fearing a Saracen assault, in 826 the remains of the saint were transferred to the Basilica of St. Peter. And it was a wise decision, since the assault took actually place causing the destruction of the church.
The Basilica was later rebuilt by Pope Nicholas I, while the martyr's altar was reconsecrated by Honorius III by request of the Cistercians, who took care of th church.
BASILICA OF SAINT SEBASTIAN: WHAT TO SEE?
The elegant façade by Giovanni Vasanzio is formed, in the lower part, by a portico with three archs supported by Ionic granite columns, corrisponding, in the higher part, to three big windows.
The interior of the church, with only one nave, presents a beautiful carved wooden ceiling also by Vasanzio with emblems by Cardinal Borghese and Pope Gregorius XVI.
On the right is the chapel of relics, decorated in 1625, which houses the stone imprinted with the footprints of Jesus of Domine quo vadis?, one of the arrows which martyred St. Sebastian together with part of the column to which he was tied during the martyrdom.
---
Basilica of Saint Sebastian outside the walls, Interior - Foto di Livioandronico2013, CC BY-SA 4.0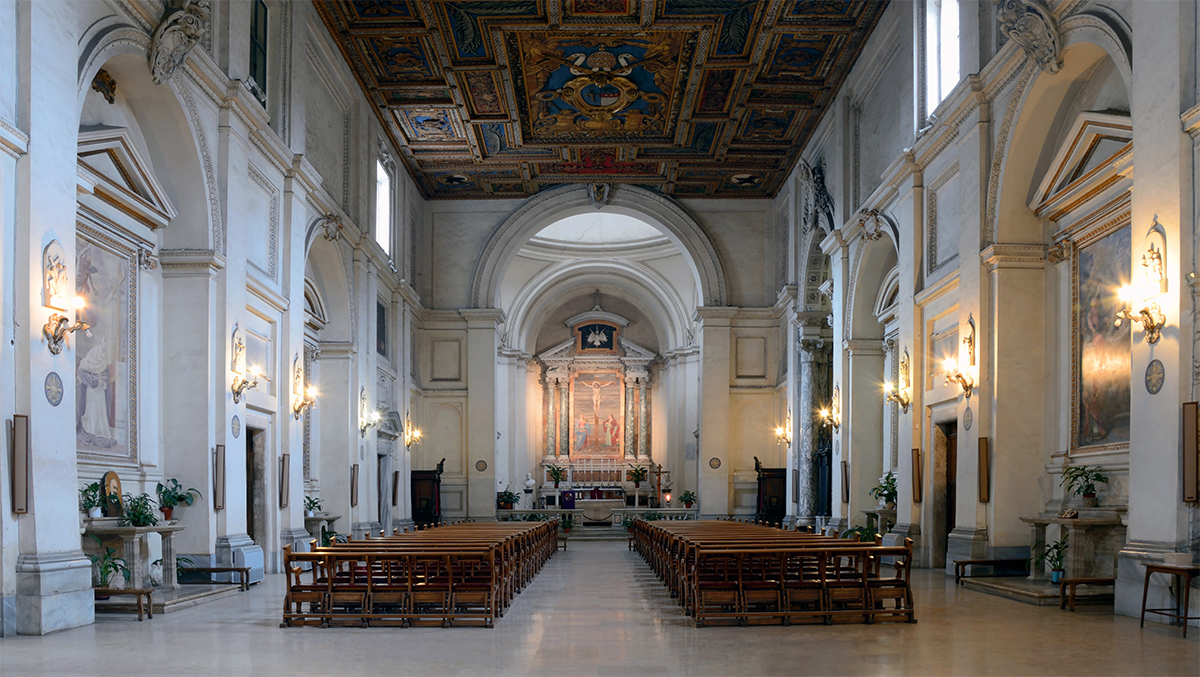 The Albani Chapel, on the other hand, was built in 1716 commissioned by Pope Clemens XI by Carlo Maratta, Alessandro Specchi, Filippo Barigioni and Carlo Fontana. It is square, with an apse and a dome decorated with works by Pier Leone Ghezzi and Giuseppe Passeri.
On the left, in correspondence with the crypt below, is St Sebastian's Chapel, designed by Ciro Ferri in 1672. Here is a reclining statue of St. Sebastian, masterpiece by Giuseppe Giorgetti, disciple of Bernini.
Finally, halfway between the Chapel of Relics and the Albani Chapel, a flight of stairs goes down leading to the catacumbs of St. Sebastian.
This article ends here. You only need to read the box below to organize at best your visit and discover how to get to the Basilica.
Useful information
Basilica of Saint Sebastian outside the walls
Fax: +39 06 7843745
HOW TO GET THERE

From the Port of Civitavecchia:

Get to

Civitavecchia Train Station

and get on the first regional train bound for Rome. After about 1 hour and 10 minutes get off at

Roma Termini

and go

to Piazza dei Cinquecento. From there, take bus line 714 (PALAZZO SPORT) for 6 stops and get off at stop PORTA METRONIA. From there get bus line 118 (APPIA/VILLA DEI QUINTILI) for 11 stops and you'll get to the Basilica of Saint Sebastian.

Alternatively, you can as well take at Termini Station

metro (line B - Laurentina)

and get off at

Circo Massimo.

From there go on foot to stop TERME CARACALLA/PORTA CAPENA and take line 118 (APPIA/VILLA DEI QUINTILI) for 11 stops and you'll be there.

TIMETABLES

Every day 8.00-13.00 | 14.00-17.30

Mass Times:

Workdays and workdays preceding public holidays: 18.00
Holidays: 8.30, 10.00 and 12.00
*The church can be visited during the Holy Mass service

PRICES

Free admission