Cerveteri and the Necropolis of Banditaccia
Visit the Etruscan Necropolis of Banditaccia: opening hours, history and useful information for a thrilling journe back in time
The Etruscan Necropolis of Banditaccia is located in top of a hill north to Cerveteri and it is beyond doubt one of the most interesting archeological sites to visit so much as to be declared, together with the Etruscan Necropolis of Tarquinia in 2004 UNESCO World Heritage
The Necropolis expands for about 10 hectares and is formed by almost 400 tombs, the oldest dating back to the Villanovan culture (ninth century BC) and the most recent to the Etruscan period (third century BC.
The feeling in the air walking within the Necropolis of Banditaccia is simply unique! It is a great and well preserved site, inside which you will really feel like you can go back in time and live again the life of this misterious as well as fascinating civilisation.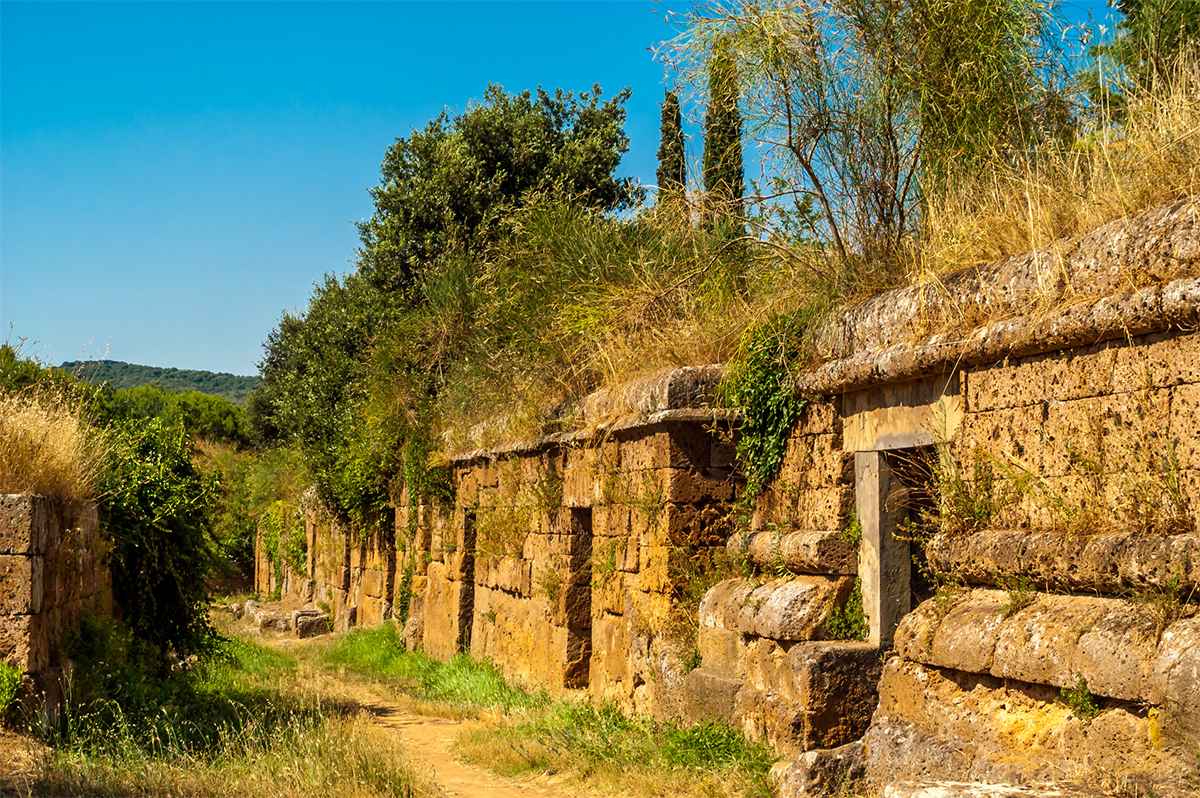 The Necropolis of Banditaccia is absolutely the most extended ancient necropolis of the whole Mediterranean area.

A curiosity: it took its name in late nineteenth century, when the fields of the area were announced by public notice to be let by Cerveteri landlords to locals (in Italian, "bandire", thus "Banditaccia").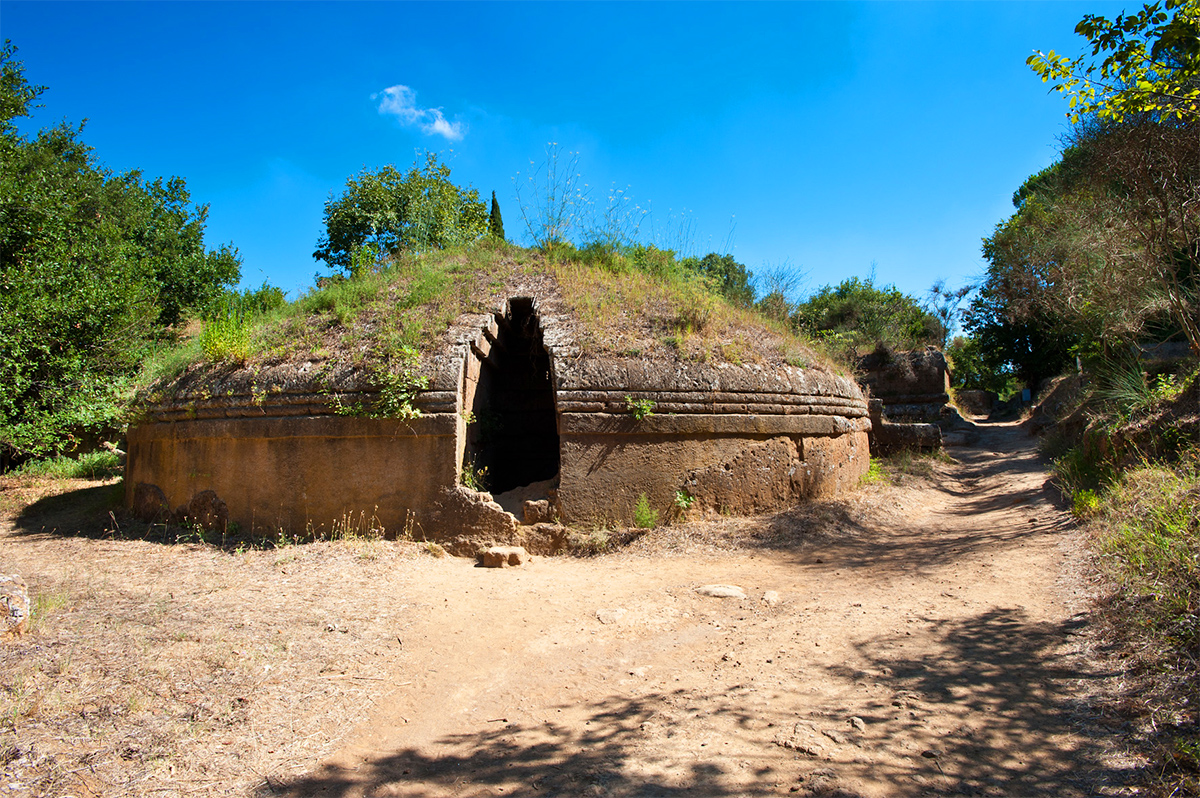 The most well-known area is the so-called "Fenced Area" and it is the only equipped area used by visitors. In an overall surface of 10 hectares, it contains approximately 2000 tombs. In this area you will find yourself walking among the characteristic circular tumuli in spherical cap, also called "Cubed Tombs" and the big noble hypogeums, arranged along Via Sepolcrale Principale and the minor streets.
Among the most suggestive tombs, there is surely the Tomb of Reliefs (4th century BC), which you can observe through a protective glass. The inscriptions found inside prove that the tomb belonged to the Matunas family, who embellished it with extraordinary decorations and reliefs in stucco, representing objects of everyday use and demon images.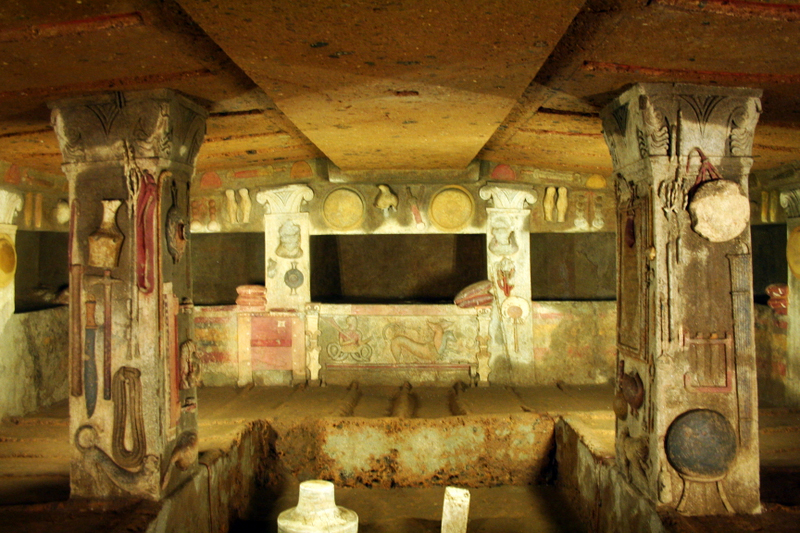 Steeped in greenery, you will also find the Tomb of the Greek Vases, the tomb of the Capitals, with a tiny entry corridor and two small rooms on both sides, the Tomb of the Well, the Mengarelli Tumulus and Maroi Tumulus. These are only some of the most important ones; the necropolis, in fact, inclludes also the Tomb of the Common, with hypogeum graves dating back to the fouth century BC, the Highway, a dirt road linking the city with the site, and the Small Lake, the hill in the central-Eastern side of the plain.
FROM PAST TO FUTURE
Proceeding with the project started with the Archeological Museum of Cerveteri, also the necropolis was provided with innovative multimedia itinerary. Inside the eight graves, multimedia setup has been installed. Thanks to audiovisual animations, they reproduce how the environment must have been in the past. The Necropoli counts in addition with a Bookshop, toilet and refreshment areas, with indoors and outdoors tables, where you can stop by for break during your visit.
Visiting the interior of the illuminated tombs is a suggestive experience, thanks to which you will get in contact with ancient Etruscans and the mysterious cult of dead.
Useful information
Etruscan Necropolis of Banditaccia
HOW TO GET THERE

Plan your trip from the port of Civitavecchia following our directions:

Cerveteri is located 40 Km from Rome and 35 from Civitavecchia. To get to the Necropolis we suggest different alternatives.

By Car

- From Civitavecchia take the Higway A12/E80 and exit at Cerveteri-Ladispoli. Continue along Via Settevene Palo and Viale Alessandro Manzoni towards Via della Necropoli.

Train/Bus

- From Roma Termini Station take ay train bound for Pisa/Grosseto/Civitavecchia and get off at Marina di Cerveteri or Cerveteri-Ladispoli.

- From Civitavecchia Train Station take a regional train bound for Rome and get off at Marina di Cerveteri or Cerveteri-Ladispoli.

Once at the station, continue by bus towards the Necropolis. For bus timetables

click here.

From the Airport

From the

Leonardo Da Vinci

Airport

take the metropolitan train FM1 bound for Fara Sabina leaving every 30 minutes and get off at Roma Trastevere. From here take any train bound for Civitavecchia/Grosseto/Pisa

and get off at the

station of Marina di Cerveteri or Cerveteri-Ladispoli. Continue along by bus towards the Necropolis.

TIMETABLES

Tuesday - Sunday: from 8.30 to sunset.
Closed on Mondays, the 1st January and the 25th December.

To book a group guided visit: +39 0639967150

PRICES

Reduced:

€

3

(18-25 years old)

Admission is free for under 18.

Free admission for everybody the first Sunday of every month

Combined ticket Necropolis + Archeological Museum

Full-price:

€

8

Reduced: €4