A relaxing day at Terme di Vulci
What you need to know to visit and stay at Terme di Vulci: opening hours, prices, curious facts, characteristics of the water and pictures
From the Taurine Baths to the Ficoncella Thermal Baths, to Terme di Saturnia: thermal waters of the Lazio region provide places you must absolutely visit.
Some of these places are Terme di Vulci, not far (10 minutes by car) from Vulci Archeological Park and close to the old town of Montalto di Castro.
An unspoilt place in the Lazio countryside, where you can let go of the daily stress and spend a whole day relaxing and taking care of yourself.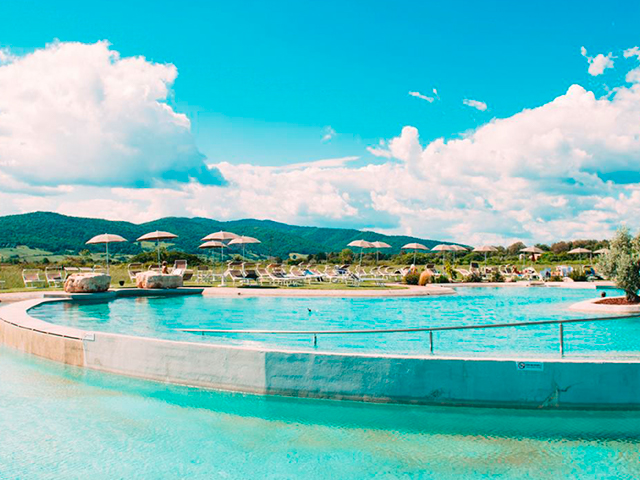 Opened in September 2016, Terme di Vulci include four thermal pools filled with mainly ferrous water. The temperature of the water ranges from 42°C, in the biggest pool, to 30°C, in the smallest pool. All the pools are supplied by spring waters of different colours and depths.
In the middle of the central pool there is a garden with three beautiful olive trees. Along the shore, there are beach umbrellas, sun beds and beach chairs to relax completely. Finally, there is also a bar where you can have a snack or a drink.
A BIT OF HISTORY
The Etruscans already sensed the beneficial and curative properties of Terme dei Vulci. Later, the Romans took advantage of the water by creating thermal baths, the so-called Vasche delle Cento Camere, a number of pools including a Calidarium, a Tiepidarium and a Frigidarium. In the middle of the pools there was a natium in a figure of eight. Some archeological finds show that there were many thermal baths even inside private rooms.
There was a particular interest in the following period: Luciano Bonaparte (brother of Napoleon) had a thermal center built, Casale del Bagno, a rectangular pond supplied by a natural source.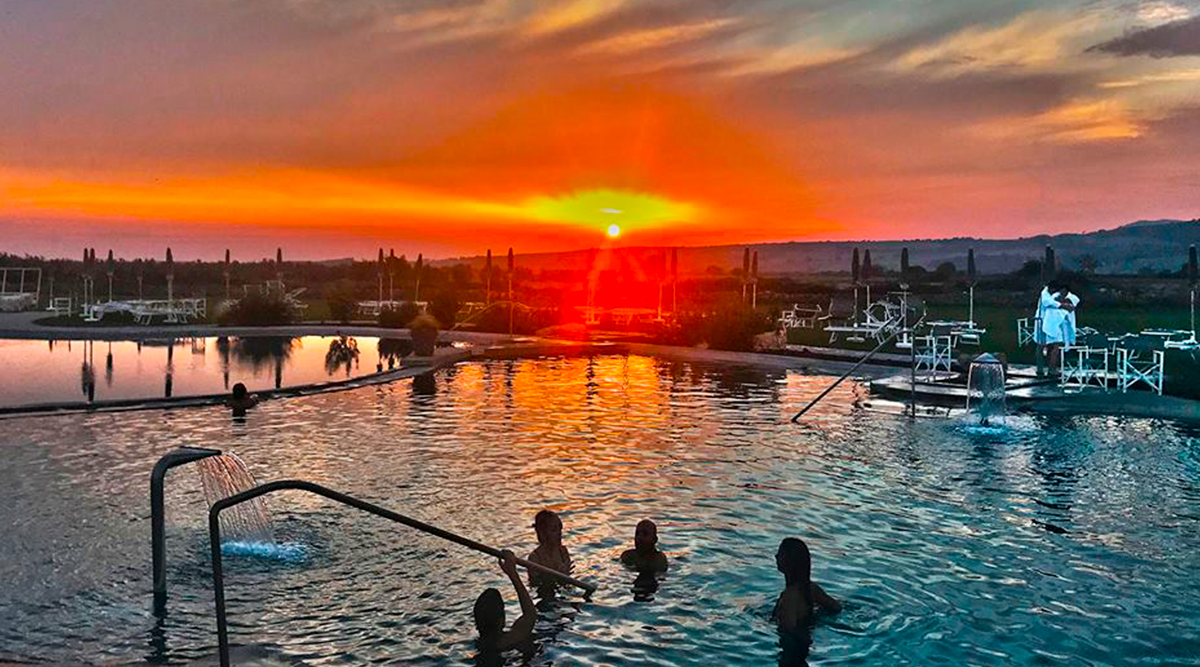 CHARACTERISTICS OF THE WATER
The water at Terme di Vulci is over a temperature of 40°C (especifically, at 42°C). Water is carbonated, ferruginous, sour and microbiologically pure and rich in mineral salts: bicarbonate, sulphate, magnesium, fluoride, ferruginous, sour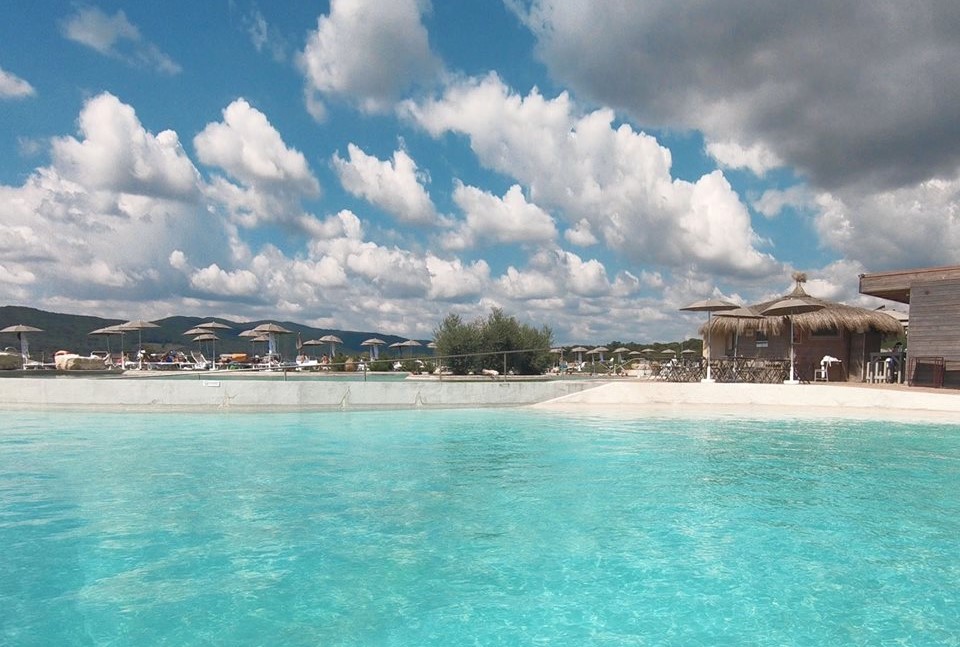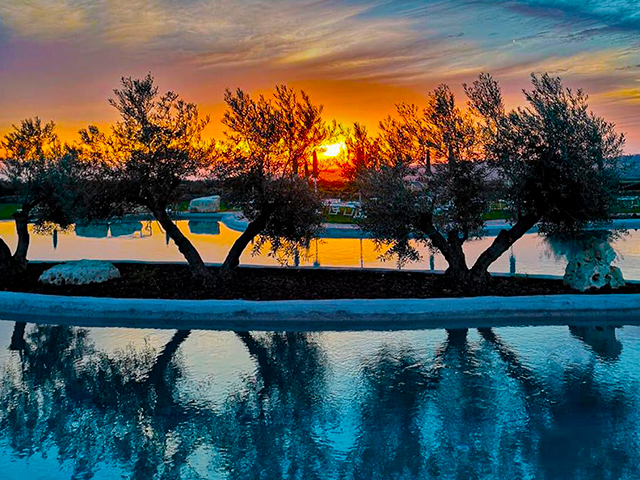 THERAPEUTIC BENEFITS
The water at Terme di Vulci is especially indicated for the treatment of rheumatism and arthrosis, dermatological diseases and veino occlusive disease, thanks to the beneficial properties of these thermal waters.
Reopening for season 2019 will be in March.
To learn more about how to get there, opening hours, prices and cost of the stay at Terme di Vulci, plese refer to the "Useful information" section below.
Watch this relaxing video of Terme di Vulci. Enjoy it and relax!
Credits: termedivulci.com
Useful information
Terme di Vulci
HOW TO GET THERE

From the Port of Civitavecchia:

By car

: to get to Vulci Archeological Park from the Port of Civitavecchia by car you only ned to exit at

Raccordo Civitavecchia-Viterbo

/

E840

and continue on

SS1 Via Aurelia

/

E80

towards

SP105

Montalto di Castro until you reach Strada Provinciale 105 until final destination.

By car from the North: follow the road Livorno-Grosseto, then S.S. 1 Aurelia until the exit of Montalto di Castro (km 109). Enter the S.S.1 Aurelia direction Nord and exit at Vulci at Km 111. Follow the S.P. del Fiora, the della Badia (13 Km)

By car from the East: highway Orte-Viterbo until Viterbo, then take road Viterbo-Tuscania-Montalto di Castro. At Montalto di Castro take the S.S.1 Aurelia direction Nord and exit at Vulci at Km 111. Follow the S.P. del Fiora, the della Badia (13 Km)

TIMETABLES

Please refer to the official site for opening hours termedivulci.com

PRICES

Adults: €17 (working days)

€25 (holidays)

Afternoon admission: €12 (except holidays)

4-12 years old: €8 (working days)

€10 (holidays)

0-3 years old: Free admission