Vatican Museums
Vatican Museums: opening hours, ticket office, booking, how to get in for free, skip the line and other useful information to visit the world's biggest art collection.
Visiting the Vatican Museums is one of those experiences that you should try at least once in your life!
A long trip through over twenty centuries of art and history in an ever-accelerating sequence of emotions leaving you speechless. The Sistine Chapel, Raphael's Rooms and the Pinacoteca are only the spearhead of a collection boasting priceless works of art. Are you ready to start?
Describing the Vatican Museums is a real challenge! It's not easy to find the right words to depict this astonishing collection. As we always do, we will try to provide you with invaluable advice to skip the line, to go in for free and you will find out many useful information to organize at best your visit.
VATICAN MUSEUMS: A LITTLE BIT OF HISTORY
The origin of the Vatican Museums is rather unique! Everything started in 1506 when a statue representing Laocoön, a figure in Greek mythology, was found. The group represents an account in Virgil's Aeneid: since Laocoön had predicted the deceit of the Trojan Horse devised by Ulysses, he was punished by the gods, sending two giant snakes to his sons. This is one of the most famous statues of the antiquity!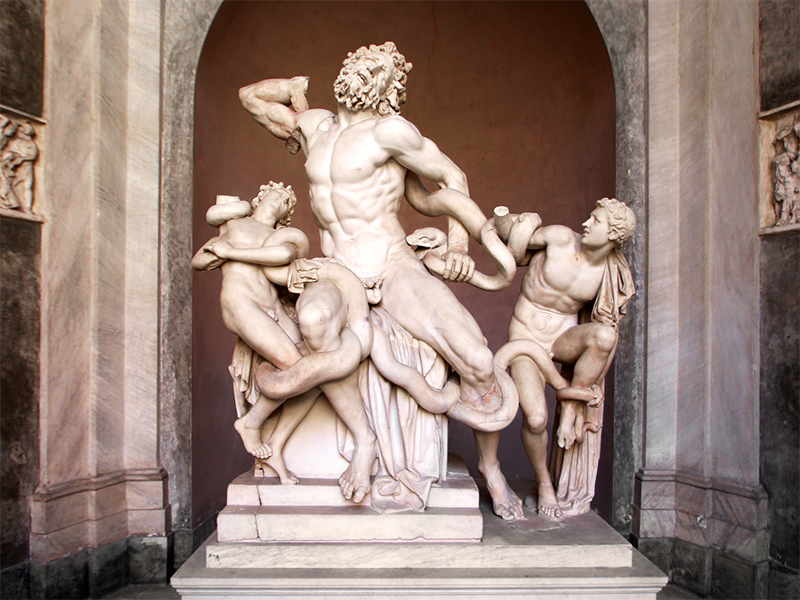 When Pope Julius II found out about the discovery, he immediately called Michelangelo Buonarroti and Giuliano da Sangallo to guarantee the authenticity of the statue. After receiving confirmation by both artists, he then decided to promptly buy the sculpture and display it in the Vatican, along with other statues in the "Courtyard of Statues", current Octagon Courtyard.
The Octagon Courtyard is located in the interior of the vast Pio Clementino Museum founded by Pope Clemens XIV in 1771, and it hosts mainly Greek and Roman sculptures. Aside from the Laocönt, stand out the Amazon Mattei, copy of a lost original by Fidia, made in bronze in the second half of the 5th centuty BC an the Apoxyomenos, a Roman copy dating back to the Claudian age of an original in bronze by Lysippos from 330-320 BC..
The Vatican Museums were born from that first group of statues, considered today as one of the most important museums in the world. The different Popes that have ruled, have gathered and preserved over the years some of the most important art masterpieces of all times and you can admire them today.

WHAT CAN YOU SEE IN THE VATICAN MUSEUMS?
With over 70,000 objects displayed in a 42,000 meters expanse, you will understand that to see everything in a single visit is simply impossible! No doubt musch depends on the time you can spend there, but we recommend to choose first what to see and so avoid leaving the museum with a feeling of confusion. Actually, you will risk to see everything and nothing!
But what to choose? How to get oriendted inside this limitless pile of works of art without feeling overwhelmed? Let's start first of all saying that the whole structure is formed mainly by two parts: the Museums and the many rooms and spaces of the Palace of the Vatican. We present a general outline to help you see it more clearly.
The Museums:
Vatican Pinacoteca: includes works by painters like Giotto, Leonardo, Raffaello and Caravaggio.

Collection of Modern Religious Art: gathers works of artists like Francis Bacon, Carlo Carrà, Marc Chagall, Salvador Dalí, Giorgio de Chirico, Felice Mina, Paul Gauguin, Wassily Kandinsky, Henri Matisse and Vincent van Gogh.

Pio Clementino Museum

(Octagon Courtyard): Pope Clement XIV founded the

Pio-Clementino

Vatican Museum

in 1771, and it was originally used for the collection of Ancient and Renaissance works. The musuem and the collection were expanded by his successor Pope Pius VI. Today the museum hosts Greek and Roman sculptures.

Missionary-Ethnological Museum: founded by Pope Pius XI in 1926, it hosts religious works, coming from all over the world.

Gregorian Egiptian Museum: founded by Pope Gregorius XVI, the museum hosts a vasta collection of Egiptian finds including papyrus, mummies, the famous Book of the Dead and the Grassi Collection.

Gregorian Etruscan Museum

:

founded

by

Po

pe

Gregorius

XVI in

1836, this museum is formed by eight galleries and it hosts important Etruscan finds, coming from archeological excavations. Among the finds, there are vases, sarcophagus, bronzes and the famous

Guglielmi Collection

.

Pio Cristiano Museum and Gregorian Profane Musuem.

The Carriages Pavilion, preserving some of the vehicles used to transport the popes in the past, it is part of the Vatican Historical Museum, located in Palazzo del Laterano.

Philatelic and Numismatic Museum.

Museum of the Vatican Apostolic Library.

Chiaramonti Gallery: named after Pope Pius VII Chiaramonti, who founded it in early nineteenth century. It is formed by:

Chiaromonti Gallery, where manysculptures, sarcophagus and decorations are displayed;

The new wing, called Braccio Nuovo, built by Raffaele Stern, it holds famous statues;

Lapidary Gallery, containing over 3,000 pieces of inscriptions, epigraphs and monuments, it represents the world's biggest collection of this kind. Open to public only under request, it is generally visited to study the works.
The Palace of the Vatican
Galleries:

Gallery of Candelabra

Gallery of Tapestries

Gallery of Geographic Maps

Chapels:

Sistine Chapel

Niccoline Chapel

Chapel of Urban VIII

Rooms:

Room of the Chariot

Appartment of St. Pius V

Sobieski Room

Room of the Immaculate

Raphael Rooms

Raphael Loggia

Room of Chiaroscuro

Borgia Apartments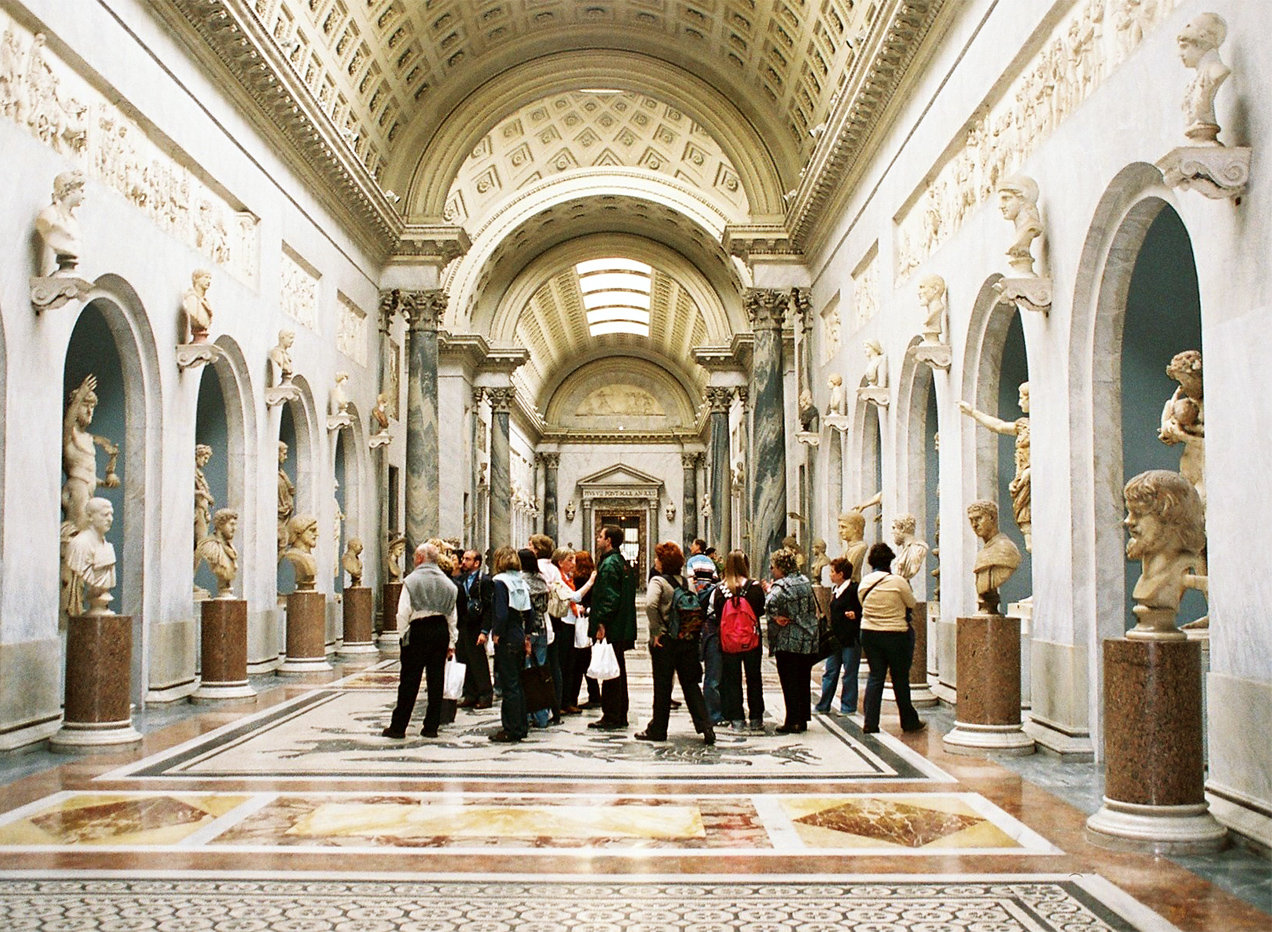 As you might have already realised, we are in front of something simply immense. Even having two whole days available you would not be able to completely appreciate the whole collection.
We can only recommend some of the rooms and collections but the choice is up to you according to your interests: Ancient, Medievale, Renaissance or Modern art? We must say that we are spoilt for choice!
7 THINGS TO SEE IN THE VATICAN MUSEUMS
Without any pretentions to being exhaustive, but only to help you choose, we have thought to present the Best Of the Vatican Museums: 7 things that, in our opinion, you can't absolutely miss during your visit.
Unfortunately, we must often reckon with time, so why wasting it if you can make a sure hit? If you feel "lost" among the many pieces of art, rooms and galleries of the museum, then read our article called 7 Things to See in the Vatican Museums.
VATICAN MUSEUMS: USEFUL TIPS FOR SURVIVAL
One of the main obstacles between you and the Vatican Museums is the endless line you will find at the entrance. Even if you get there early, it is usual to find already many people: don't forget that close behind the Louvre in Paris, the Vatican Museums are absolutely the most visited in the world.
What to do then? In the box at the bottom of the article, you will find details that we invite you to read, but on the meanwhile, we reveal in advance that there is a solution called online ticket. It costs €4 extra compared to the ticket price but it is worth it! Do it and you will thank us.
If you are otherwise not scared of the line and you don't want to spend this extra money, then we advice you to go to the museums on Wednesday morning around 10 am. Why you will ask... why then?
Because every Wednesday morning at 10.30 am the Papal Udiences take place in St. Peter's Square. The Holy Father welcomes pilgrims and visitors to give them the apostolic benediction. You will anyway find some people staying in line, but it is generally less compared to other days! The choice is up to you.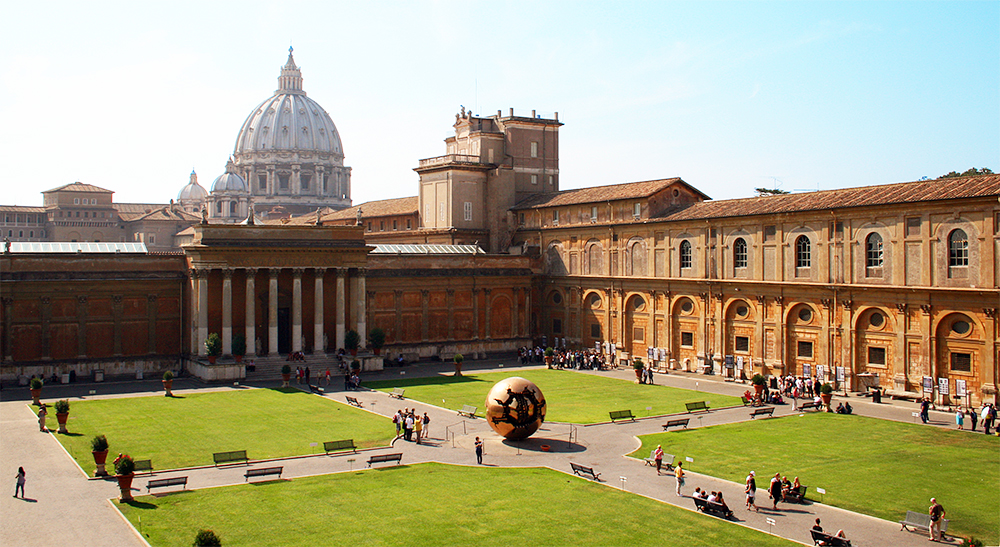 AND WHAT ABOUT THE SISTINE CHAPEL?
Did you really think we had forgotten about the Sistine Chapel? To the great masterpiece by Michelangelo Buonarroti we have devoted a whole article! Read our in-depth article on the Sistine Chapel and find out about the history and secrets hidden behind the frescoes. Also, you will find information, opening hours and useful tips to make your visit a memorable one.
It might sound common, bu in our opinion, the Sistine Chapel ranks in the first place among the things to see in the Vatican Museums. Some prefer to see it last, others will rather visit it first, fearing not to have time later. Plan carefully your visit, according to your preferences and trying to leave enough time for Michelangelo Buonarroti's masterpiece.
And meanwhile, what do you think about admiring it thanks to this amazing photografic 3D view of the Sistine Chapel?
Now read the box at the bottom of the article to read all details and also to find out how to visit the Vatican Museums for free!
Useful information
Vatican Museums
Fax: +39 06 69885100
Landline phone: +39 06 69883145 | 06 69884676 | information 06 6982
HOW TO GET THERE

From the Port of Civitavecchia: Go to Civitavecchia Train Station and get on the first regional train bound for Rome. Get off at Roma Termini Station and from there tkae the subway (Line A) towards Battistini and get off at stop Cipro - Musei Vaticani or, alternatively, at Ottaviano - San Pietro.

From Leonardo da Vinci Airoport (Fiumicino)

The train Leonardo Express takes you to Termini Sation and from there you can follow the directions for the subway line A.
From Ciampino Airoport

The Terravision bus takes you to Termini Station and from there you can follow the directions for the subway line A. The trip by taxi from both airports takes around 40 minutes.
Bus (stops)
49, in front of the entrance to the Museum
32, 81, 982, Piazza del Risorgimento (end-of-line) (5-minute walk)
492, 990, Via Leone IV / Via degli Scipioni (5-minute walk).
Tram
19, Piazza del Risorgimento (5-minute walk).

TIMETABLES

Monday - Saturday

: entrance from 9 am to 4 pm | closing time at 6 pm (

exit from rooms half an hour before closing time

)

Closed: Sunday, except the last Sunday of every month (free entrance from 9 am to 12.30 pm and closing at 2 pm), unless it coincides with Easter Sunday, 8th, 25th and 26th of December, 1st and 6th of January, 11th of February, 19th of March, 5th and 6th of April, 1st of May, 29th of June and 15th of August.

PRICES

The admission ticket to the Vatican Museums includes as well the visit to the

Sistine Chapel.

Full: € 16.00

Reduced: € 8.00

Scholastic Ticket: € 4.00

* In order to avoid long queus we highly recommend you to buy your ticket online with a € 4.00 fee. Do it and you will thank us!

* For further information about ticket reductions, types of tickets, and

to buy online

refer to the

official site.

* The last Sunday of every month, entrance is free. It will seem obvious, but we remind you that queues increase considerably in this occasion!