The Festival dei Popoli in Civitavecchia: full program
Local markets, live music, food service, fun fair, traditional fireworks, and the typical Civitavecchia "Padellone": all events on the summer agenda 2015
The Festival dei Popoli will take place from 10 to 24 August 2015, as part of the summer agenda organised by the City Council of Civitavecchia. Many activities and events will be held at the Marina in Piazza della Vita (former Piazza degli Eventi): from Latin dances, that will open the party, to wine and food events, to many live music shows.
Organized by Publiworld Italia, with traditional mid-August holiday fireworks, sponsored by Port Mobility of Guido & Edgardo Azzopardi and by Fondazione Cassa Risparmio di Civitavecchia. It is promoted and highly desired by City Council of Civitavecchia and council member Enzo D'Antò, who wishes this year to value local fish with the "padellone" (a huge frying pan where fish is cooked).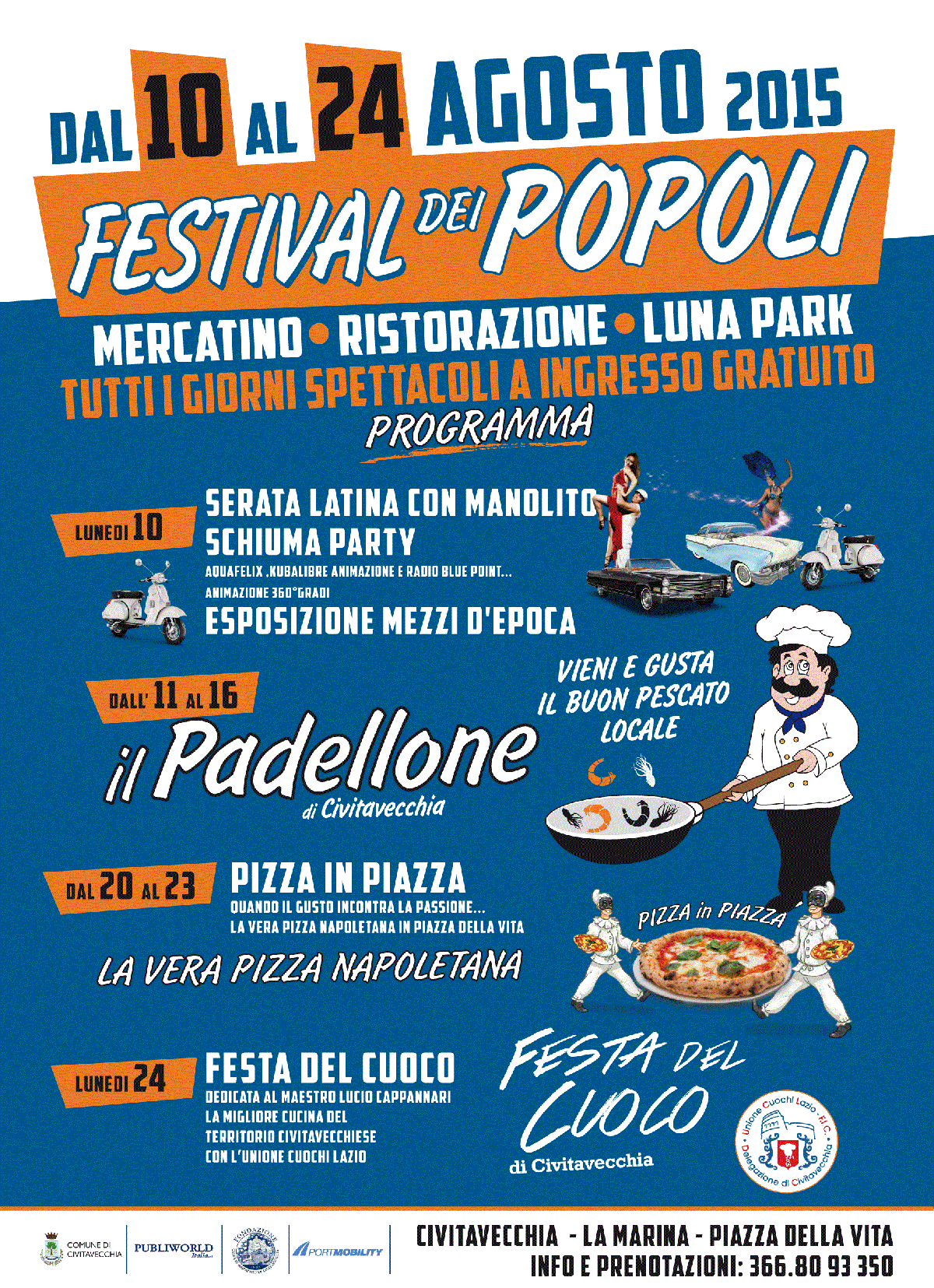 The program is really rich!
Between 11 and 16 August will be the "Padellone" looked after by the Italian Federation of Chefs, from 20 to 23 the event Pizza in Piazza also open to local pizza makers (for info and registration call 366.8093350 ), finally on 24 August, the Festa del Cuoco (Chef's Feast).
FESTIVAL DEI POPOLI: PROGRAM
10/08, Latin evening with Manolito and Schiuma Party
11/08, Phonica cover band of Modà
12/08, Edoardo Vianello will present his timeless classics
13/08, Contomia Band cover band of Mia Martini
14/08, Zerofobika cover band of Renato Zero
15/08, Jingo Cover band of Santana and unmissable fireworks
16/08, Alberto Caiazza cabaret foley artist
17-23/08, Pizza in Piazza true Naples pizza
24/08, Festa del Cuoco with catering school students who will cook local fish products
You will certainly not get bored this summer. Both if your are staying in Civitavecchia in August, or if you are just passing thorigh, you already know where to spend your evenings.
Useful information
The Festival dei Popoli in Civitavecchia: full program
HOW TO GET THERE

For those arriving from outside Civitavecchia by train you have to go down to the Station of Civitavecchia and continue on foot for a few meters. The Marina of Civitavecchia is in Piazza della Vita (former Piazza degli Eventi).

TIMETABLES

Every day from 10 to 24 August

PRICES

Free admission to all events