Holidays in Sardinia: 10 most beautiful beaches in Cagliari and surroundings
Most beautiful beaches in Cagliari from South-East to South-West through spectacular pictures and useful information
Cagliari, other than being a fascinating destination for its history and culture, is located in an ideal position to explore the wonderful Sardinian South Coast.
From the capital city of Sardinia you can, in fact, reach easily some of the most sought-after beaches of the island: Villasimius at South East, Cala Tuarredda and the beaches of Chia at South West, are only some of the best destinations we'll discover in this article.
So... get your towel, suncream and sunglasses ready, the Sardinian South Coast is waiting for you!

CAGLIARI: 10 THINGS TO SEE AND VISIT
1. Poetto Beach
We must start our trip from Cagliari's beach par excellence: the Poetto!
Extended for 8 km from the promontory of the Sella del Diavolo to the coast of Quartu Sant'Elena, this beach is a small paradise a stone's throw away from the city where you can spend a relaxing day as well as enjoying the nightlife at any of the bars, pubs and clubs.
The Poetto Beach has a wide range of services: bed & breakfast, hotels, parking facilities and beach resorts.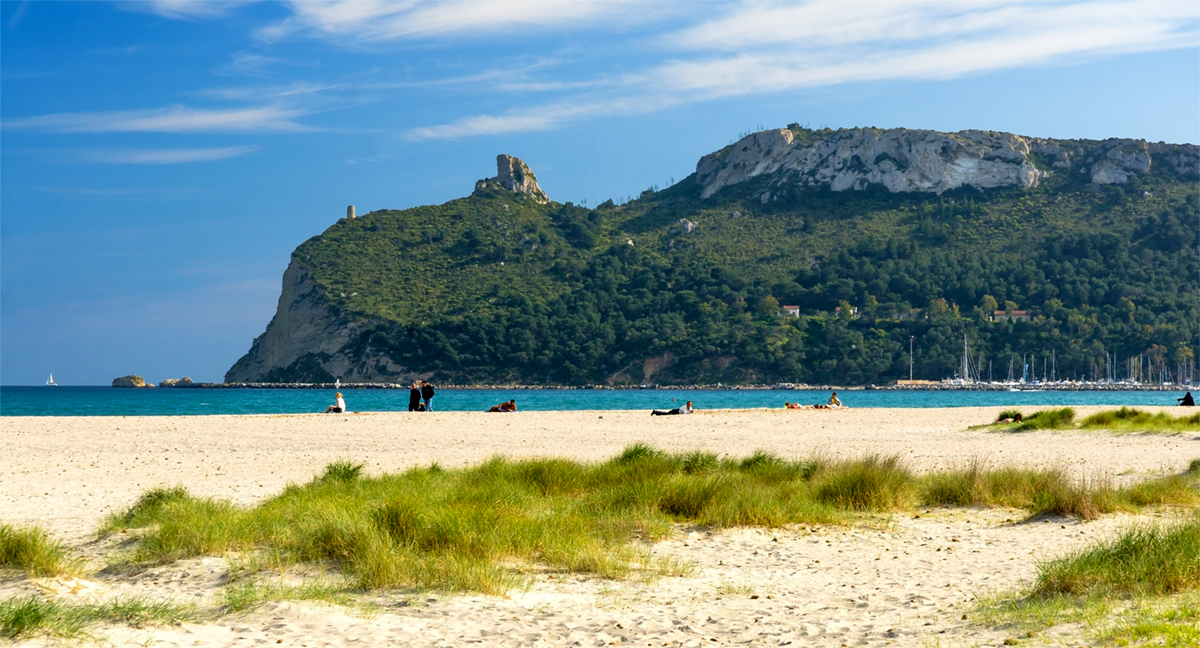 2. Calamosca and Cala Fighera Beaches
Both located on the opposite side of the Sella del Diavolo, compared to the Poetto, both beaches Calamosca and Cala Fighera are recommended for those looking for a secluded and quiet place.
Cala Fighera is a small pebble inlet with a high sandstone rocky cliff. It goes without saying that from up there, the boldest take on very dangerous as well as spectacular acrobatic jumps plunging into a turquese water. Don't do it yourself!
Calamosca, instead, from where you can glimpse and old beacon, is a fine white sand beaches, with few pebbles and crystal clear water. Perfect if you like going under water and snorkeling or if you want to relax with your whole family.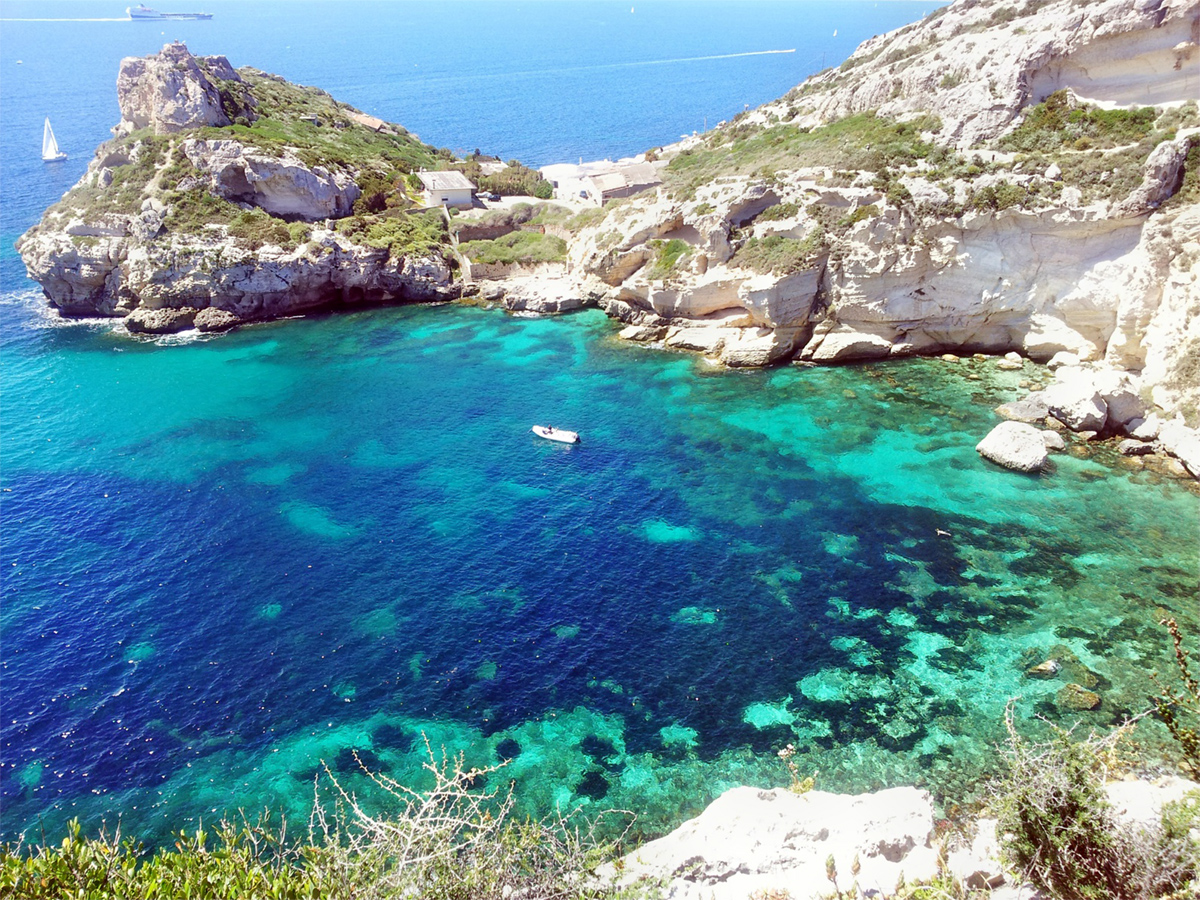 3. Cala Regina Beach
Cala Regina is in Terramala, and it can be reached from Cagliari by driving along the Old State Road SS125 that flanks the Sourth-East coast.
The beach, made up of pebbles, rocks, and rock-cliffs has a color-changing blue water and it is particularly frequented by scuba fishing enthusiasts.
From the small bay you can glimpse a Spanish lookout tower, positioned on a promontory which plunges vertically into the sea, covered with the typical vegetation of the Mediterranean brush, eucalyptuses and pines.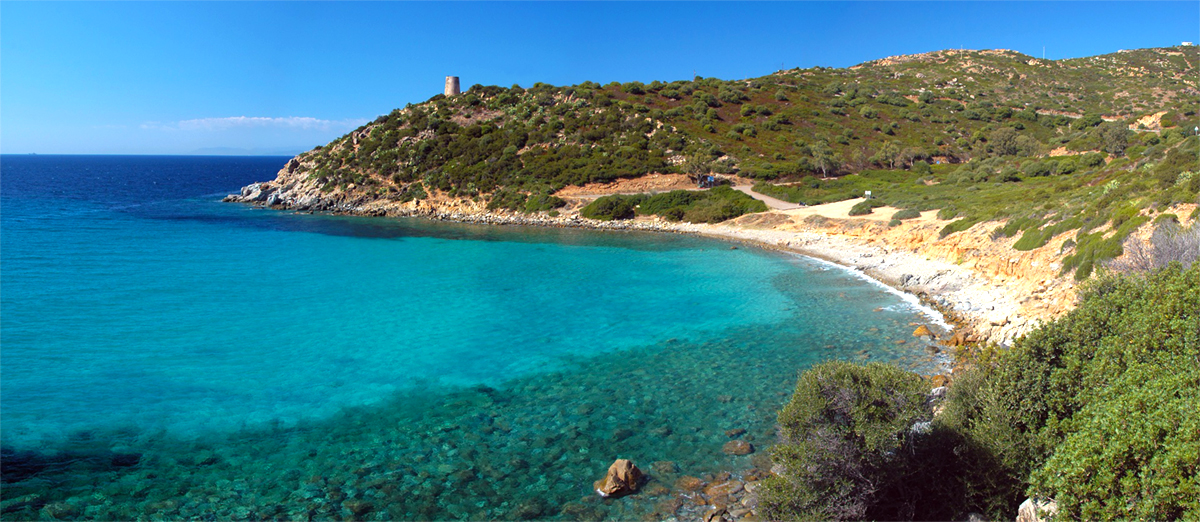 4. Mari Pintau beach
Further on, going South-East is Mari Pintau Beach (painted sea) that is named after the beauty waters that remind of a Monet painting, with so many brush strokes from emerald to sky blue.
The beach is mainly made of pebbles and little rocks and also by some sand. It is mostly frequented by young people.
Our tips, specially in high season, are to go there early in the morning to be able to park easily, and also to take with you sunbeads and beach unmbrellas, since the beach doesn't have particular facilities.

5. Solanas Beach
Further South-East, about 35 km from Cagliari we find the big Solanas Beach, very appreciated destination by surfers and scuba fishing enthusiasts.
The beach, about 1.2 km long, is characterized by coarse, light-coloured sand, thick vegetation that reaches the beach and it has all comforts: beach resort, bar, various eating places, it is possible to rent sun-loungers and beach umbrellas and it has wheelchair access.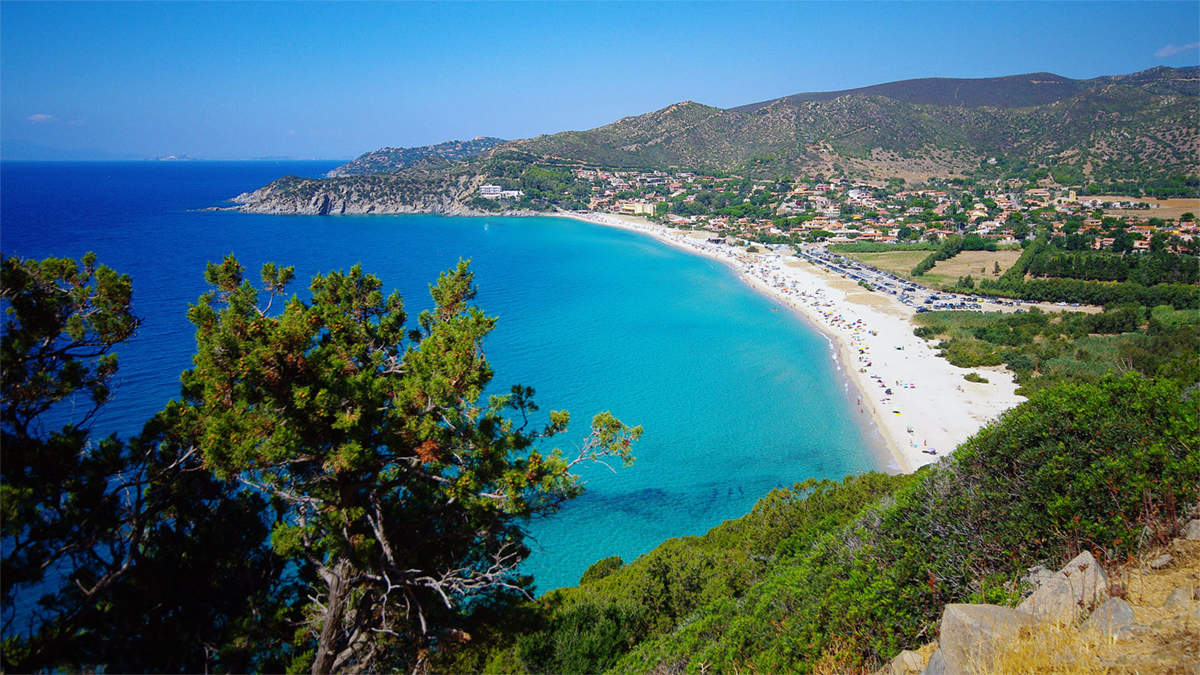 6. Porto Giunco Beach (Villasimius)
Not far from Villasimius, Porto Giunco Beach is probably one of the most beautiful beaches in the whole Sardinian South Coast. It's no coincidence that its clear waters and its thin white sand have captivated many advertisers who have chosen this place as location for their ads.
A few meters away from the beach there is also the Notteri lake, natural habitat of some splendid pink flamingoes. If you are lucky you'll see some!
Our tip is to go for a nice walk up to the Saracen tower that stands out aginst the promontory and enjoy a breath-taking panoramic view!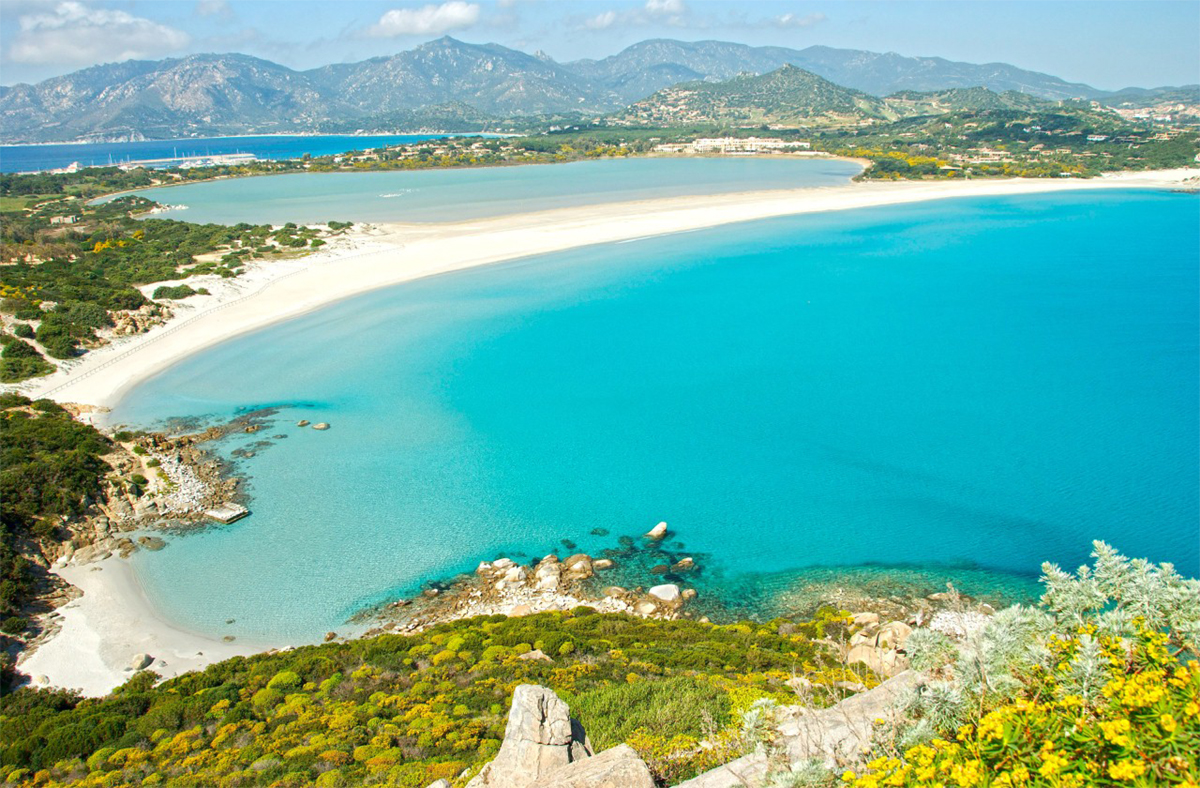 7. Punta Molentis Beach (Villasimius)
We conclude our journey along the coast to the South-East of Cagliari, with another real terrestrial paradise: we are talking about the beach of Punta Molentis in Villasimius!
Characterized by a white bright sand and transparent sea with shades ranging from blue to green, the beach of Punta Molentis is surrounded by cliffs up to 15 meters while behind it you will find a charming hill that hides remains of nuraghe (Sardinian megalithic edifice).
The price of parking is certainly not the cheapest (€5) but we assure you that it is worth the price of the ticket!
A tip: the beach is quite small, it is therefore quite natural that in the months of high season it be easily packed. Get there early in the morning or in less popular months like June or September during which the beach does not lose even a bit of its charm, indeed...
8. Su Giudeu Beach (Chia)
Let's go now to the South-West Coast of Cagliari to discover one of the most beautiful beaches of Baia di Chia: Su Giudeu.
Natural extension of S'Aqua Durci beach, Su Giudeu owes its name to the octopus that swims in its waters and to a pair of rocks which are easily reached from the shore thanks to low seabed.
With many facilities, the beach at Su Giudeu is equipped with a wide parking facility, hotel, bar, restaurant and camp site. The seabed is particularly low and it makes it an ideal place for children to play.
What can we add? The rest is yours to discover, thanks to the photograph below! ;)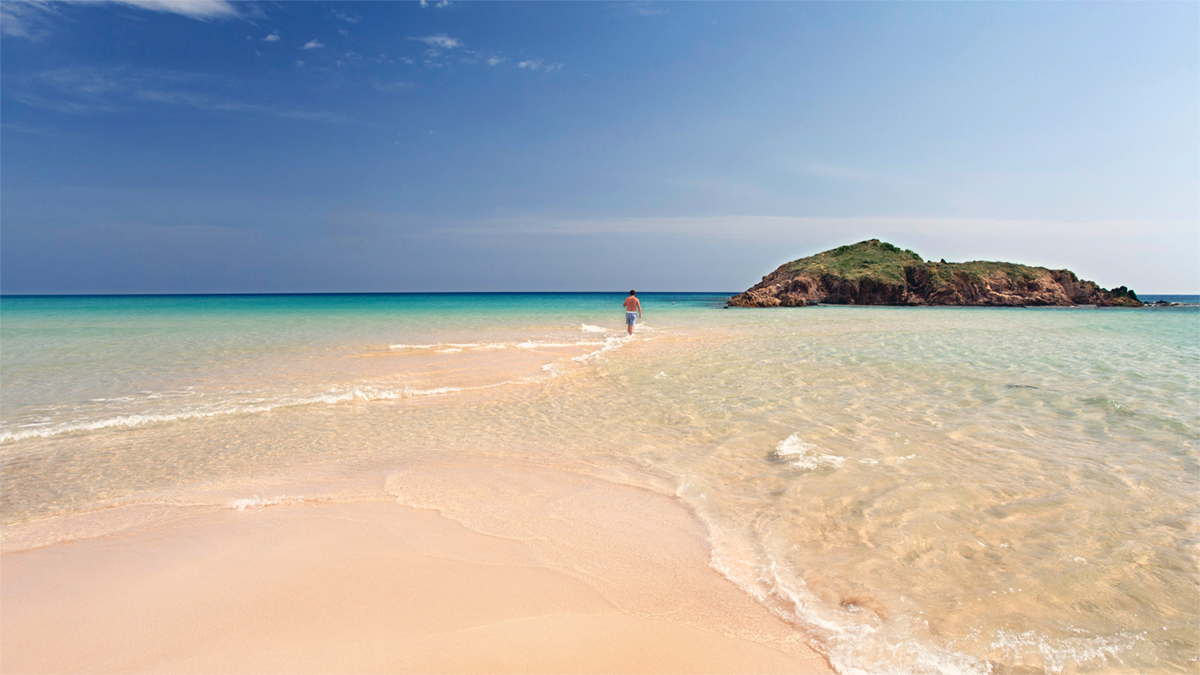 9. Cala Cipolla Beach (Chia)
Another unmissable beach in Bahia di Chia is Cala Cipolla. This is, in fact, one of the most famous beaches in the area, not very big, but well sheltered from the wind and highly frequented.
With golden thin sand and crystal clear water of emerald green and turquese shades, the beach has a shallow and sandy sea bottom with some cliffs.
To get there, you'll need to take on a long walk through a track amidst the Mediterranean macchia, but once you arrive, you'll see it's worth the effort and you won't want to go back!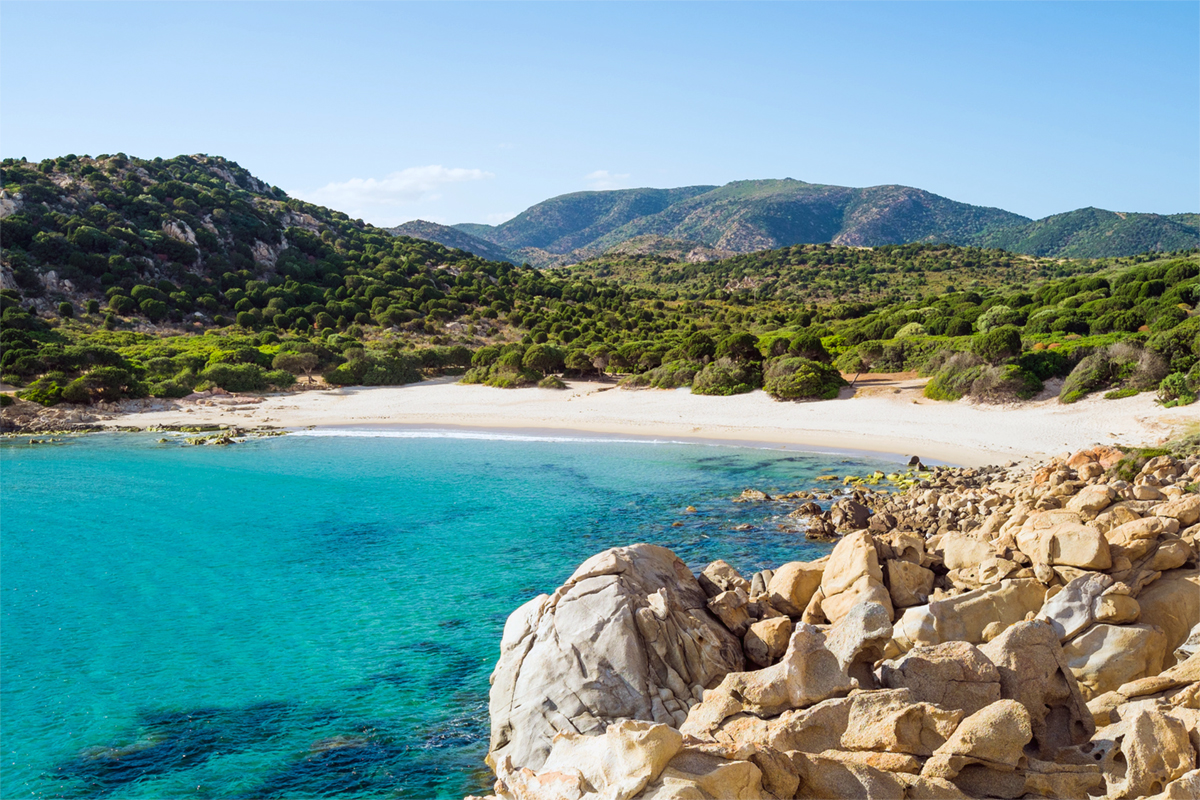 10. Tuerredda Beach
Our short trip discovering the coast south to Cagliari ends by visiting the fantastic Tuerredda Beach (small land), is according to many, one of the top 10 beaches in Sardinia.
Placed in a splendid inlet between Capo Malfatano and Capo Spartivento, the beach with its very fine, light-coloured sand and transparent colour of the sea recalls a Caribbean landscape. Around the beach is verdant Mediterranean brush and out in front is the islet of the same name reached after a few minutes swimming.
The beach has also many facilities: a kiosk-cafe, a restaurant, a paid car park, some beach equipment, along with the rental of canoes and pedal boats and to the possibility to go on rib-dinghy trips.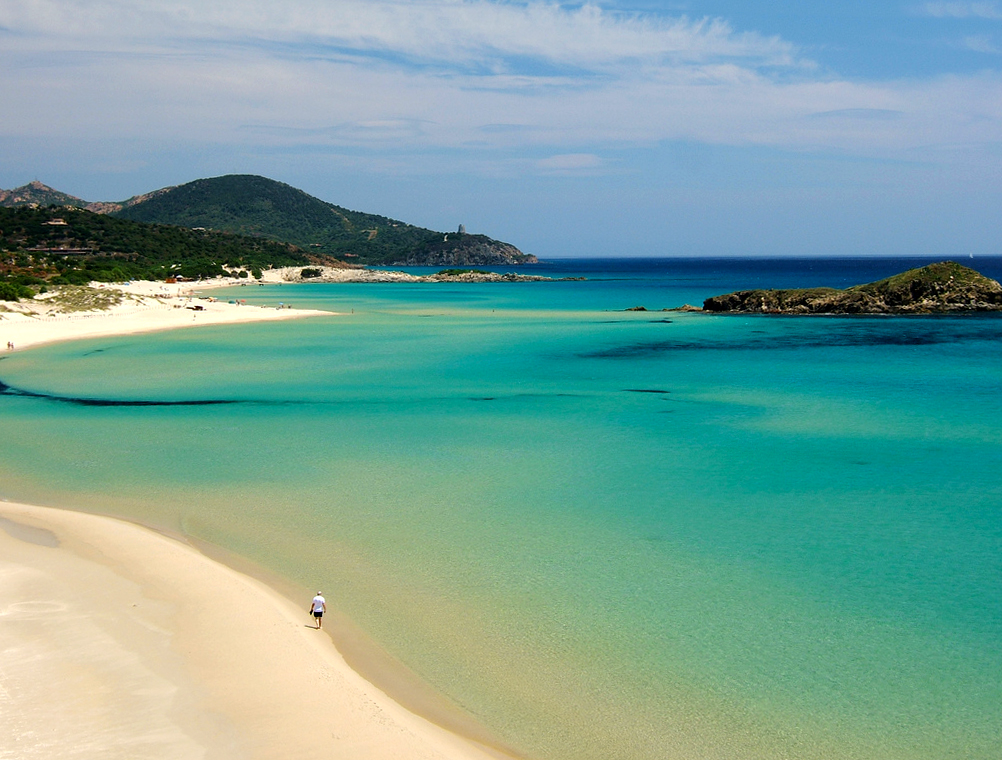 If you liked this article e/and it has been useful in your search of the best beaches to visit from Cagliari share it with your friends on Facebook, Twitter or G+ and give us 5 stars at the bottom of this page!
Enjoy your holidays!

CIVITAVECCHIA-CAGLIARI: FERRY TIMETABLES 2018