Holidays in Sardinia: the 10 most beautiful beaches in Cagliari and surroundings
The most beautiful beaches in Cagliari and surroundings, from south-east to south-west coast. Here you find amazing photos and useful information.
Cagliari is not only a charming city rich in history and culture, but is also located in a strategic position to explore the wonderful Sardinia's southern coast.
From the capital of Sardinia you can easily reach the most sought after beaches of the island: Villasimius at South East, Cala Tuarredda and the beaches of Chia at South West (just to cite some of them!). You'll find out more in this article.
So get your towels, lotion and sunglasses ready…the Sardinia's southern coast is waiting for you!

WHAT TO DO IN CAGLIARI: ATTRACTIONS AND GUIDED TOURS

CAGLIARI: 10 THINGS TO SEE AND VISIT
1. Poetto Beach
Let's start with the Cagliari's beach par excellence: Poetto.
Extended for 8 km from the promontory of Sella del Diavolo to the coast of Quartu Sant'Elena, this beach is a small paradise, just a few steps from the city. It's perfect if you want to spend a relaxing day and then enjoy the nightlife in clubs, bars and discos.
Poetto beach offers a wide range of services: bed & breakfast, hotels, parking facilities and beach resorts.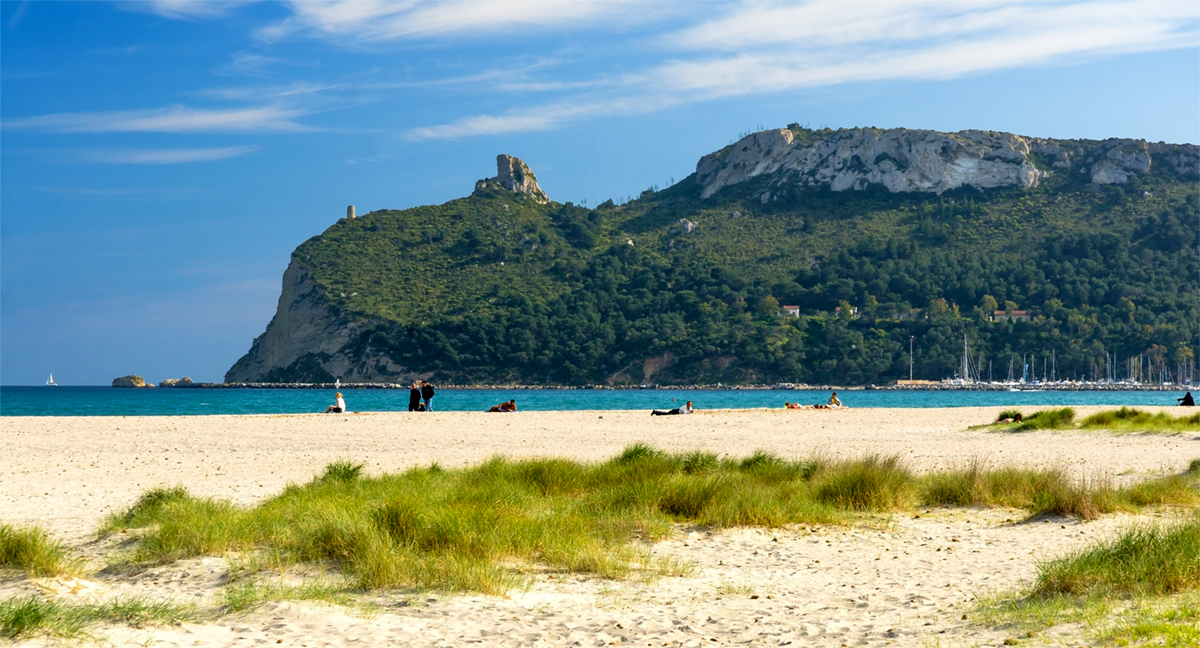 2. Calamosca and Cala Fighera Beaches
Unlike Poetto, Calamosca beach and Cala Fighera beach are perfect if you are looking for a quiet and secluded place. They are both located on the opposite side of Sella del Diavolo.
Cala Fighera is a tiny cove of pebbles with a high sandstone rocky cliff. Needless to say, the bravest take on dangerous but spectacular acrobatic jumps from up there, diving into a turquoise water! Please, don't do it yourself!
Calamosca beach, instead, is characterized by fine white sand, with few pebbles and crystalline waters. From there, you can glimpse an old lighthouse. It's a perfect destination for snorkeling lovers or for people who want to relax with family.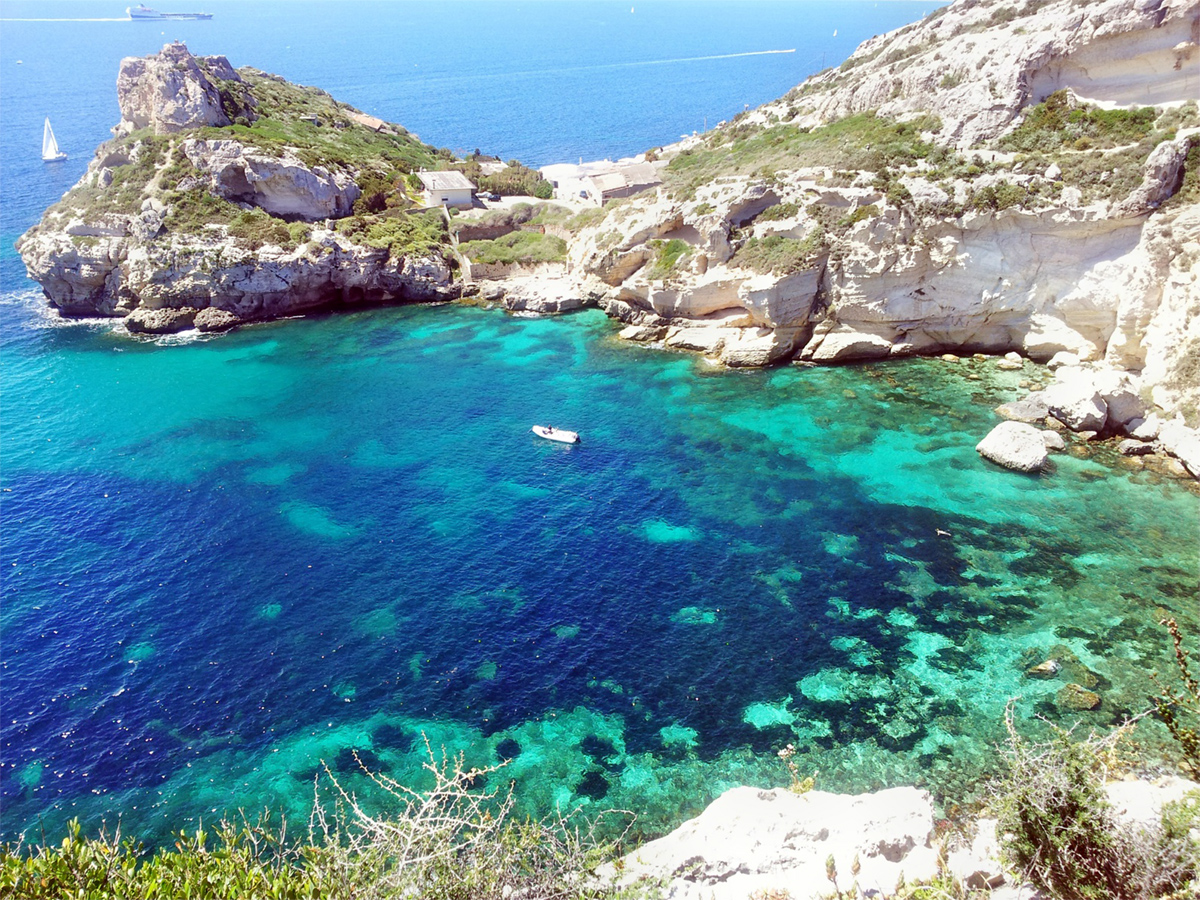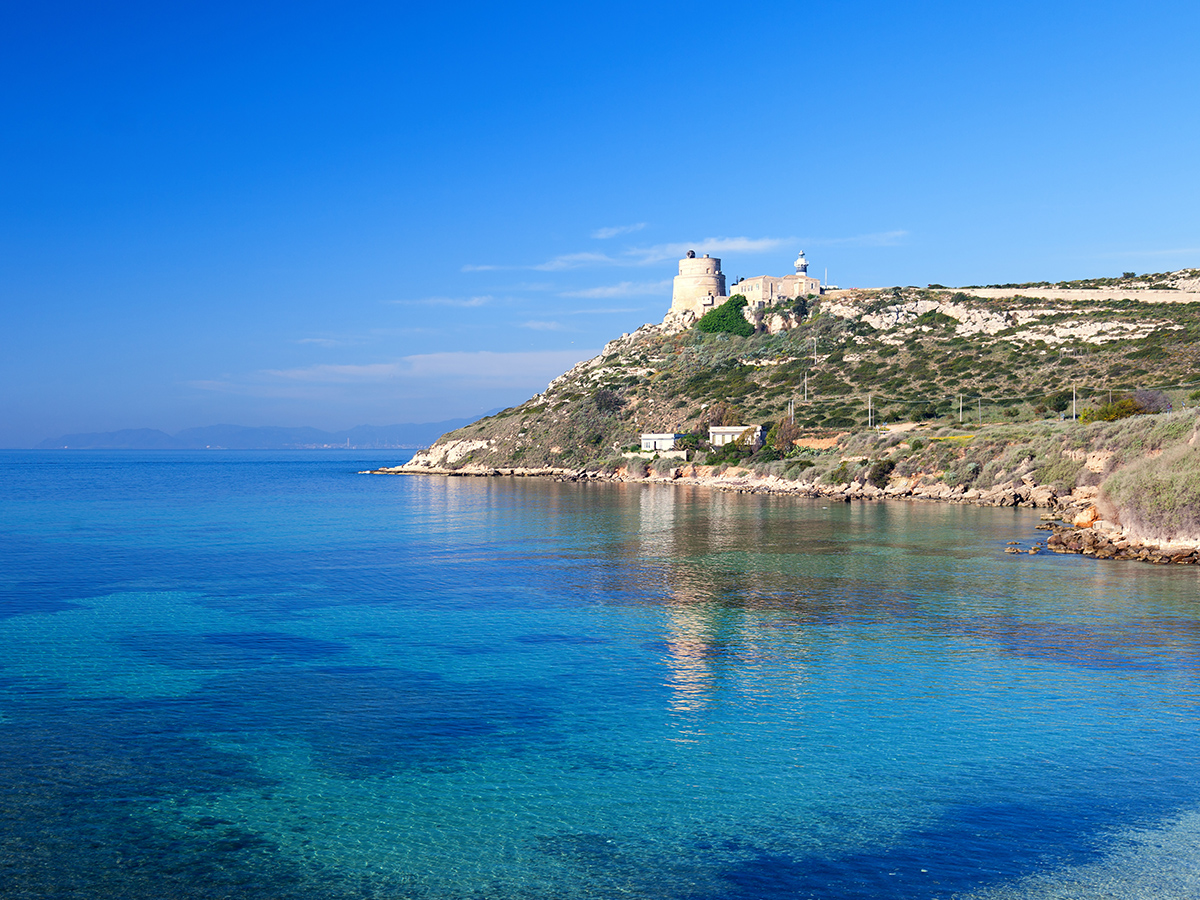 3. Cala Regina Beach
Cala Regina is located in Terramala and it is easily reachable by SS125 road from Cagliari, driving along the South-East coast.
The beach is characterized by pebbles, rocks and ever-changing blue waters. It's very popular with spearfishing lovers.
From the small bay, you can glimpse a Spanish lookout tower, positioned on a promontory overlooking the sea. On the promontory, you can see examples of the Mediterranean vegetation, such as eucalyptus and pine.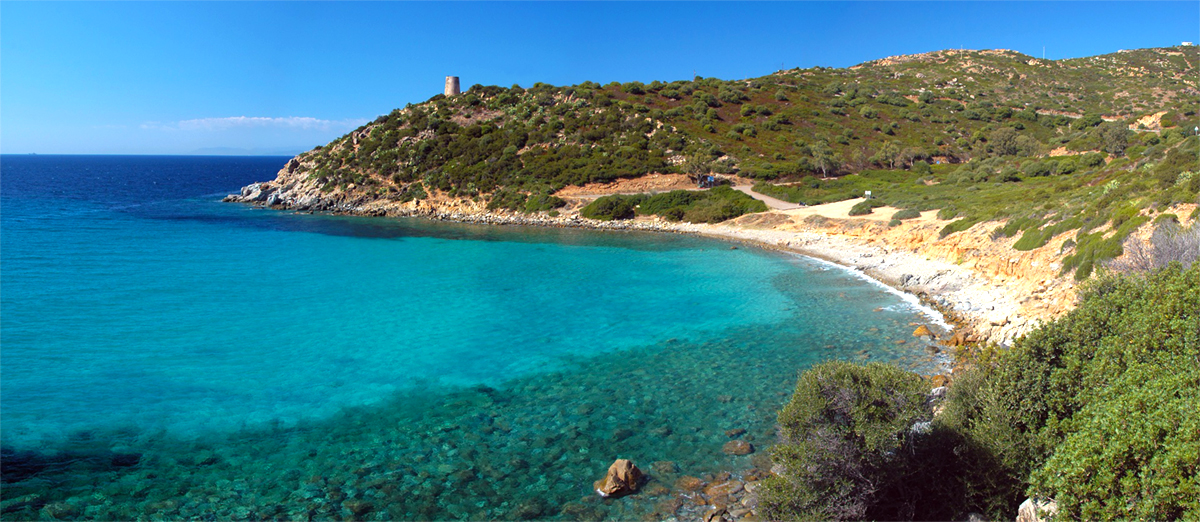 4. Mari Pintau beach
Continuing the route further South East is Mari Pintau (painted sea) beach. Its name derives from the beauty of the waters reminding a Monet painting, with many brush strokes from emerald to sky blue.
The beach is characterized by pebbles and small rocks, there's not much sand. Young people love it!
As it doesn't offer a lot of facilities, we suggest you to arrive early in the morning so you can easily park the car. And don't forget to take with you a beach lounger/umbrella!

5. Solanas Beach
Continuing further South-East we find Solanas, a big beach situated about 35 km from Cagliari: a very popular destination with surfers and spearfishing lovers.
The beach is about 1.2 km long and is characterized by white coarse-grained sand and thick vegetation. There you can find all facilities you need: beach resorts, bar, restaurants, car parking, wheelchair access…It is also possible to rent a beach lounger/umbrella.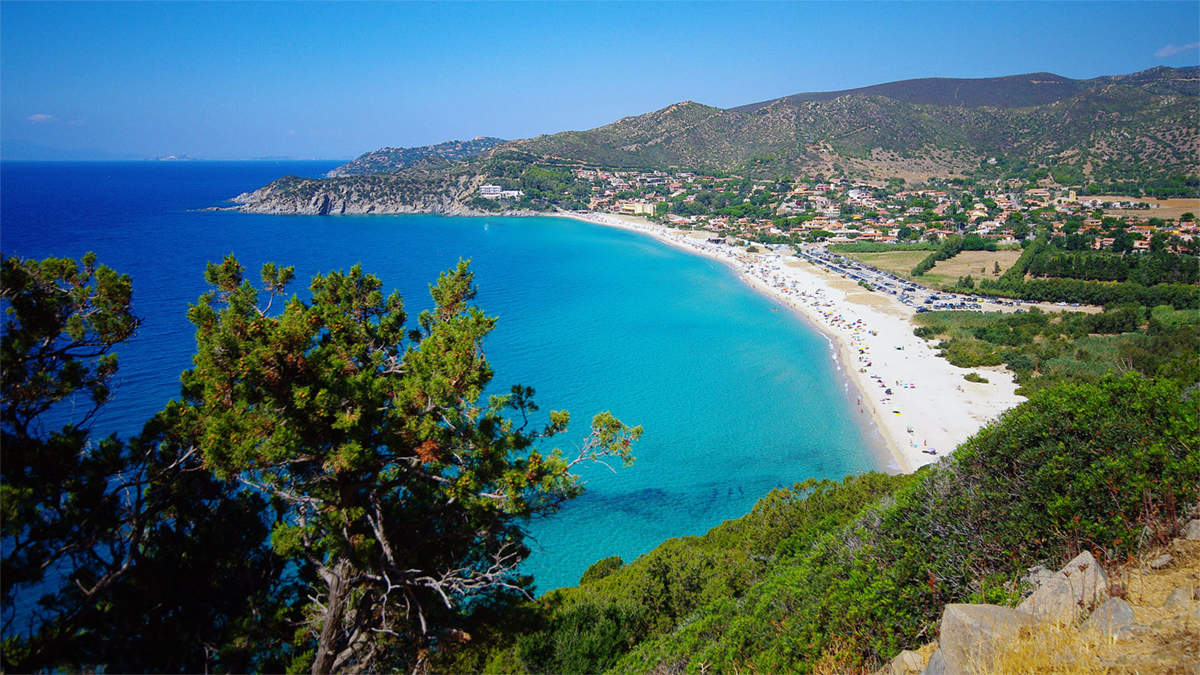 6. Porto Giunco Beach (Villasimius)
Not far from Villasimius, Porto Giunco beach is probably one of the most beautiful beaches in the Sardinia's southern coast. Not surprisingly, many advertisers have chosen its white fine sand and its crystaline waters as the location of many advertising spots.
A few meters away from the beach you find Notteri pond, which is the natural habitat of pink flamingoes. With a little luck, you may spot some of them!
We recommend you to take a walk to the Saracen tower and enjoy the breathtaking view from the promontory!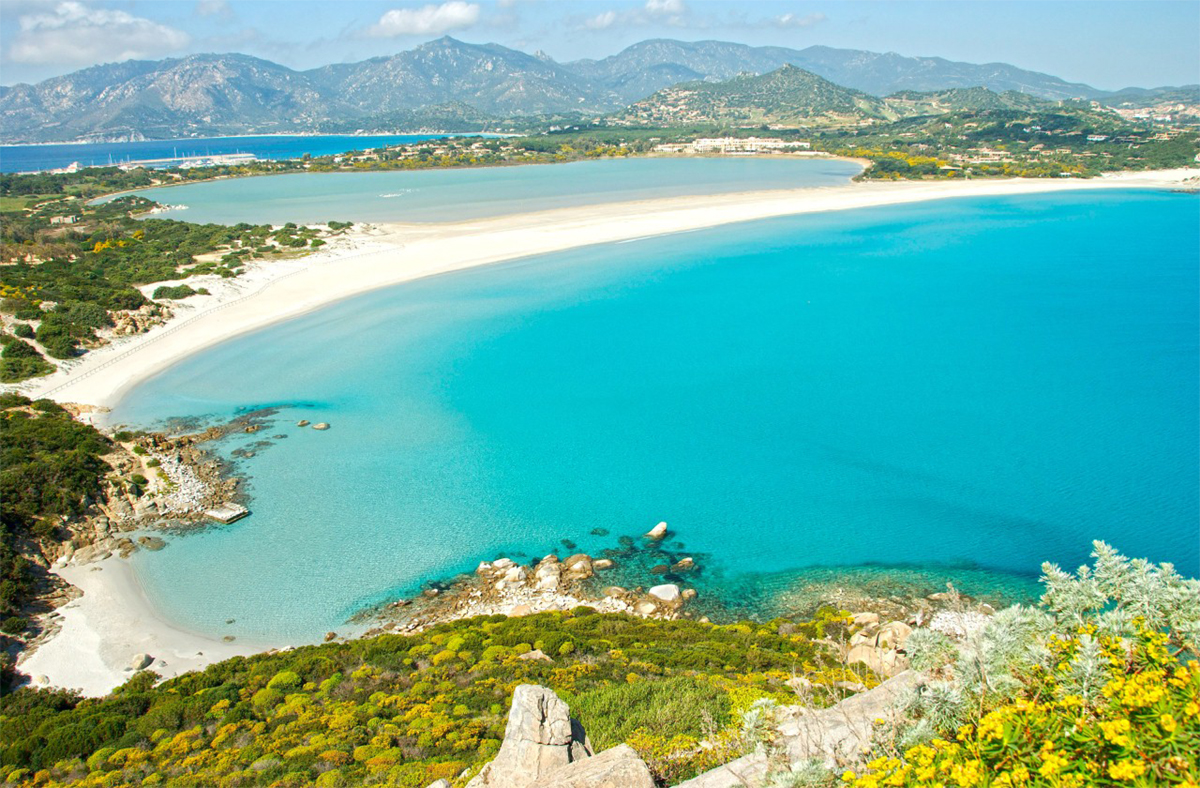 7. Punta Molentis Beach (Villasimius)
We finish our journey along the South-East coast of Cagliari with another earthly paradise: Punta Molentis beach, in Villasimius.
This beach, surrounded by cliffs up to 15 meters high, is characterized by white bright sand and turquoise/green crystalline waters. Behind the beach, at the center of a hill, you can see the ruins, almost hidden, of the Punta Molentis nuraghe (Sardinian megalithic edifice).
The car parking ticket is not cheap (€5) but is worth the price!
Our suggestion: the beach is quite small and it can get crowded (especially during high season), so the best time to go is early in the morning or in June/September: in this period of the year the beach is even more charming!
8. Su Giudeu Beach (Chia)
Now let's move to the South West coast of Cagliari to find out one of the most beautiful beaches of Baia di Chia: Su Giudeu.
Su Giudeu is the natural extension of S'Aqua Durci beach. Its name derives from an octopus species living in its waters and from a pair of rocks easily reachable from the shore through the shallow seabed.
The beach offers many facilities: a big car parking, hotel, bar, restaurant, camping aerea. For its low seabed, Su Giudeu beach is particularly suitable for children.
What else to add? We show you this photo to guess the rest ;)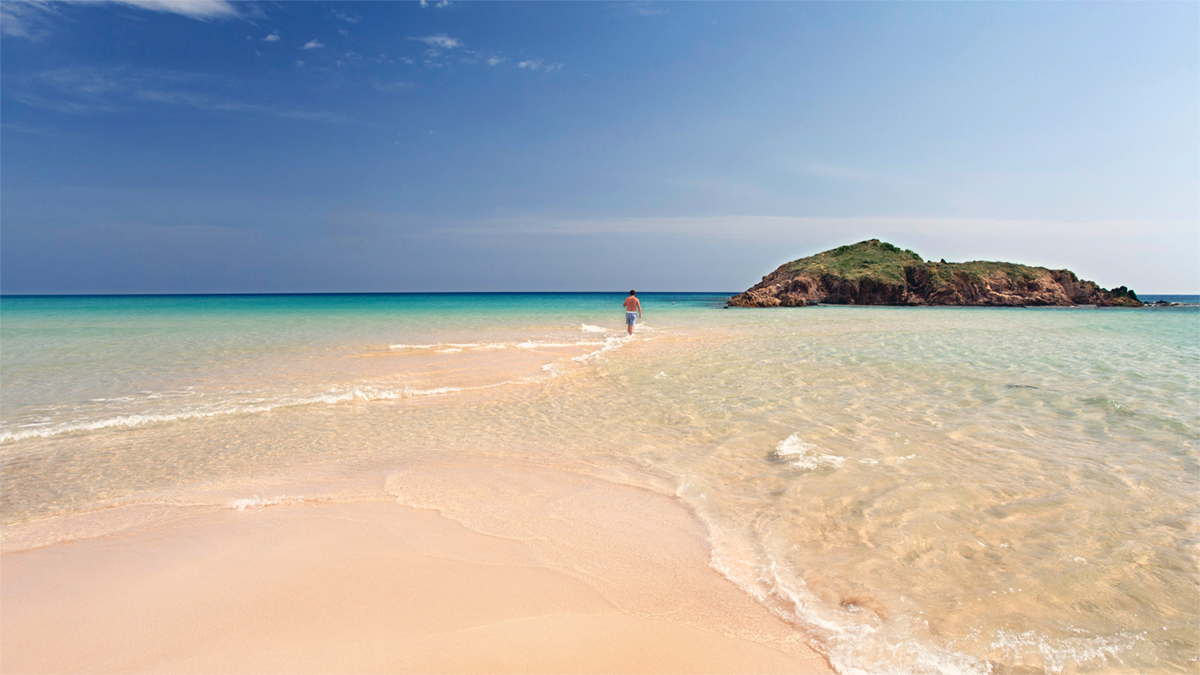 9. Cala Cipolla Beach (Chia)
Another unmissable beach in Baia di Chia is Cala Cipolla. This is one of the most famous beaches in the aerea, not very big but well sheltered from the wind and very popular.
This beach is characterized by golden and very fine sand, emerald-green/ turquoise waters and a shallow sandy bottom with some rocks.
To get there, you have to take a long walk through a path in the Mediterranean scrub, but once you arrive you'll see it's worth the effort!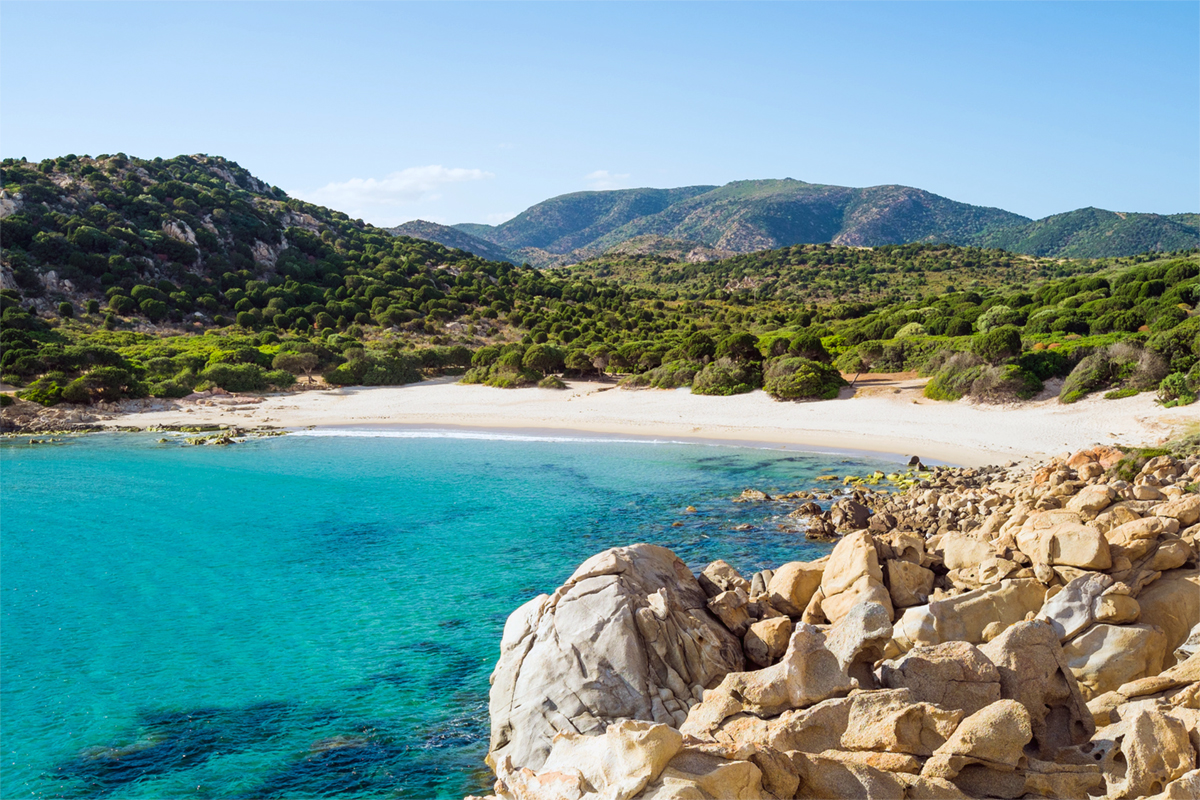 10. Tuerredda Beach
We conclude our short trip exploring the southern coast of Cagliari with Tuerredda beach (literally: small land beach), one of the top 10 beaches In Sardinia.
Placed in a splendid inlet between Capo Malfatano and Capo Spartivento, the beach recalls a Caribbean landscape: you'll find fine and white sand and transparent waters. You can also admire the verdant Mediterranean brush around there and you can reach an islet of the same name after a few minutes swimming.
The beach offers many facilities: kiosk-cafè, restaurant, car parking, beach equipment. It's also possible to rent a canoe or a pedal boat and to get a rib trip.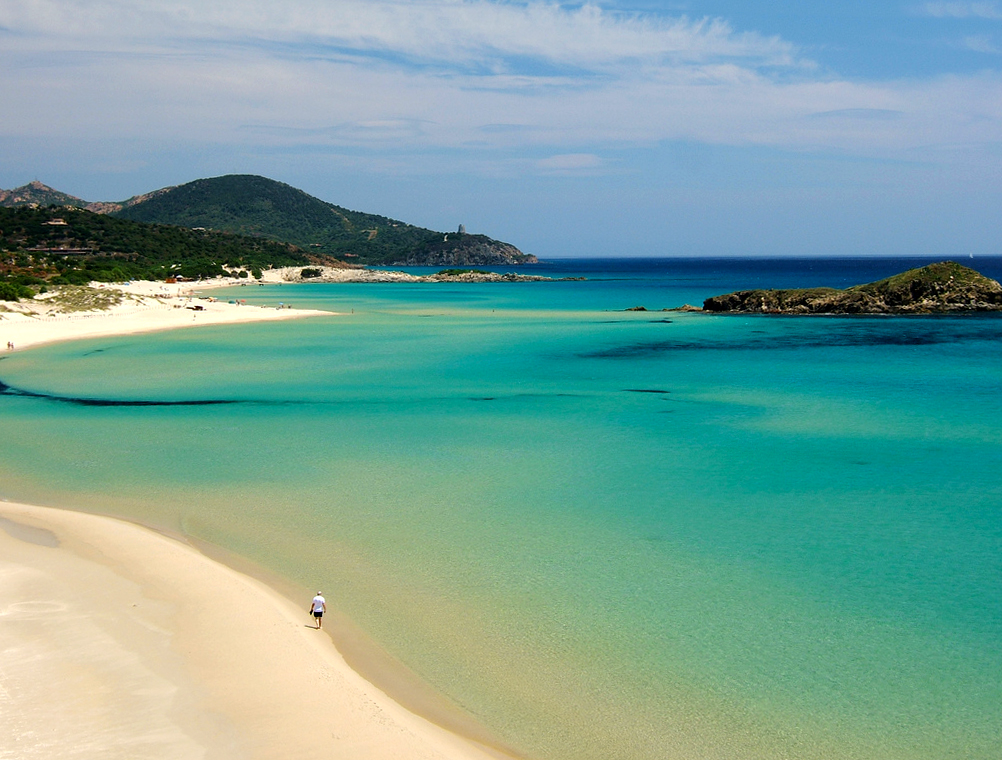 If you liked this article and / or it was useful in finding the most beautiful beaches near Cagliari, share it with your friends on Facebook, Twitter or G + and …don't forget to put 5 stars at the bottom of the page!
Thank you and... enjoy your holidays!