Cruises in Civitavecchia: a business of over 200 million euros in 2014
Cruises in Civitavecchia: the business that comes from the sea, with a direct annual sales volume of 51 million euros, employing 600 workers in the port
Cruises in the port of Civitavecchia? A business worth over 200 mililon euros in 2014. This, very briefly, is the most striking result from the study by Bocconi University "Analysis of socio-economic impact of cruise activities in the port of Civitavecchia".
The study has been commissioned to the CERTeT (Centre for Regional, Transport and Tourism Economics), section of Bocconi University, by the Civitavecchia Port Authorities. It allows to have a clear and exhaustive picture of the advantages in economic and employment terms of the presence of over 800 ships transiting the port of Civitavecchia annually.
DIRECT IMPACT OF THE CRUISE SECTOR
The direct impact created by the cruise market in Civitavecchia amounts to a sales volume of over 51 million euros and the full-time employment of 601 workers. This data includes, not only agents of the cruise terminal and companies working in the port, but also companies in charge of the services, ship's agents and local tour operators: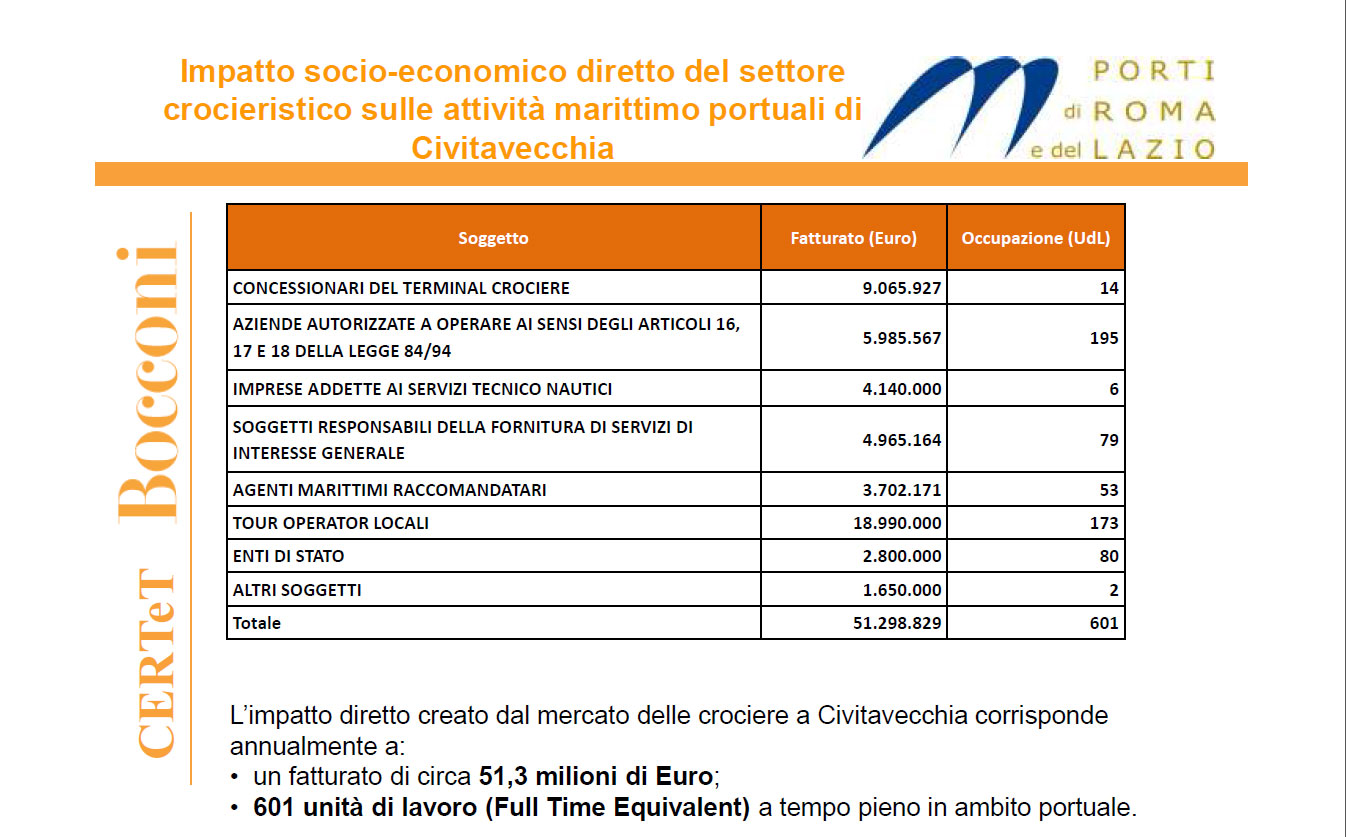 The size of the business becomes even more interesting if we analyse the expenditure in the territory made by cruise passengers and crew members: well 223 million euros left by cruise economic activities in the Lazio territory in 2014!
That's right, because not all cruise passengers go to Rome: actually, the 37% stays in Civitavecchia, while the remaining 13% chooses other destinations in the surroundings like Tarquinia, Viterbo, Tuscia, Ostia and Cerveteri. The difference between Rome and the "rest of the world" can be found in the average amount of days that the passengers stay: 3 days for tourists in Rome, and only 1 day for tourists who choose Civitavecchia and surroundings. In both cases, the average expenditure is about 44 euros per person per day.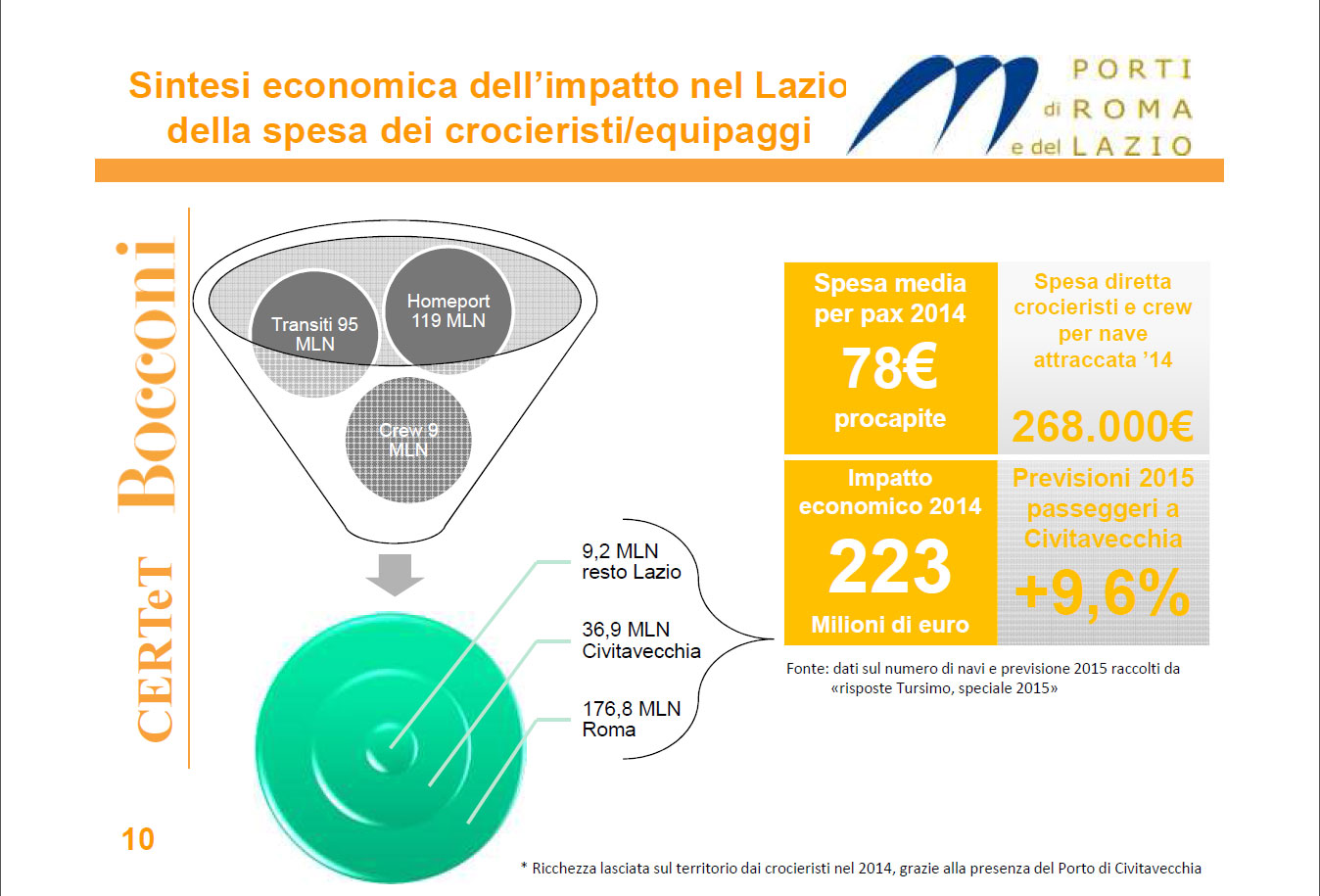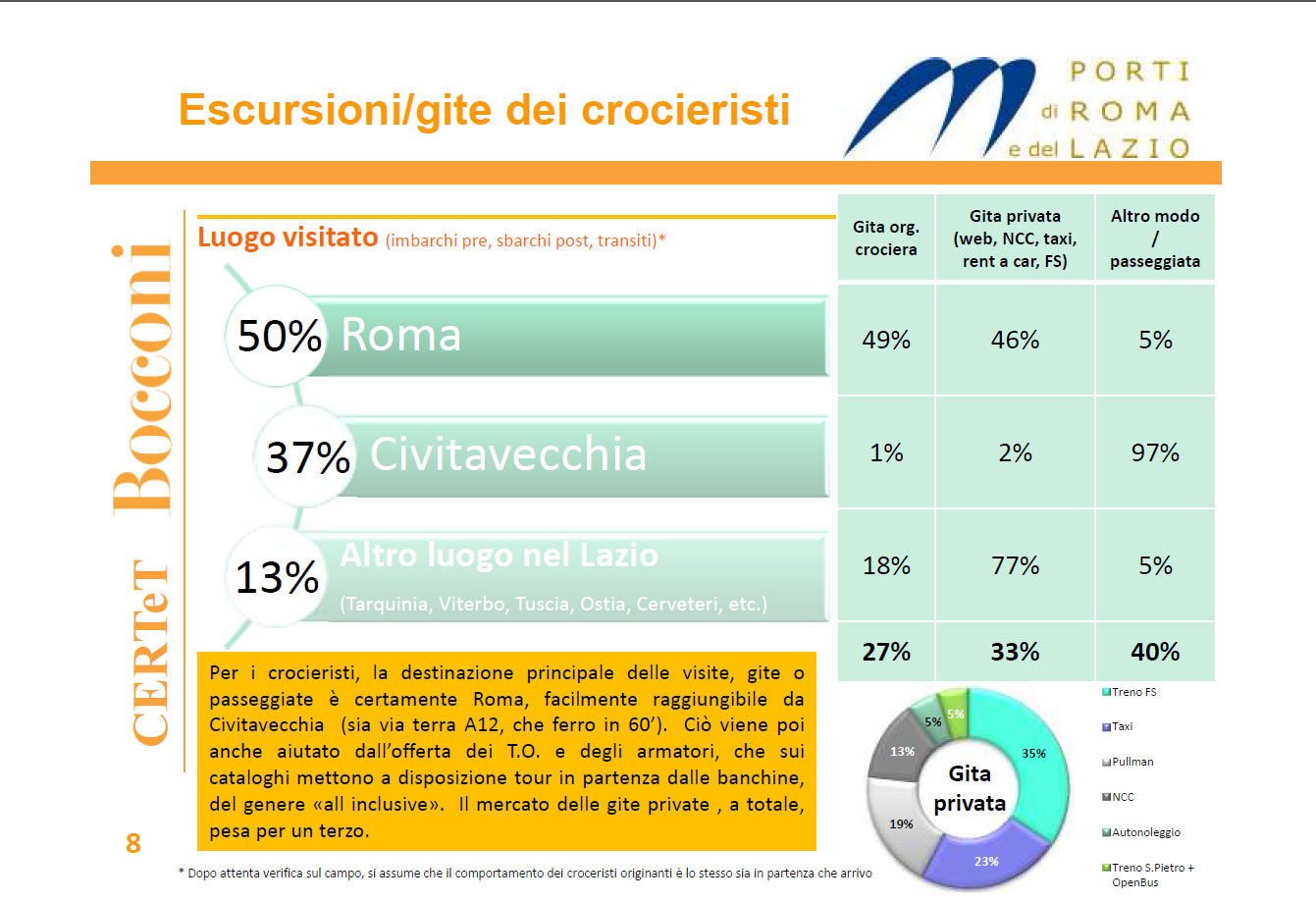 SOME CONCLUSIONS
This study reveals two big truths, in our opinion: the first one is the huge impact in economic and tourism terms that the cruises mean to Rome, as well as to Civitavecchia and surroundings. You only need to think that per every ship mooring, there is a repercusion for the Lazio territory of 483 thousand euros and 2 full-time workers; the second one is the great potentiality that this impact can have in Civitavecchia and that has not been defined yet, nor completely fulfilled.
Useful information
Analysis of socio-economic impact of cruise activities in the port of Civitavecchia
HOW TO GET THERE