Frigate Luigi Rizzo in Civitavecchia for the Italian Navy Calendar 2018
The Italian Navy will be at the Port of Civitavecchia on December, 6th to present the new Calendar 2018
It is known that Christmas is a time for calendars and, after the new Calendar 2018 of Postcards from Civitavecchia created by Port Mobility, the Italian Navy will present the new Historic Calendar of the Italian Navy on December, 6th.
The event will take place (at 11.30) on board the European multi-purpose frigate (FREMM) Luigi Rizzo (moored at dock 8) and it will count with the presence of Captain Luca Anconelli and the Department of Public Information and Communication of the Italian Navy.
"Remember the past - build the future": this is the new topic for the calendar 2018, born with the intention to celebrate the anniversary of World War I when, in 1918, took place the Premuda attack by Luigi Rizzo, through a compraison of pictures of the Navy then and now that proof the unchanged sense of duty, professionalism and specific abilities that Navy body shows every day serving the country.
WATCH THE VIDEO PRESENTATION:
SEA BOOT CAMP
At the conference, there will also be Laura Tassinari, general director of BIC Lazio, who will present the project Sea Boot Camp, an inititiave to support startups and entrepreneur teams by improving their marketing and comunication skills in promoting innovative products and services that can be applied to the economy of the sea. At the conference, President of Lazio Innova Stefano Fantacone, will represent Regione Lazio.
For further information about the initiative, please refer to this in-depth article about the Sea Boot Camp.
Italian Navy Calendar
The 24 pictures that appear in the calendar will walk us through a journey that links the past of World War I to the present, in a series of photos of ships, planes, submarines, naval bases and, especially, men. The photos of the Navy today are due to Fabrizio Villa.
Each month goes together with a picture comparing the past and the future, reminding us that ships, arms and technology may change but men and their needs don't. The mission of the Italian Navy stays the same, being at the service of the comunity, yesterday as well as today.
Now, like then, the control of the seas and the oceans, a common resource of humanity, is a basic requirement for security inland, as well as an strategic and vital asset for the economic development of nations and the international community, in accordance with the idea of advanced defense to guarantee internal security.
The history of the Italian Navy is a valuable heritage that represents their foundations; a heritage that must be spread and known by the whole community, especially, by young generations, in order for them to draw the appropriate considerations and the right stimuli to build a better future.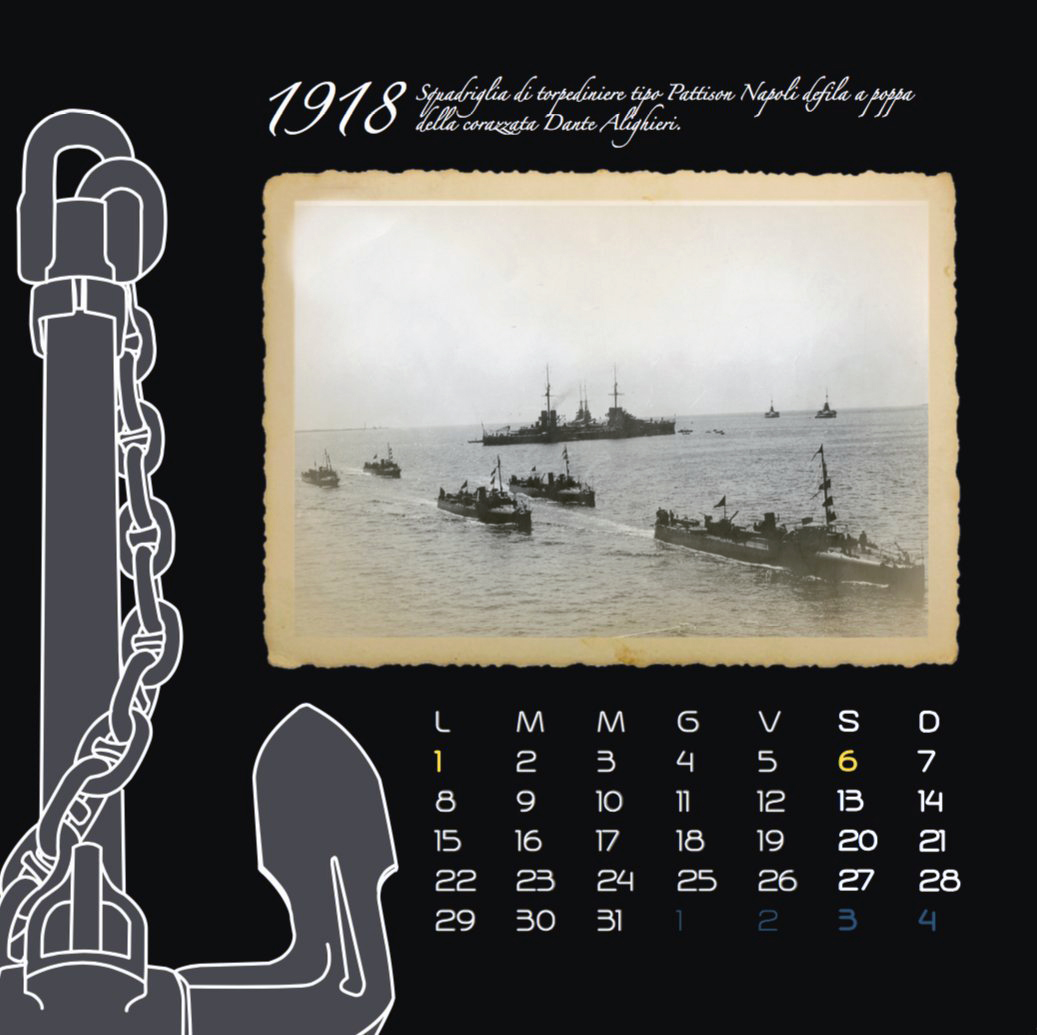 Useful information
Italian Navy - Presentation of the Calendar 2018
HOW TO GET THERE

Militar Frigate Luigi Rizzo will be moored at dock 8.

TIMETABLES

The conference will start at 11:30.