Ports of Civitavecchia and Fiumicino: 195 million funding from the EIB
The European Investment Bank approves a 195 million funding to the Centre-North Tyrrhenian Sea Port Authority. Great works soon for Civitavecchia and Fiumicino. All details below
Great news for the Ports of Civitavecchia and Fiumicino: the European Investment Bank (EIB) approved a €195 million financing requested by the Port Authority. This paves the way for the beginning of great works. Read the full details on the AdSP press release below.
Civitavecchia, 3rd October 2018 – The European Investment Bank approved yesterday a €195 million financing to the "Ports of Rome and Lazio". This funding consists one of the largest EIB grants in a Port Authority in the last years. The decision was taken after a long inquiry (reactiated by our AdSP in 2017) considering the development of the "Highways of the Sea", an important hub for passenger and cargo flows in Center Italy and one of the main connections between mainland Italy and western Mediterranean, including Sardinia, Sicily, Spain, southern France and northern Africa.
The project, co-financed by the EIB consists on the enlargement of the port of Civitavecchia and the building of a new commercial port in Fiumicino.
In Civitavecchia, the project eyes construction of infrastructure, such as the completion of works on the ferry docks, the extension of the breakwater, and related road connections.
In Fiumicino, the project foresees building of the new fishing dock and the first phase of the development of a new commercial port serving ferries, RoRo and cruise ships, thanks to the building of two new breakwaters and an important dredging.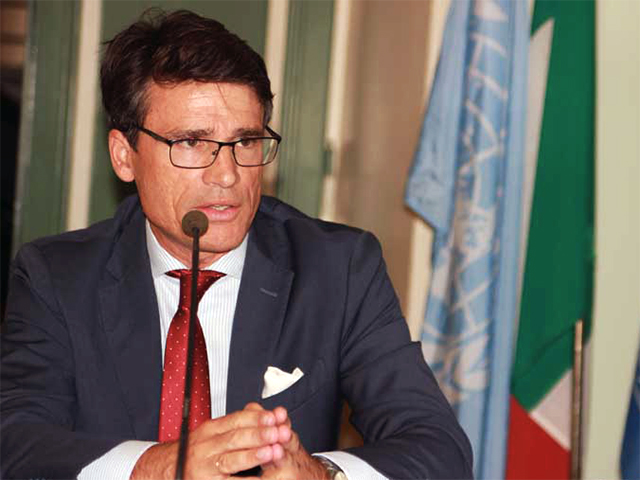 "Approval of this financing by the EIB – states Francesco Maria di Majo, President of the Centre-North Tyrrhenian Sea Port Authority (AdSP) - is an important piece of news for the ports of Rome and the Lazio. This funding will allow the AdSP to complete most of the works included in the Master Plans of the Ports of Civitavecchia and Fiumicino, by allowing the network the sought-after "step change" in the world shipping panorama". "This aim – continues di Majo - will be reached with the necessary contribution of the Lazio Region and the Ministry of Infrastructure and Transport
which, hopefully, will support this fundamental port infrastructure intervention for the development of national logistics competitiveness. Finally, the Italian capital and surrounding areas (representing the second area in terms of consumption at national level and fifth at European level), as well as the main Italian and European airport (with more than 40 milion passengers) will have ports equipped to fulfill commercial, industrial and tourist needs in the territory. The strategic role of the ports of Rome and Lazio will be strengthened with train and road connections with Orte and Fiumicino".
"I would like to thank everybody who has contributed to the granting of the EIB funding" states Francesco Maria di Majo.
"I would also like to thank – concludes the president of the AdSP - the Ministry of Foreign Affairs for accomplishing, through our permanent EU representation, and supported by the Ministry of Environment, the Lazion Region and our offices, the infringement procedure of the European Commission, that had suspended the origination of the funding for years."