7 ideas for Easter 2016: here's where you could go
When does Easter fall in 2016? We tell you where you can go: top destinations for a cruise holiday or an out-of-town weekend
This year Easter falls on Sunday, March 27, a great excuse to allow yourself a short holiday taking advantage of the long week end that forms with the previous Saturday and, especially, with the following Monday.
So, from a minimum of 3 free days you could extend the weekend as much as you can and, why not, reward yourself with a cruise holiday!
These are our useful tips and suggestions about where to go and what to do the next Easter long weekend!
1. EASTER 2016 ON A CRUISE: FROM CIVITAVECCHIA AROUND THE MEDITERRANEAN
For those willing to spend a really unforgettable Easter looking for both a relaxing time and adventure there's nothing better than sailing from the Port of Civitavecchia on board of any of the many cruise companies and explore the Mediterranean.
For this occasion, there are many deals to get while they are going! Our tip, as always, is to play in advance and book as soon as possible in order to find the lowest fares.
Here's a useful chart we have prepared for you with the best deals!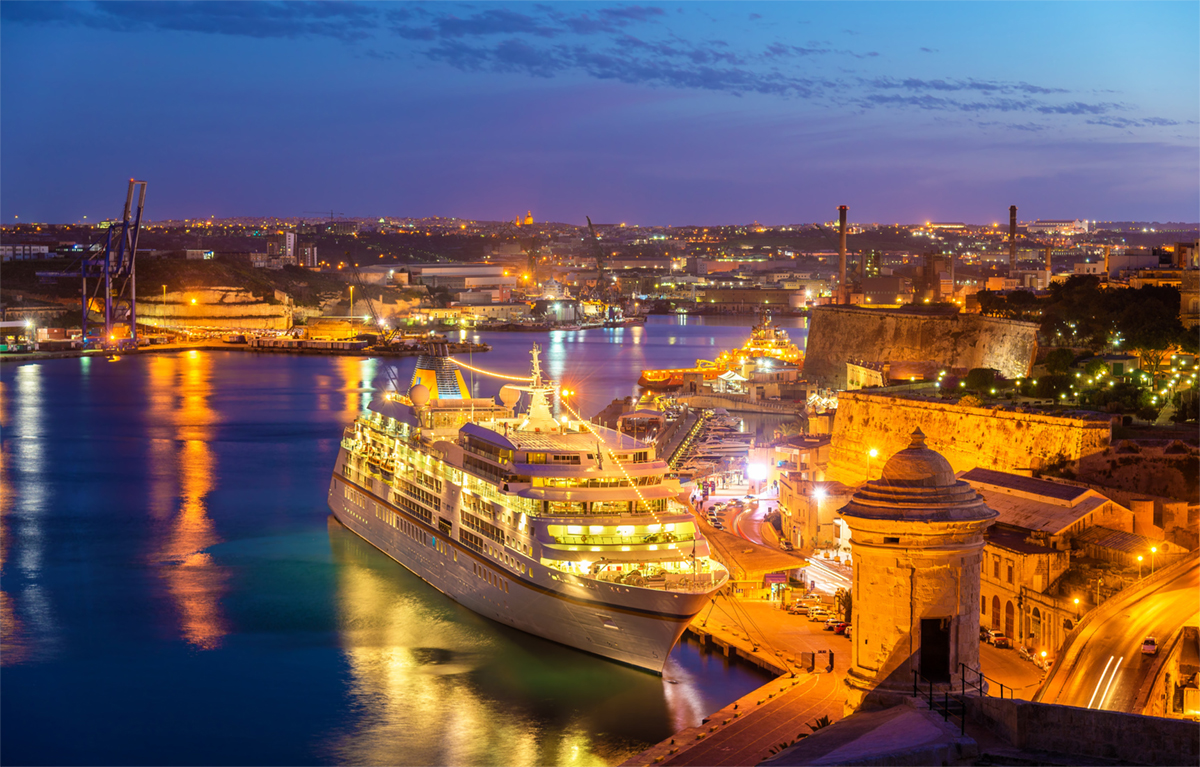 CRUISE DEALS FROM CIVITAVECCHIA: EASTER 2016

Day of departure
Duration
Company and Ship
Itinerary
Price per person
March 21 2016
7 nights
MSC Preziosa
Civitavecchia - Palermo - La Valletta - Sailing - Barcelona - Marseille - Genova - Civitavecchia
from €549
March 24 2016
7

nights

Costa Diadema
Civitavecchia - La Spezia - Savona - Marseille - Barcellona - Palma de Mallorca -

Sailing

- Civitavecchia

from

€599
March 26 2016
7

nights

Costa Pacifica
Civitavecchia - Savona - Marseille - Ajaccio - Cagliari - La Valletta -

Sailing

- Civitavecchia

from

€699
p.s. deals updated on November, 1 2016
Have you found the perfect cruise for you? Then, book your parking space inside the Port and sail with all comforts!
For those who, otherwise, wish to spend an original weekend out of town we have selected a series of destinations suitable to all: parks, art cities, archeological sites, thermal baths and beaches!
2. EASTER 2016: STIGLIANO THERMAL BATHS AND ANCIENT MONTERANO
Less than 10 km away one from the other, the Stigliano Baths ans the Ruins of Ancient Monterano are the perfect destination for an original weekend if you are looking for well being and nature.
Already known in Etruscan times and very apreciates also by ancient Romans, the Stigliano Baths are very sought-after since they combine high healing properties and an evocative natural context.
The waters, of a salt-iodine-sulphur nature, have a temperature varying between 36 and 58 degrees and it is much appreciated because it heals rheumatic, skin and respiratory diseases.
Next to the thermal baths is also a modern Spa called "Il Bagnarello", under which structure is preserved the grotta sudatoria, dating back to Imperial Rome. Here you can still appreciate the water gushing directly from the spring and take advantage of its healthy effects in form of steam.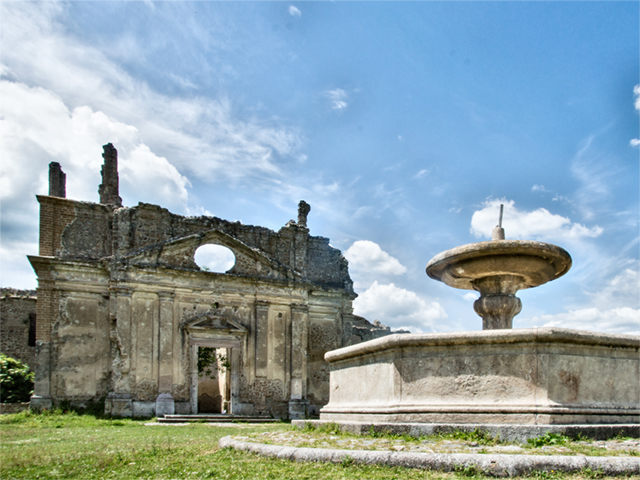 In the neighboring area are the Ancient Ruins of Monterano, a true ghost city among which remains you will find yourself in a set that seems from a fantasy film: a castle, an ancient cloister and a Roman aqueduct are only some of the main monuments that you will have the chance to visit.
The Cloister of San Bonaventura, as well as the statue of the Lion towering over the facade of the Baronial Palace were made by the great artist Gian Lorenzo Bernini.
If you are willing to learn more about this wonderful place, read our article about it to discover its history, what to see and how to get to one among the most suggestive places in the Lazio Maremma.
3. EASTER 2016 IN CIVITA DI BAGNOREGIO
Among the top destinations where you could spend Easter, a place of honor is for the charming Civita di Bagnoregio.
The town that is dying, specially when spring warmth arrivin, is a fascinating destination where you can spend the day with the wholel family. Built on top of a tuff hill, this city can only be reached crossing a narrow bridge from where you can enjoy one of the most breathtaking panoramic views in the whole Lazio region.
You don't trust us? Enjoy these picture gallery and you won't want to get back home!
For those who love open air and want to spend an original day out, here are 2 destinations really unique on their kind; we are talking about the Park of the Monsters in Bomarzo and the Tarot Garden by Niki de Saint Phalle.
Both have something in common: they are in fact product of the fantasy and imagination of two dreamers, the Prince Pier Francesco Orsini who comissioned the architect Pirro Ligorio to build his park of wonders and the French-American artist Niki de Saint Phalle, who devoted 17 years of her life to make the garden and its statues.
4. EASTER 2016: THE PARK OF BOMARZO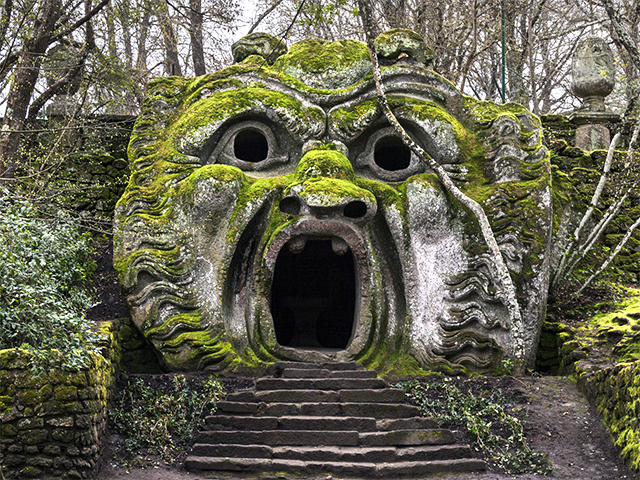 The Park of the Monsters in Bomarzo is in the region of Viterbo, not far from the town with the same name.
Inside this forest, you will be catapulted into an imaginary world, populated with mythological animals and huge stone monsters, which since over 500 years ago instill fear, surprise and wonder into every visitor.
To learn more about the history of the park, the main statues, opening hours, ticket prices and all kind of useful information for your visit, read our article about the park.
5. EASTER 2016: THE TAROT GARDEN
The Tarot Garden is in Capalbio, on the border between Lazio and Tuscany. Here, in the south slope of the Gravicchio Hill expand 2 hectares of the park where are the amazing sculptures by Niki de Saint Phalle.
The 22 statues, covered with mirrors, glass and colored ceramics, represent theMajor Arcanes of the Tarot.
Inspired by the famous Park Güell by Antoni Gaudí this garden is a continuous surprise, a splendid combination of art, nature and spirituality.
Read our article on the Tarot Garden and plan your visit!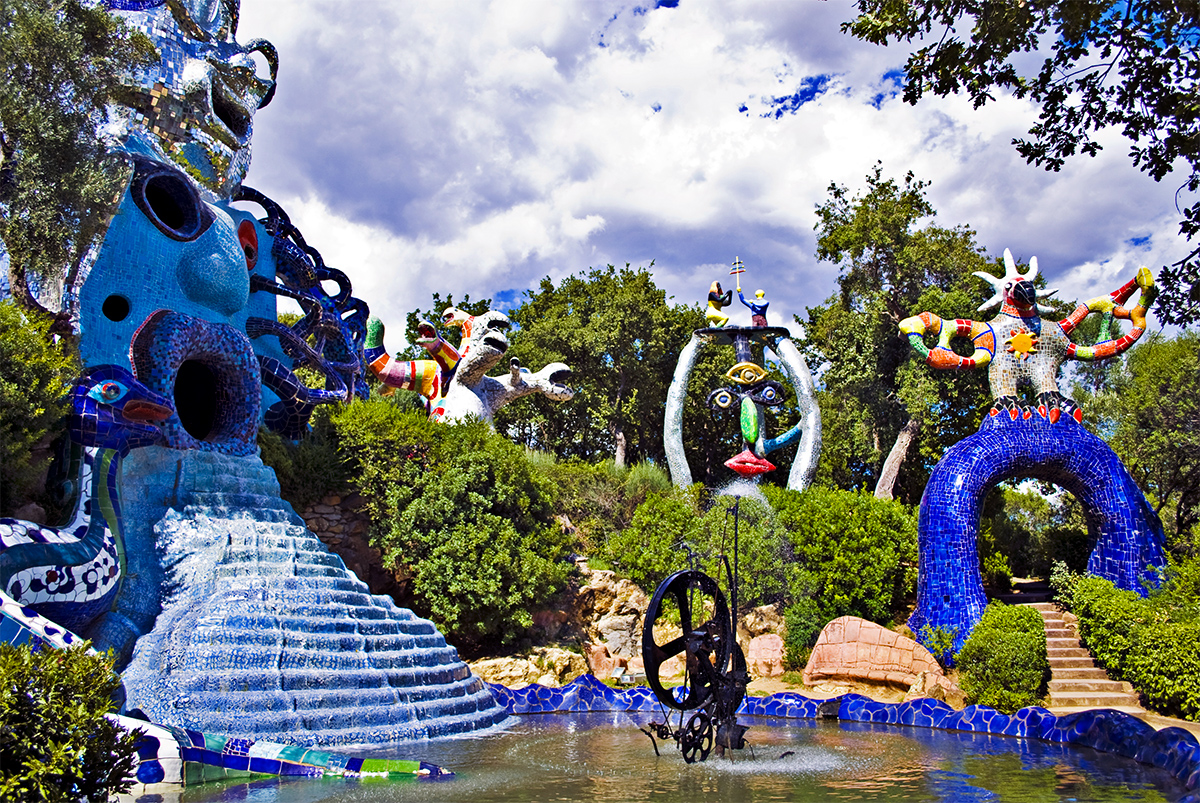 6. EASTER 2016 IN TARQUINIA: BETWEEN HISTORY AND NATURE
Among Etruscan monuments, archeological sites of international relevance, museums, a Medieval old town and yet much more, Tarquinia is always a pleasant destination to spend a different weekend.
These are 3 ideas to spend your Easter holidays 2016 in the surroundings of the capital of Etruscan art!
Visit the Etruscan Necropolis of Monterozzi (find out more)
Visit the National Etruscan Museum of Tarquinia and the old town (find out more)
Visit the Nature Reserve Saline di Tarquinia (find out more)
If you can't decide, take a look into this photogallery!
7. EASTER 2016 IN GAETA: BETWEEN SEE AND CULTURE
If you are incurable sea wolfs why don't you get the upper hand to the warm season and you allow yourself a short weekend by the sea?
Serapo, Fontania, Quaranta Remi, Ariana, Arenauta, San Vito and Sant'Agostino: these are the names of the 7 beaches of Gaeta, that from the rocky coast of the Split Mountain will lead you to the suggestive grottoes of Sperlonga.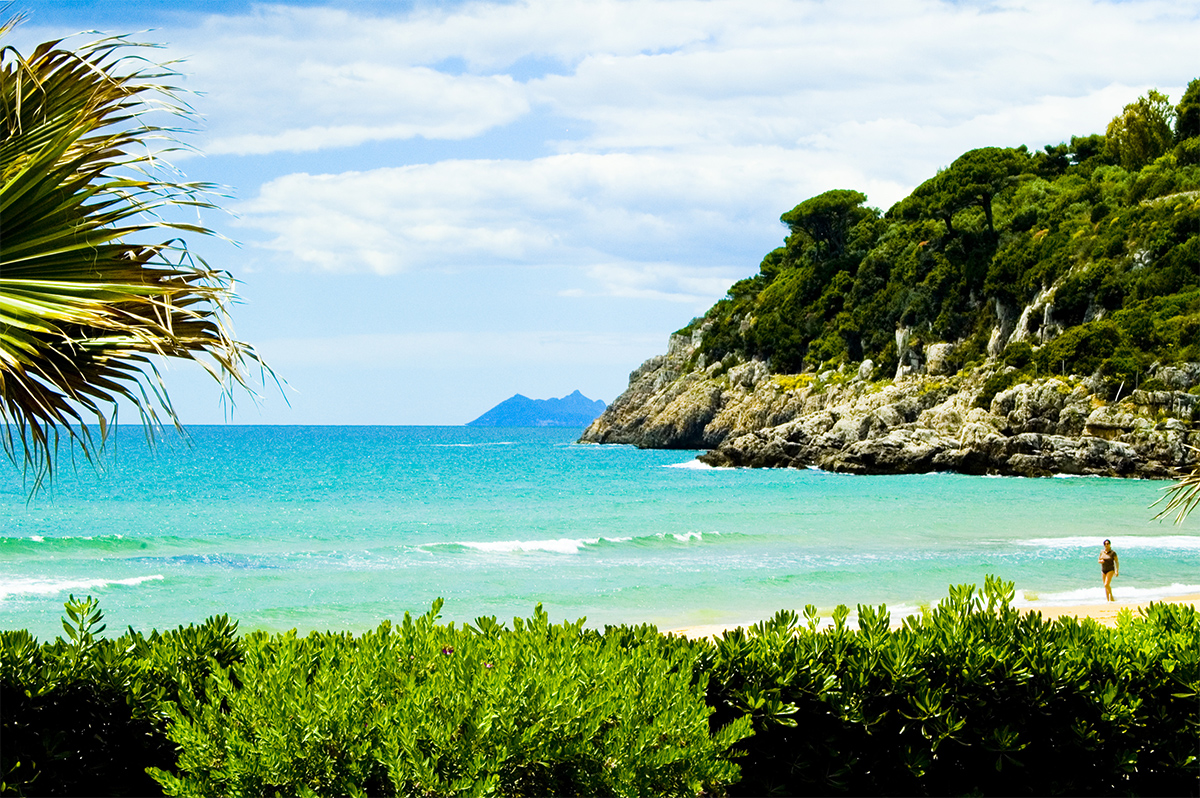 Visit the beautiful Sanctuary of the Split Mountain and go down all the 300 steps that from the hill lead to the sea level where you will find the Turk's Cave, or go uphill to visit the St. Francis' Church to enjoy some wonderful views over the gulf.
Sea, art and history are the ingredients for a relaxing weekend!

No matter what you decide, don't forget to follow us on Facebook, Instagram or Twitter and send us your pictures and travel stories.
Share this article with your friends and enjoy Easter!