The Pyramid of Cestius
Visit schedule, ticket prices and all useful information to visit the pyramid of Rome.
The Pyramid of Cestius is none other than the tomb wanted by Gaius Cestius, politician and member of the religious corporation of the Septemviri Epulonum, who stated on his will that he wanted a pyramid-shaped tomb to be built.
On the pyramid there is a Latin inscription still visible today, where Cestius required his heirs to erect the funeral monument within 330 days, otherwise thwy would lose the wealthy inheritance! The heirs did obviously not waste their time, rather it seems that the pyramid was completed in advance, between 18 and 12 BC.

WALKING TOUR OF THE STREET ART IN THE OSTIENSE DISTRICT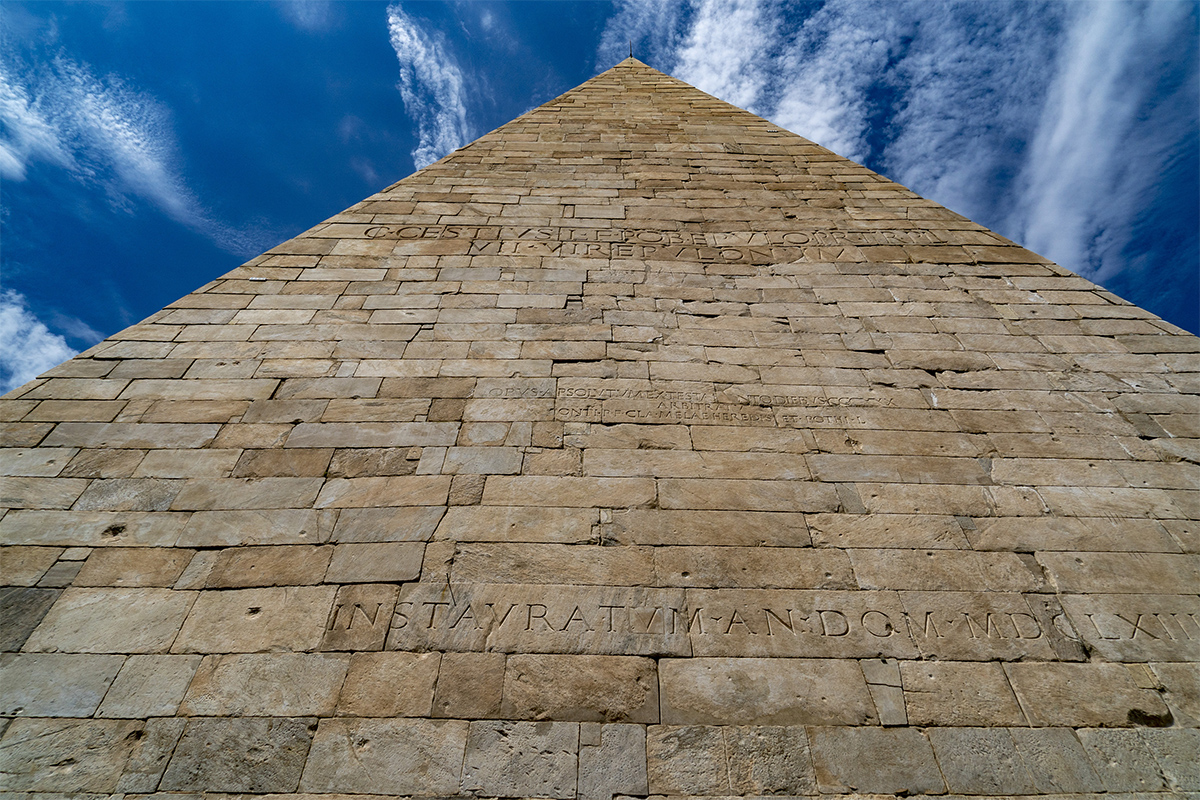 The Pyramid of Cestius is the only monument of its kind in Rome. Actually, after the conquest of Egypt in 31 BC, the fashion of funeral buildings in that period was very influenced by the Egypt tradition. The burial chamber is presented with barrel vaults and it was originally walled.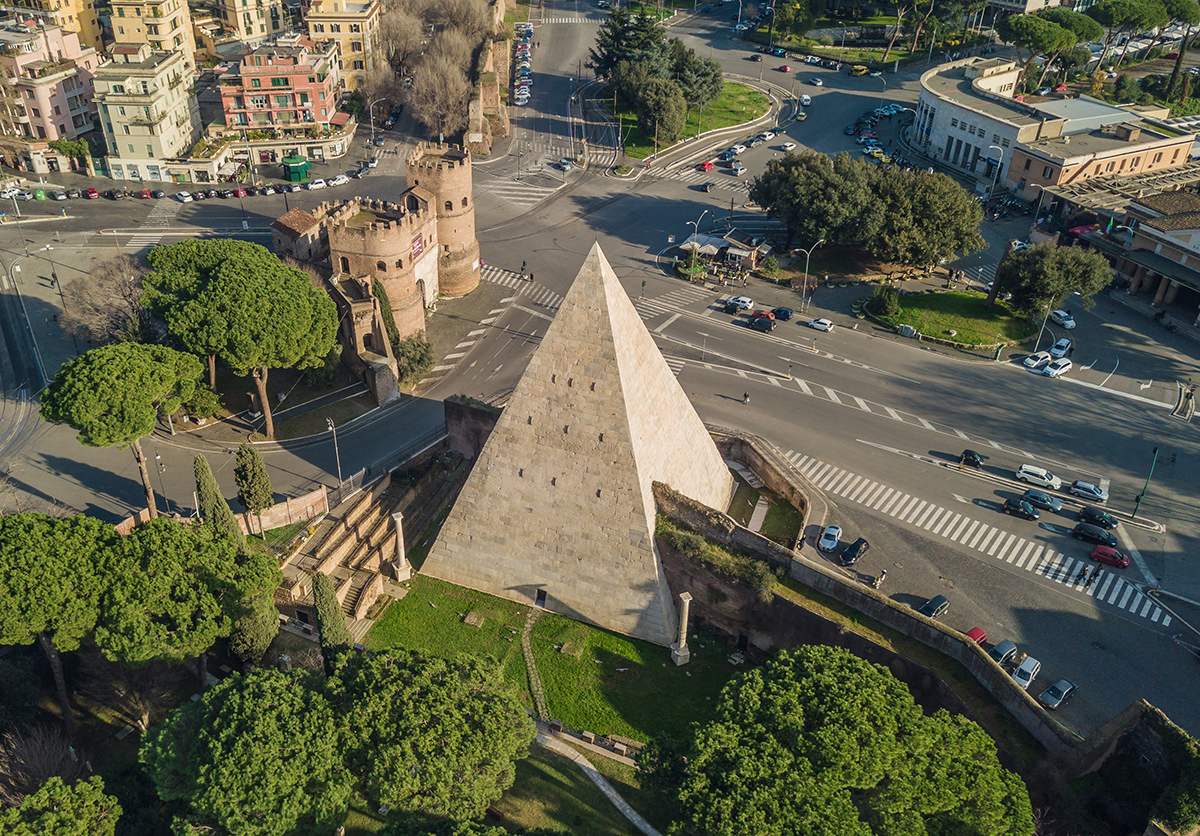 The tomb of Gaius Cestius and the inside of the Pyramid can be visited today. Check the information box below for further information. Between 272 and 279 the monument was enclosed within the Aurelian walls, a line of city walls built by the emperor Aurelian, and you can see it like this today: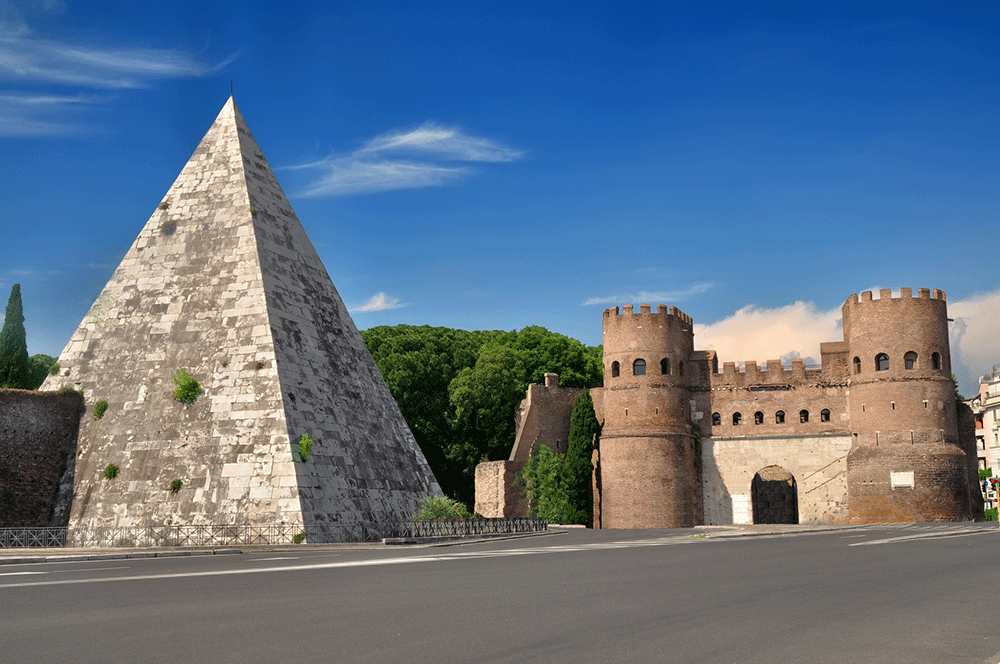 If you still have about half an hour, don't miss the very close Protestant Cemetery, situated next to the Pyramid. You will find quietness, stillness and the tombs of non catholic foreigners deceased in Rome like Shelley, Keats, Gramsci and Goethe.
Useful information
Visiting the Pyramid takes about 1 hour. Admission to the monument is only possible with an educational visit or a guide.
HOW TO GET THERE

From the Port of Civitavecchia go to the train station and take the first train bound to Rome. Get off at Roma Ostiense station and from there continue by foot for a few minutes: from Piazzale dei Partigiani, right in front of the station, you just need to take Viale delle Cave Ardeatine and get to Piazzale Ostiense. You will see in front of you the Pyramid of Cestius.

TIMETABLES

The Pyramid is open to pubblic the 2nd and 4th Saturday of every month, for individual visits at 11.00 and groups at 12.00.
The 1st and 3rd Saturday of every month, at 10.30, after the visit to the Museum of Via Ostiense, it is possible to access the Pyramid. Prior reservation is required, calling +39 06 5743193 (Museum of Via Ostiense-SSBAR).

PRICES

Admission is possible only with prior reservation. Single ticket €5.50, groups €40.00 (up to 20 people), groups with educational visit €130 (up to 20 people).
For information and reservations: +39 06 39967700 (Coopculture).