The Amerigo Vespucci is back at the Port: visiting days and hours
Visit the Amerigo Vespucci, training ship symbol of the Italian Navy docked at the Port of Civitavecchia
The Amerigo Vespucci, after finishing in Livorno the 2017 Training Campaign of the students of the first grade of the Navy Accademy will be docked from today, Saturday 30th of September 2017 at the Port of Civitavecchia.
The Trainining Ship will experience one of the most important moments off the life of the ship and its crew: on the 4th October will be held the ceremony of transfer of power between captain Angelo Patruno and captain Roberto Recchia.
During the year that Commander Patruno has commanded, he has taken the Signora dei Mari through the Atlantic Sea after 16 years of a thrilling campaign in North America, parteicipating at the celebration of the 150th anniversary of the Canadian Confederation.
On board, in Montreal, he had the honor to receive the visit of the President of the Italian Republic Sergio Mattarella.
Everybody is invited to admire and visit once again the majesty, beauty and care for details of th jewel symbol of the Italian Navy.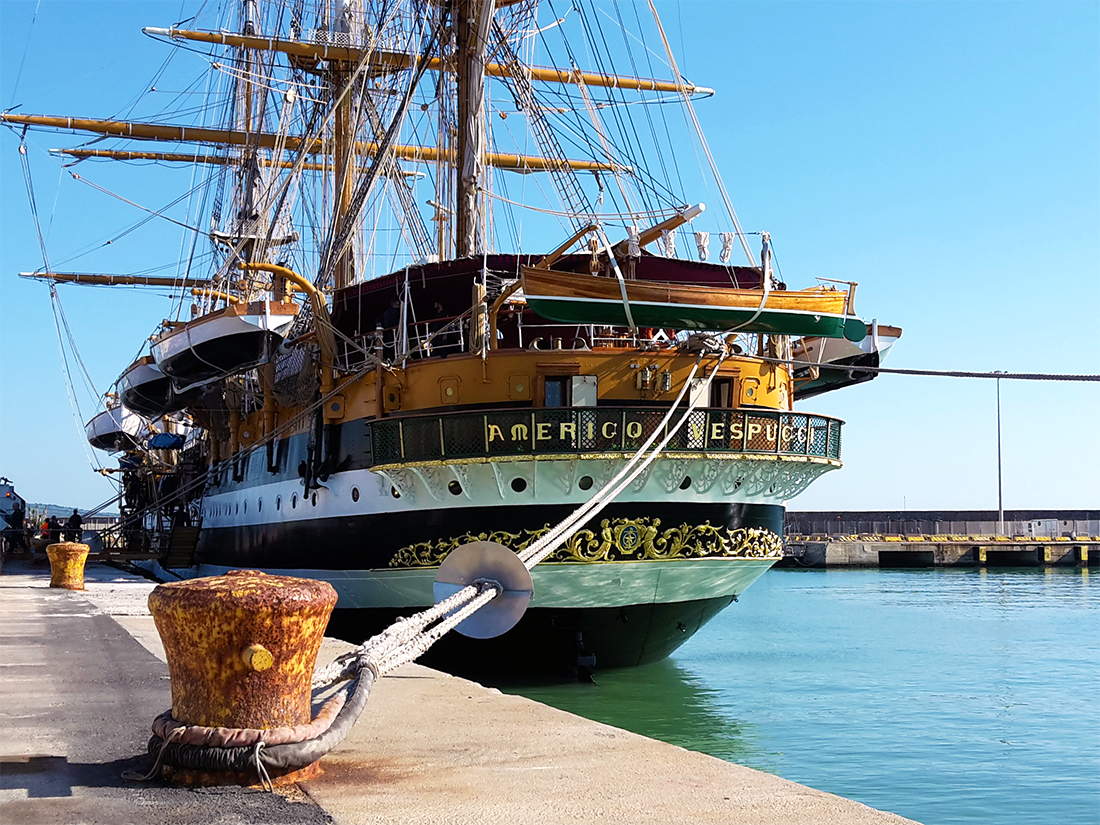 Amerigo Vespucci at Civitavecchia: visiting days and hours
The Training Ship will be visitable on:
Saturday 30th September 4 pm to 6.30 pm
Sunday 1st October 10am to 12 am and

4 pm to 6.30 pm

Monday 2nd

October 10am to 12

.30 and

4 pm to 6.30 pm

Tuesday 3rd

October 4 pm to 6.30 pm
We leave you with this wonderful photogallery of the previous visit to the Port of Civitavecchia of the Amerigo Vespucci!
Useful information
The Amerigo Vespucci at Civitavecchia: 30 September - 3 October 2017
HOW TO GET THERE

HOW TO REACH THE PORT OF CIVITAVECCHIA
MAP OF THE PORT OF CIVITAVECCHIA
The Amerigo Vespucci is moored at Dock 8

TIMETABLES

The Training Ship will be visitable on:

Saturday 30th September 4 pm to 6.30 pm

Sunday 1st

October 10am to 12 am and

4 pm to 6.30 pm

Monday 2nd

October 10am to 12

.30 and

4 pm to 6.30 pm

Tuesday 3rd

October 4 pm to 6.30 pm

PRICES

Free admission. Reservation is not required