Festivities of Trajan: Conference on Wednesday (with a final surprise)
The Conference Trajan Optimus Princeps – The ports of the Emperor will be held on Wednesday 4th October in the morning at the Conference Room of AdSP of Civitavecchia
Who was and what meant the great emperor Trajan for Civitavecchia and the Roman Empire? Is it possible for Civitavecchia and its port revive after the festivities of Trajan? How much did Trajan's choice of improving the strength Roman Navy influence? These and other questions will be answered by professors, directors, managers, admirals and captains on Wednesday 4th October at the Conference Room of the Port Authority of Civitavecchia. The conference will end with a surprise…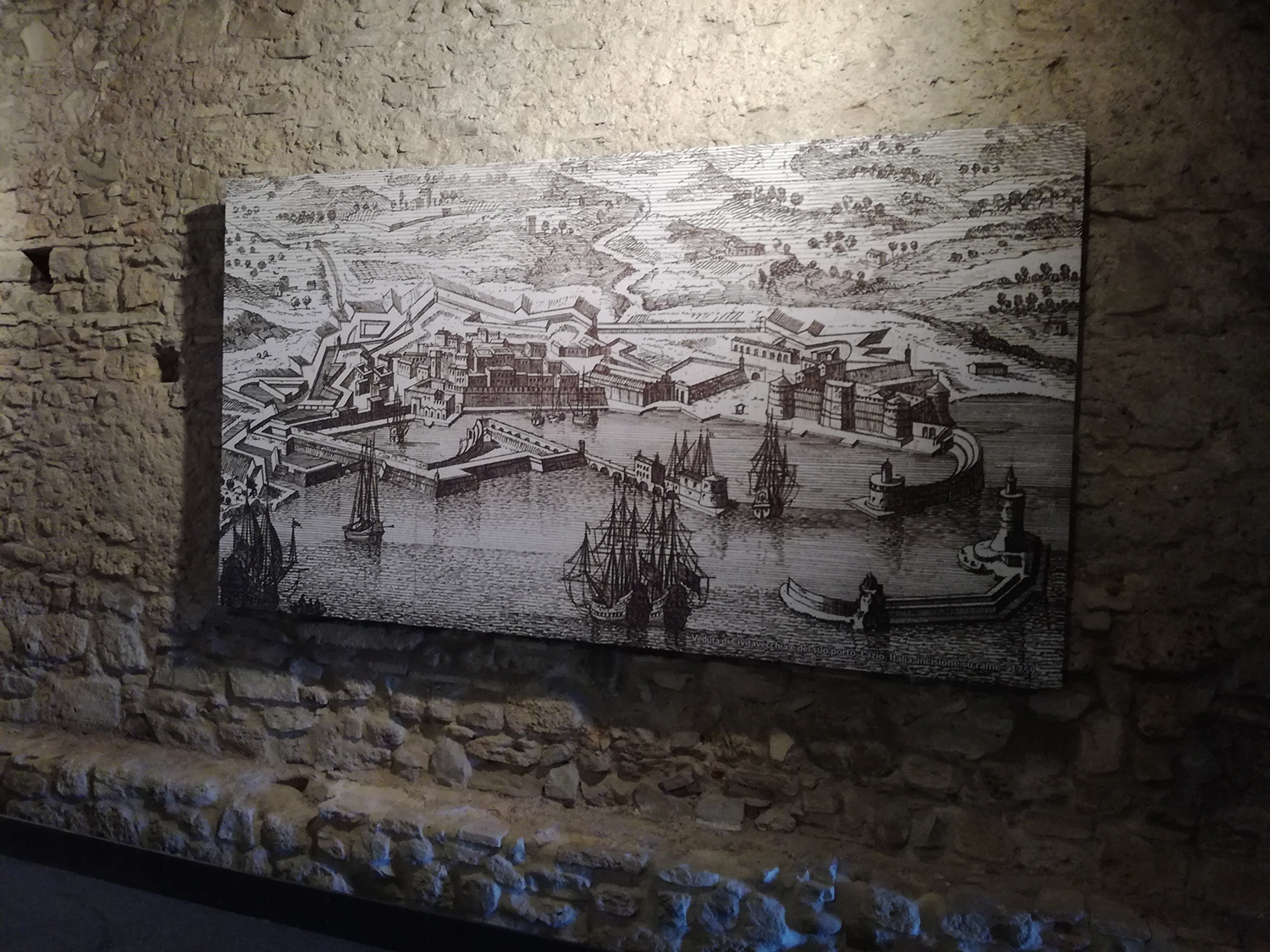 In the year of Trajan, 1900 years have passed since he died, and among the events scheduled by the Port Authority, the conference "Trajan Optimus Princeps - The ports of the Emperor" will be introduced by Advocate Francesco Maria di Majo, President of AdSP of Northern Center Thyrrenean Sea, by Dr. Alfonsina Russo, Supervisor of Archeology, Fine Arts and Landscape of Rome Metropolitan Area, Province of Rome and South Etruria, by engineer Antonio Cozzolino, Mayor of Civitavecchia and CV (CP) Vincenzo Leone, Comander of the Maritime Direction of Lazio.
1900 YEARS AGO TRAJAN: CONFERENCE WITH PINO QUARTULLO AND DI MAJO
TRAJAN OPTIMUS PRINCEPS: EXHIBITION AT THE PORT
At the conference organised in two sessions – Civitavecchia, the port of Trajano and The Strength of the Roman Navy – will participate engineer Alberto Noli, professor expert in hydraulic projects,
architect Francesco Correnti, General Director of the Interregional Consortium of Tuscia as well as honorary Inspector of MiBAC,
engineer Giuseppe Solinas, Director of the Department of Projects of AdSP of the Northern-Center Thyrrenean Sea
as well as admirals Cristiano Bettini and Domenico Carro,
doctor Roberto Petriaggi, Director of "Mediterranean Navy Archeology",
Commander Mario Palmieri, Director of CASN
and Dr. Barbara Davidde Petriaggi of Università degli Studi di Roma Tre.
The Conference will start at 9.30 am at the conference room of the AdSP of Civitavecchia. Free admission.
You will find below the official poster with the full programme.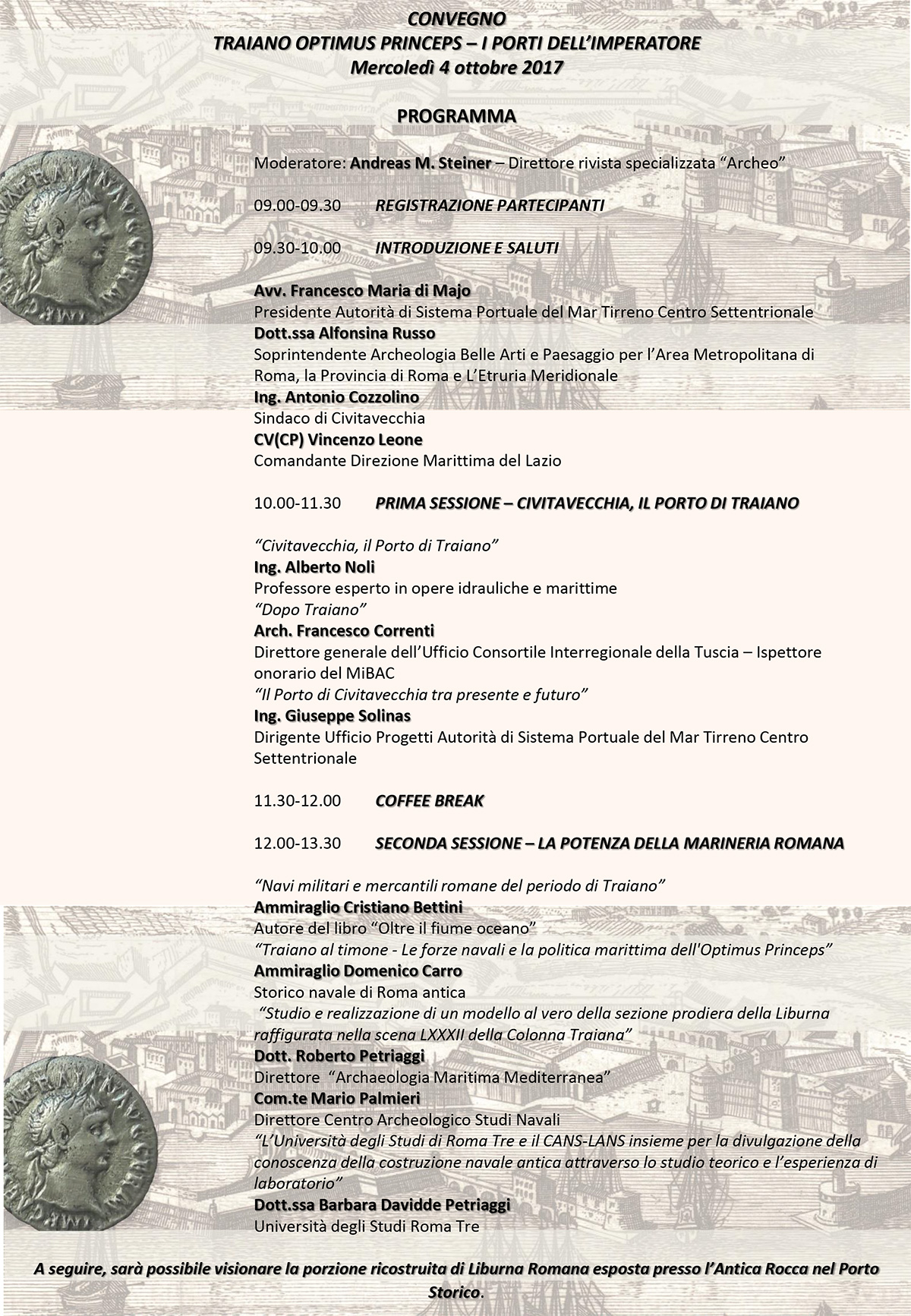 What about the surprise?
We report the press conference of AdSP: "On Wednesday 4th of October 2017, at 3 pm, the President of the Port Authority of the Northern-Center Thyrrenean Sea, Francesco Maria di Majo, at the end of the Conference "Trajan Optimus Princeps – The Ports of the Emperor" scheduled at the Conference Room of AdSP from 9 am to 1.30 pm, at the square in front of the Ancient Rock of the Historic Port of Civitavecchia, will give a press conference to present the portion of Liburna, scientifically rebuilt in life-size, and wil illustrate the future initiatives to promote the historic port of Civitavecchia."
Then, it will be possible to see the rebuilt portion of Liburna Romana at the Ancient Rock of the Port. Here are some pictures of the Liburna, taken by us when it was being built and exhibited last August at the port coinciding with the theater performance of Pino Quartullo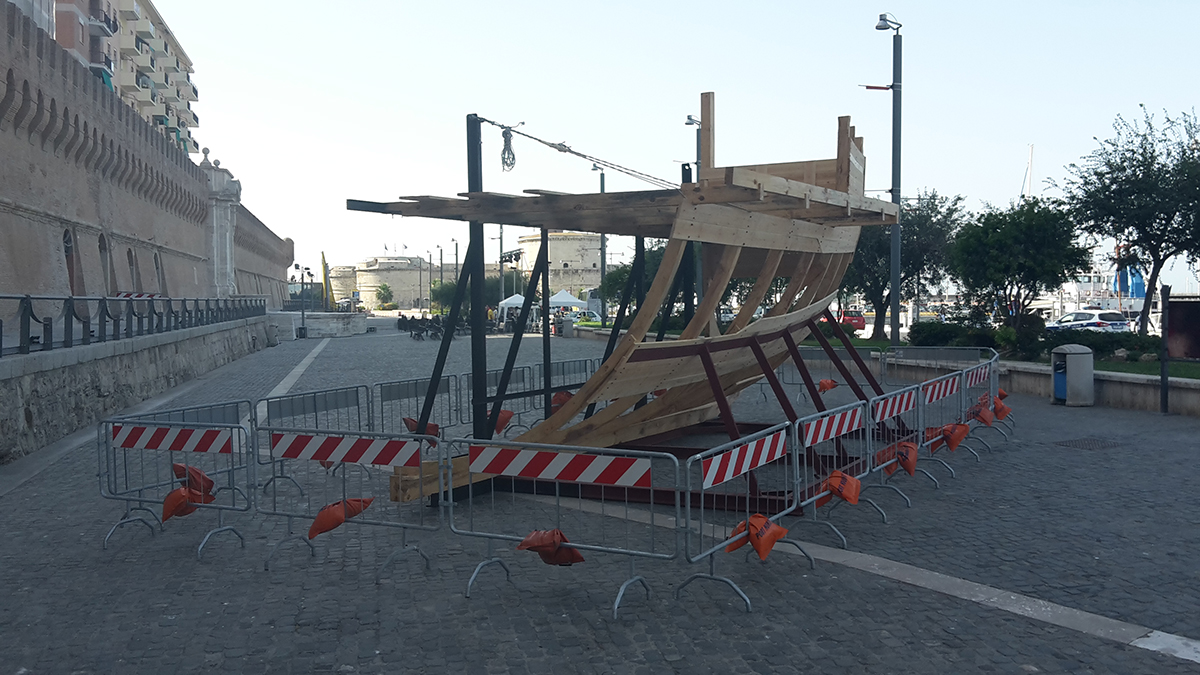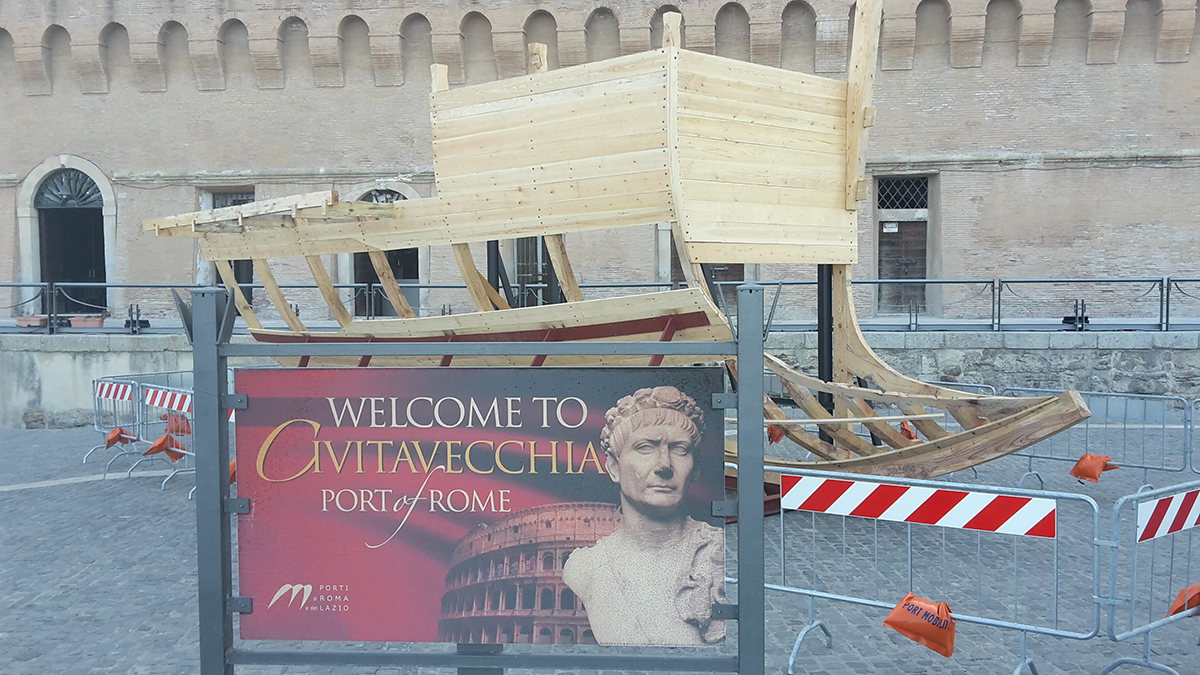 Useful information
CONFERENCE FESTIVITIES OF TRAJAN
Conference Room of the Port of Civitavecchia
Wednesday 4th of October 2017
HOW TO GET THERE

TIMETABLES

The Conference will start at 9.30 am

PRICES

Free Admission