Map of the Port of Civitavecchia
The map of the port of Civitavecchia: the 3 parking areas, the over 20 docks, the 3 information points, the terminals, the cruise and ferry areas and the historic port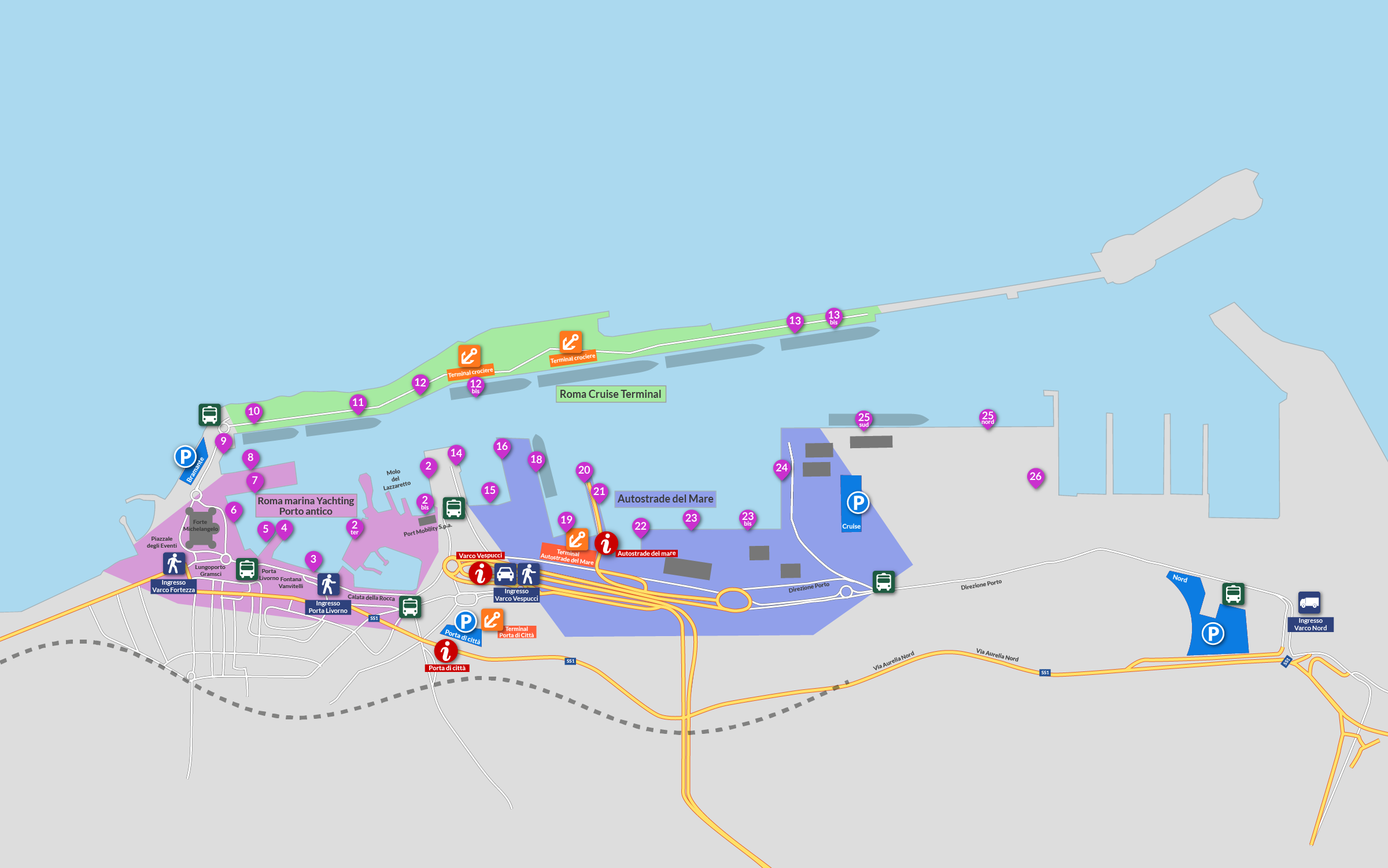 Piers
Location of all piers within the port
2

- Cinciari

2 bis

- S. Rosa

2 ter

- S. Teofanio

3

- Calata P. Tommaso

4

- Sardegna Nord

5

- Sardegna Sud

6

- Michelangelo
7

- Guglielmotti

8

- Cialdi

9

- Marconi

10

- Traianea

11

- Traianea

12

- Antemurale Colombo

12 bis

- Traianea
13

- Antemurale Colombo

13 bis

- Antemurale Colombo

14

- Albicini

15

- A. Rossi

16

- Compagnia Roma

18

- Santa Fermina

19

- Flavioni
20

- XIV Maggio

21

- XIV Maggio

22

- N.B. Commerciale

23

- N.B. Commerciale

23 bis

- N.B. Commerciale

24

- N.B. Commerciale

25 nord

- N.B. Commerciale
Info point
Traffic, mobility information, arrival and departure times
Terminal
Cruise ship, ferry and Porta di Città terminals. The entrance to Roma Cruise Terminal is allowed only with shuttle buses leaving from Porta di Città or from the parking facilities.
Pedestrian entrance
Pedestrian entrances to the port are located close to Varco Fortezza, Varco Vespucci and Porta Livorno
Vehicle entrance
The only entrance allowed to vehicles is located close to Varco Vespucci
Truck drivers entrance
Through Varco Nord entrance is allowed exclusively to truck drivers and service personnel. Exit is allowed also to tourists and visitors.