Futuremed: final conference at the Port of Civitavecchia
Competitiveness of Mediterranean ports. The final conference of the Futuremed project will be held in the port of Civitavecchia next May 20th
"Perspectives and recommendations for the competitiveness of the Mediterranean port systems". This is the title chosen by the organisers of the Futuremed Project for the final conference that will be held in the port of Civitavecchia between 18th and 20th May 2015.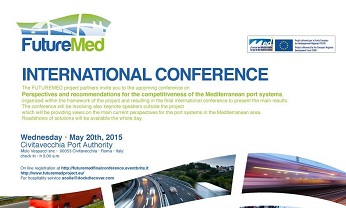 Briefly, on May 20th will take place the Futurmed concluding conference, European project aimed to improve the competitiveness of the port systems in the Mediterranean area. It will be a time to discuss and analyze emergent perspectives, and to understand the main recommendations for the Mediterranean port systems.
The Conference will involve Pasqualino Monti, President of Port Authority of Civitavecchia, Michele Civita, Councillor for Mobility of the Lazio Region, Giuseppe Tarzia, Harbour Master of Civitavecchia, Antonio Cozzolino, Major of Civitavecchia, Miltiadis Provatas, Hellenic Minister of Infrastructure, and others.

The general aim of the Futuremed project is to increase competitiveness in the port systems of the catchment area concerned, through technology and procedural innovations, with a view to efficiency and sustainability.
FUTUREMED: WHAT IT HAS PRODUCED AND THE TEST AT LARGO DELLA PACE
The project, which was put into action when an Infomobility online platform and a travel planner service were launched, allows tourists and travellers to easily find their bearings and get around. In the past few days, at the Information point of Largo della Pace, Port Mobility staff has been providing the typical tourist and mobility information using the online services, thanks to this project. Impressions and feedback from tourists have been collected on purpose and they will be presented at the final conference on May 20th.

The project involves a wide geographical area, including Italian, Greek, Spanish, French, Slovenian and Cypriot partners, as well as associated partners from Malta, Croatia and Morocco.

The final conference will take place in a day structured in three sessions, both institutional and technical. On May 20th, from 9.30 am to 5.30 pm, are scheduled interventions of Medcruise, Association of Mediterranean Cuise Ports, and international logistics operators, as well as Futurmed partners. In the afternoon there will be a live exhibition of the project outcomes.

DOWNLOAD THE FINAL CONFERENCE AGENDA
REGISTRATION OF THE CONFERENCE
Useful information
FUTUREMED, FINAL CONFERENCE 05.20.2015
HOW TO GET THERE

TIMETABLES

May 20th 2015, 9.30 - 17.30

PRICES

FREE ADMISSION