Mediterraneo: the travelling exhibition at Fort Michelangelo
Fort Michelangelo will host until Sunday 30th June the travelling exhibition "Mediterraneo" with the works of Salvatore Attanasio Avitabile dedicated to the monuments of Civitavecchia.
Today the travelling exhibition "Mediterraneo" by painter sculptor and designer Salvatore Attanasio Avitabile will be openend at the Library Room of Fort Michelangelo.
The exhibition will have free admission and it will be open until the 30th June from 10am to 1pm and from 4pm to 7pm.
The project "Mediterraneo" reaches the 8th edition and it counts with the support of the City of Civitavecchia, the Gualdo Tadino Museum Pole and Auction House Babuino di Roma as well as many Italian universities.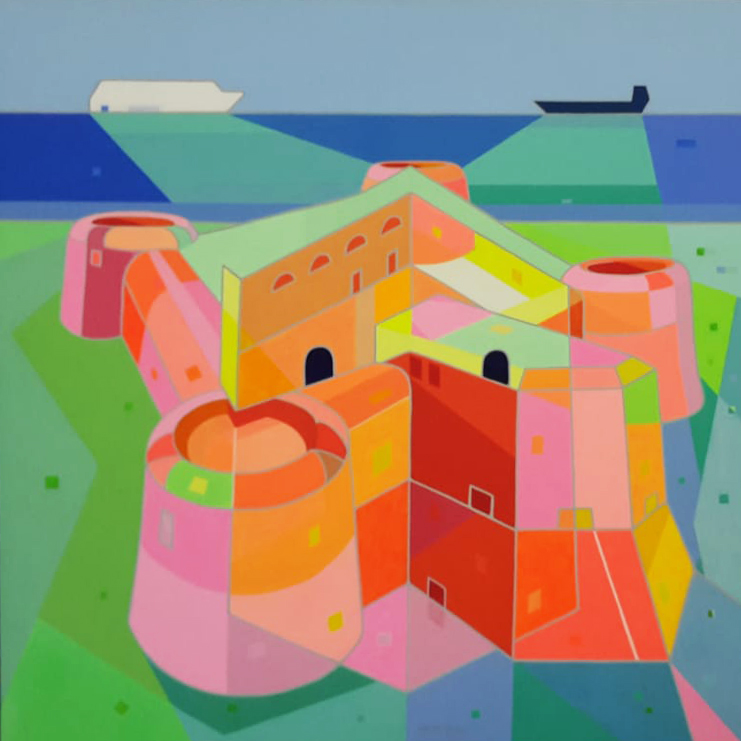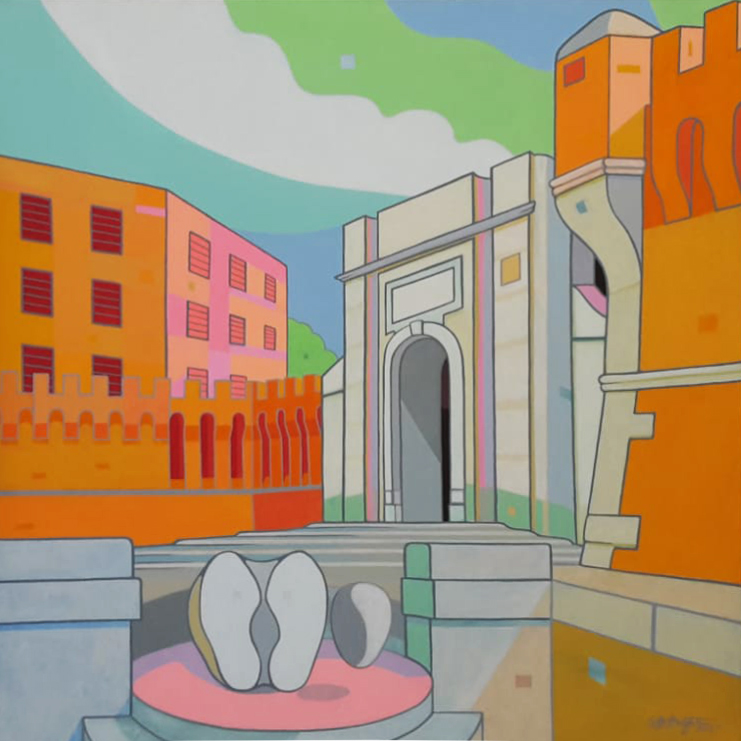 The artist preferred topics are mythology and ancient Mediterranean civilizations, as well as current issues such as sea pollution or clandestine immigration.
A particular fact about this exhibition is that at every edition Avitabile shows different works, inspired by the city where the exhibition takes place. For instance, in Gubbio Avitabile showed a painting reinterpreting a fresco by Ottaviano Nelli da Gubbio, and at the Gualdo Tadino Museum, he showed a work dedicated to immigration.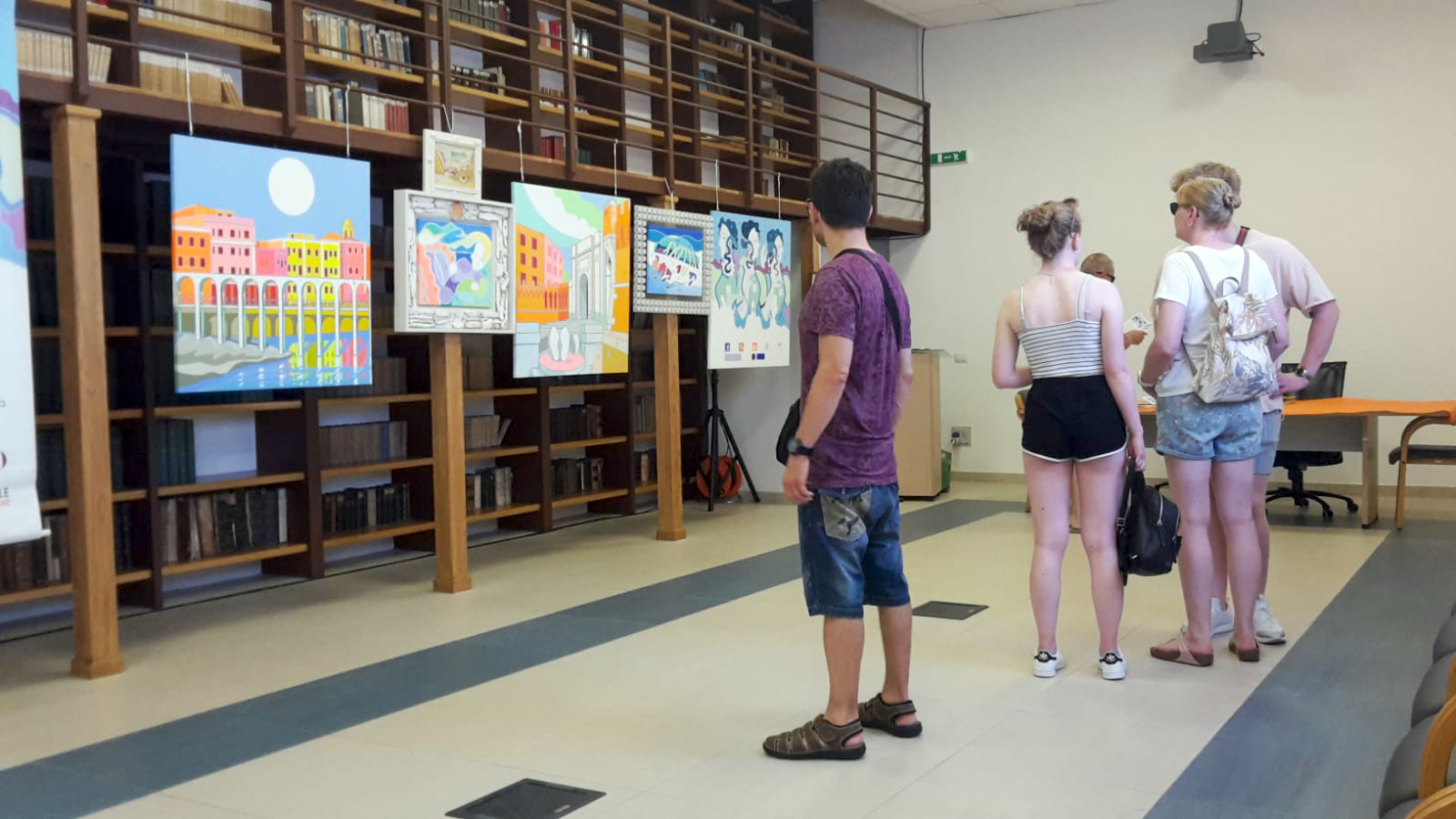 In Civitavecchia the star is the "Port of Rome" with a series of paintings of the main monuments of Civitavecchia, including Fortezza Giulia (Fort Michelangelo) in an unusual geometrical interpretation in bright colours, and Porta Livorno, the Pirgo, or Piazza Saffi with the famous arch.
Live and bright paintings that hide the chromatic explorations of the artist, who in a personal cathartic process, wants to remind us of what hides behind everyday live, in a continuous process of research and restructuration of shapes and colours.
Avitabile tells us that the inspiration for this complex project came after watching the beautiful play about emperor Trajan performed by Civitavecchian actor and director Pino Quartullo in the Historic Port two years ago.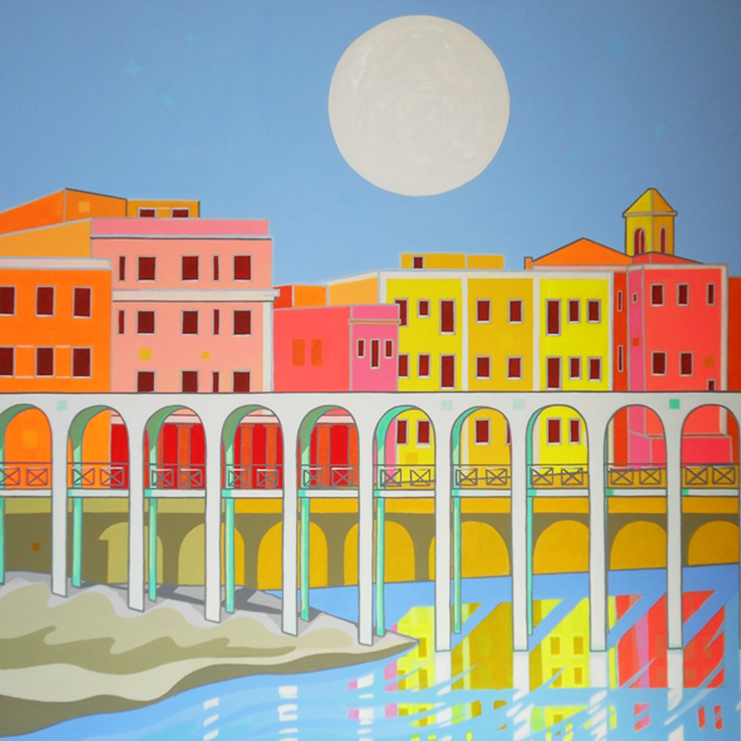 "Inspired by the great emperor, who was praised even by Dante, – points out Salvatore Attanasio Avitabile – I started a personal research about the great ancient civilisation that ruled the Mediterranean. The rest came by itself as a consequence of a production of about a hundred works of many different topics that the Mediterranean suggested to me. It was like painting a personal diary of my journeys."
This is an unmissable exhibiton for both Civitavecchians and the many tourists arriving at and departing from our port, who can discover or rediscover the monuments of the city under a different light.
Useful information
MEDITERRANEO
Travelling exhibition by Salvatore Attanasio Avitabile
From the 27th until the 30th June 2019
HOW TO GET THERE

The exhibition will be held at the Library Room of Fort Michelangelo (Historic Port of Civitavecchia):
enter the port through "Varco Fortezza", go to the main entrance of Fort Michelangelo and follow direction for the exhibition. The room is in the first floor.
HOW TO GET TO THE PORT OF CIVITAVECCHIA
MAP OF THE PORT OF CIVITAVECCHIA

TIMETABLES

The exhibition will be open from the 27th until the 30th June 2019:

Morining: 10am - 1pm

Afternoon: 4pm - 7pm

PRICES

Free admission