Civitavecchia: historic Sørlandet arrives at the port
The beautiful Sørlandet, oldest full rigged ship in the world still in operation, will be in the Port of Civitavecchia from the 25th until the 30th of October: how and when to see it
Sørlandet, full rigged ship in the world still in operation, arrives at the Port of Civitavecchia! And we think it is not only the oldest but also the most beautiful. If you don't trust us, take a look at this photogallery:
Considered Cultural Heritage of the Maritime History of Norway, it was previously a sailors training ship, and it is now available for adventure cruises for "young people" of any age. Unfortunately, it will not be visitable inside "unless the captain changes his mind" we are told, but we recommend to all photography lovers and people passionate about the history of the sea to go to dock 5 of the Port of Civitavecchia to admire this uesta magnificence. The ship will leave on Monday 30th October at 6 pm..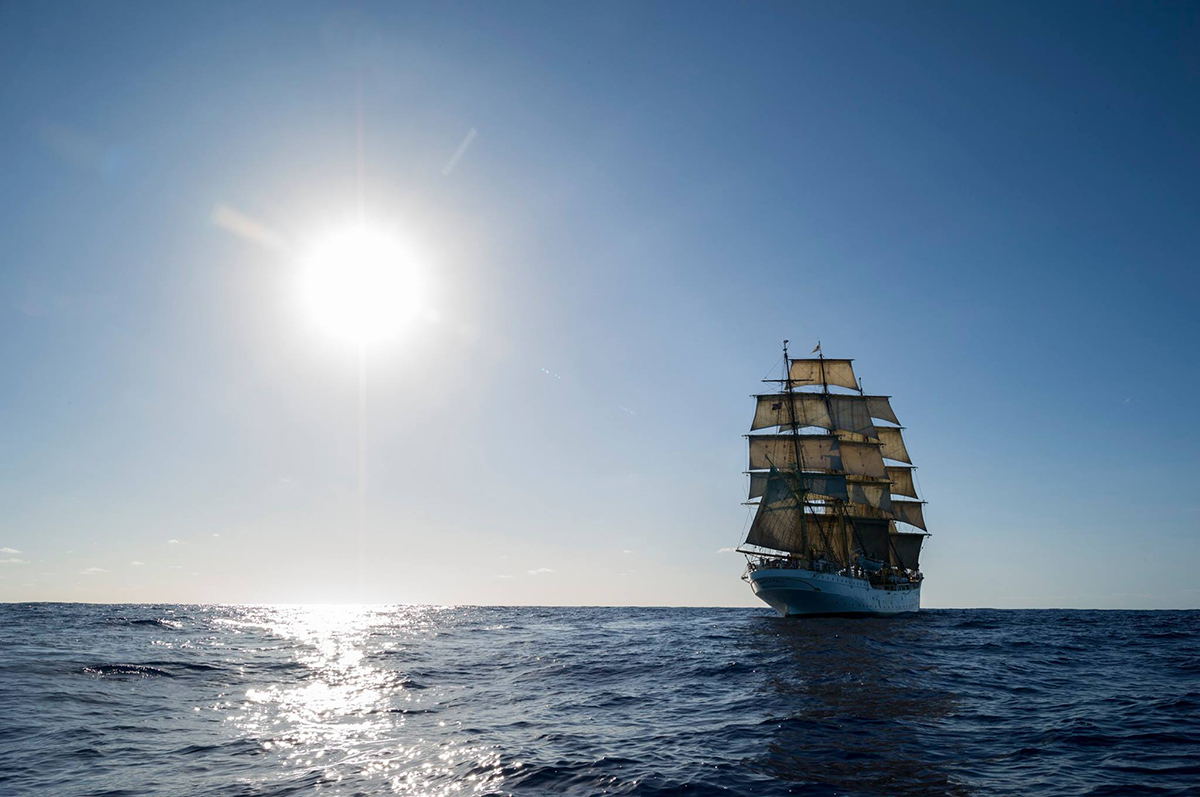 PLAYING TO BE SAILORS: A UNIQUE EXPERIENCE
The Sørlandet is a training sailing ship owned and managed by a non-profit organisation with the aim to offer to general public the possibility to experience traditional life on board a ship, at the same time that they keep alive this historic ship by using it actively.
Anyone can then book a charter cruise, participate to and organize parties on board or just sign up as sailor trainees to live a really unique experience becoming for some weeks a helmsman, a ship security expert and learning some tecniques of sail rigging. Prior experience on navigation is not required, all detailed instructions are given on board. You can also climb the masts, obviously with a member of the crew and a big dose of courage: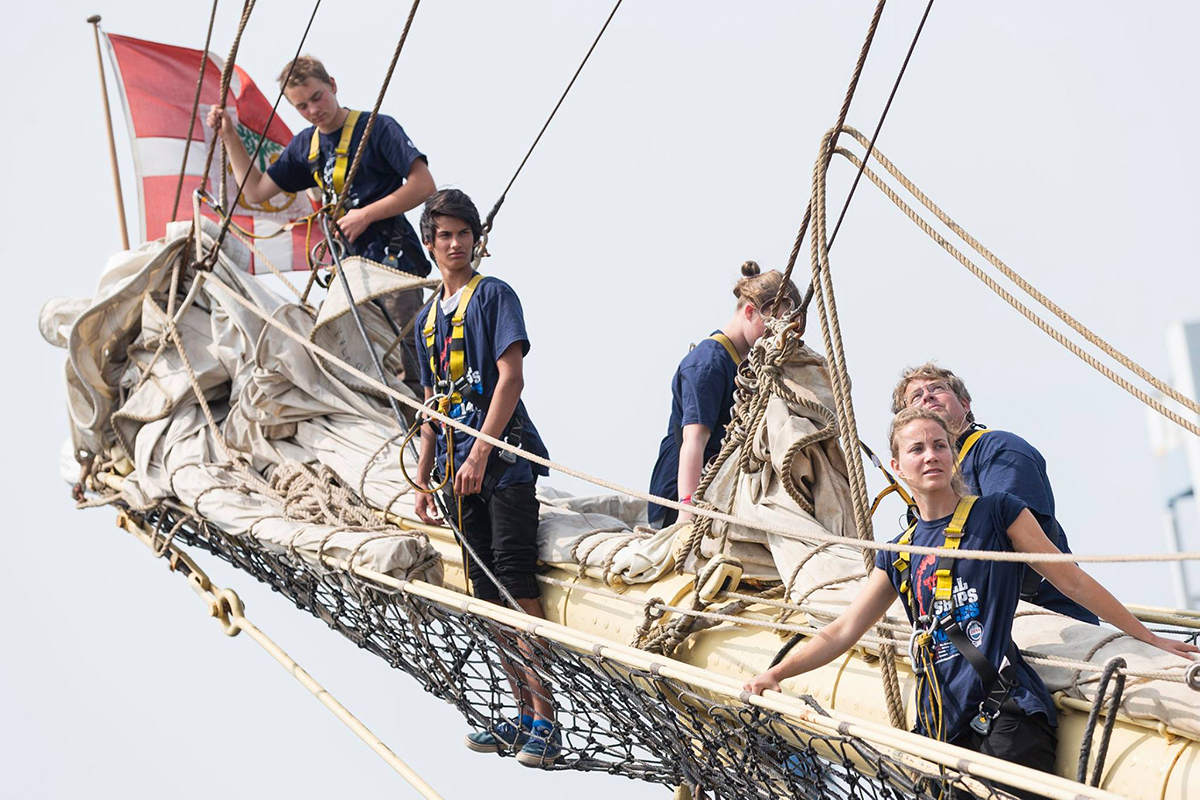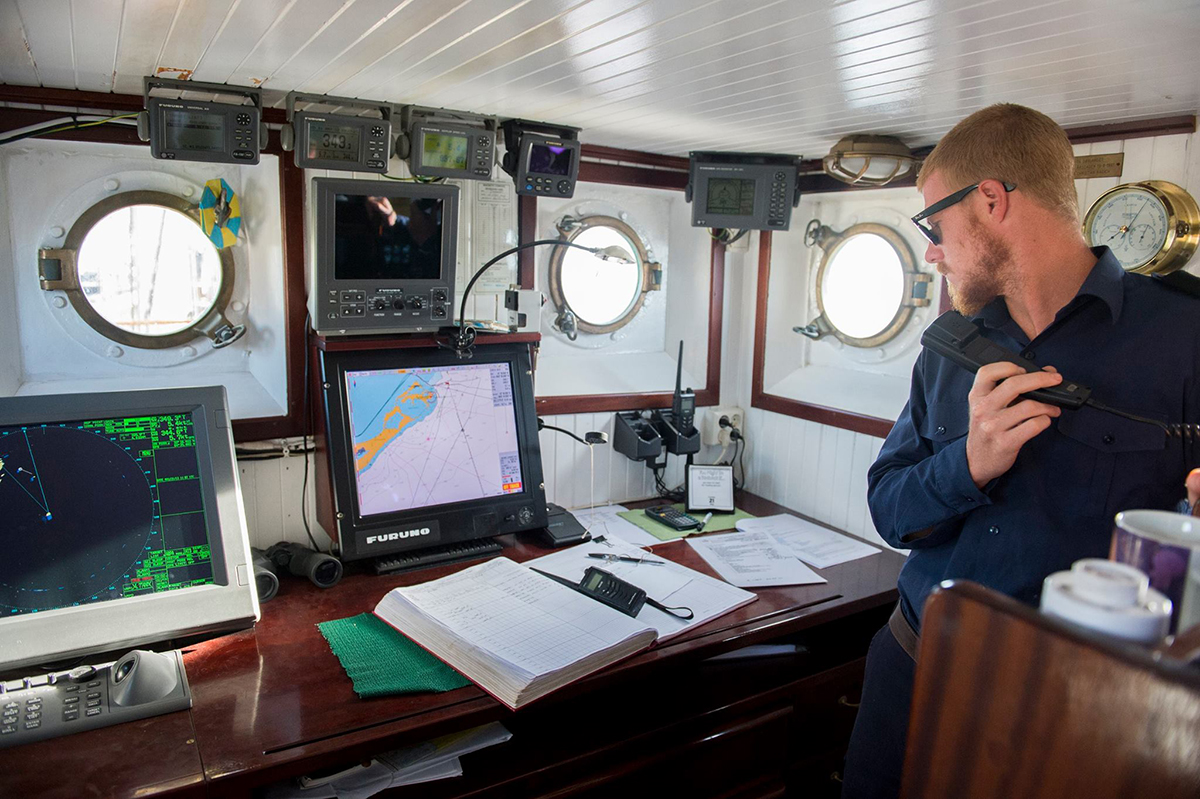 A HISTORIC SHIP IN EVERY WAY
The Sørlandet was built in 1927 in Kristiansand, a city on the South coast of Norway. The name of Sørlandet comes from the coast region that separates Norway from Denmark and it also means literally land of the South. It is the oldest of the three Norwegian Tall Ships, called the "Great Trio of Norway".
In 1927 ship owner O.A.T. Skjelbred built Sørlandet for 25,000 pounds sterling. When she was launched she measured 210 feet in length and 577 gross tons. She had no engines. As part of "Sørlandet's Seilend Skoleskibs," she played a vital role in the education of young seamen from the southern region of Norway.
On her maiden voyage to Oslo in 1927, Sørlandet was inspected by King Haakon and Crown Prince Olav. Later in the same year, she sailed for London with 90 young men on board as trainee crew. She sailed to Chicago to take part in the World Fair in 1933. Being the first Norwegian training ship to cross the Atlantic Ocean.
Sørlandet was damaged during World War II and restored in 1948. In 1958 she was equipped with an engine. In 1974 she was no longer used as a public training vessel and was sold to ship owner Staubo. She deteriorated considerably until 1977, when ship owner Skjelbred returned her to the city of Kristiansand. In 1981, foundation "Stiftelsen Fullriggeren Sørlandet" was established and it has been the owner and operator of the vessel since. Sørlandet crossed the Atlantic four times in 1981 and she has sailed to many seas and ports along the years.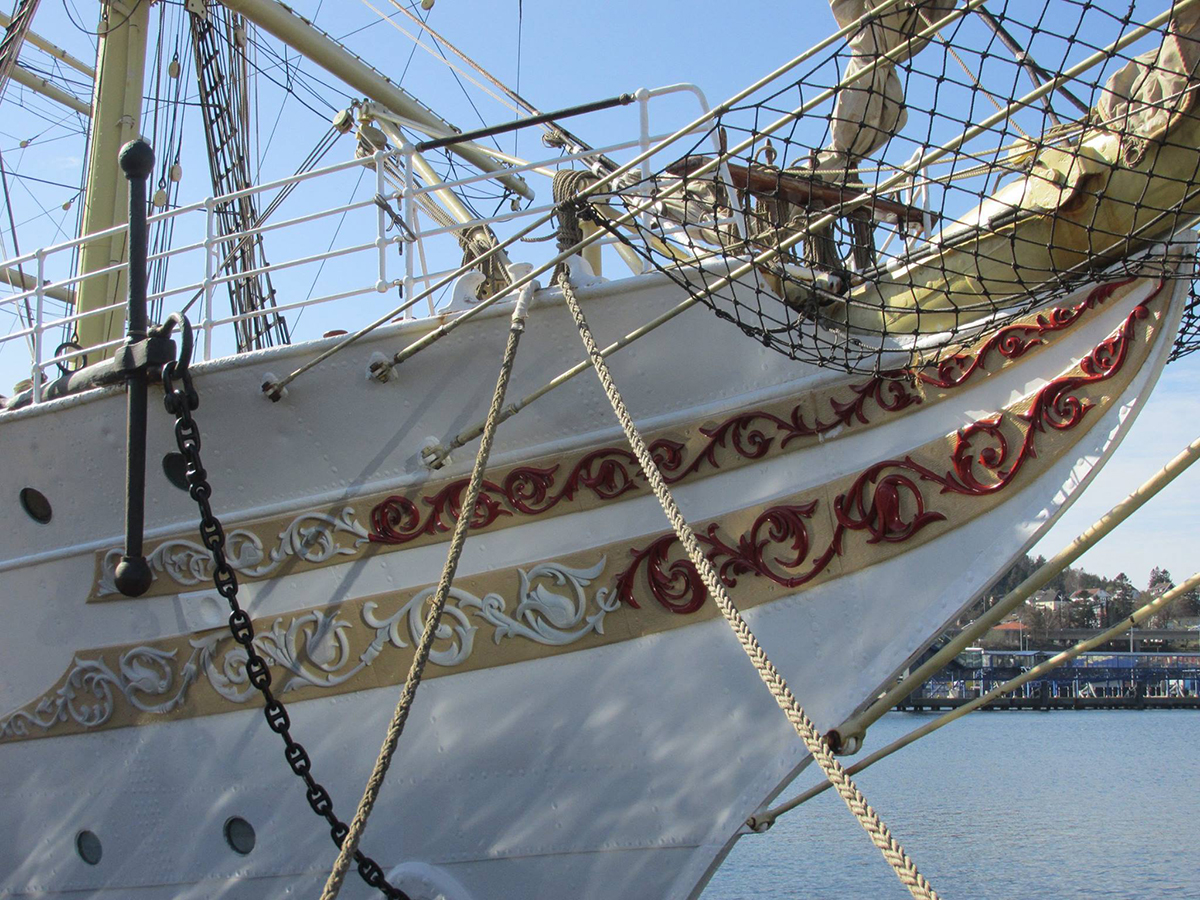 By the end of the 90s she is affiliated to Royal Norwegian Navy and Norwegian Ship Owners' Association.
Sørlandet is now 499 gross tons, she is modern and well equipped with air-conditioning but it is otherwise in her original condition (and beauty). The main engine is of 560 HP. In the summer of 2012, Sørlandet spent four months on dry-dock at Tuzla, Istanbul for a major restoration project which included the replacement of many of her riveted steel hull plates, support systems and a complete rebuild of the main 'Banjer' area, where students sleep and attend classes.
Today the foundation operates the A+ World Academy. Together, Sørlandet and A+ World Academy circumnavigated the world. Between 2015 and 2017 Sørlandet has visited 22 countries and more than 44 cities.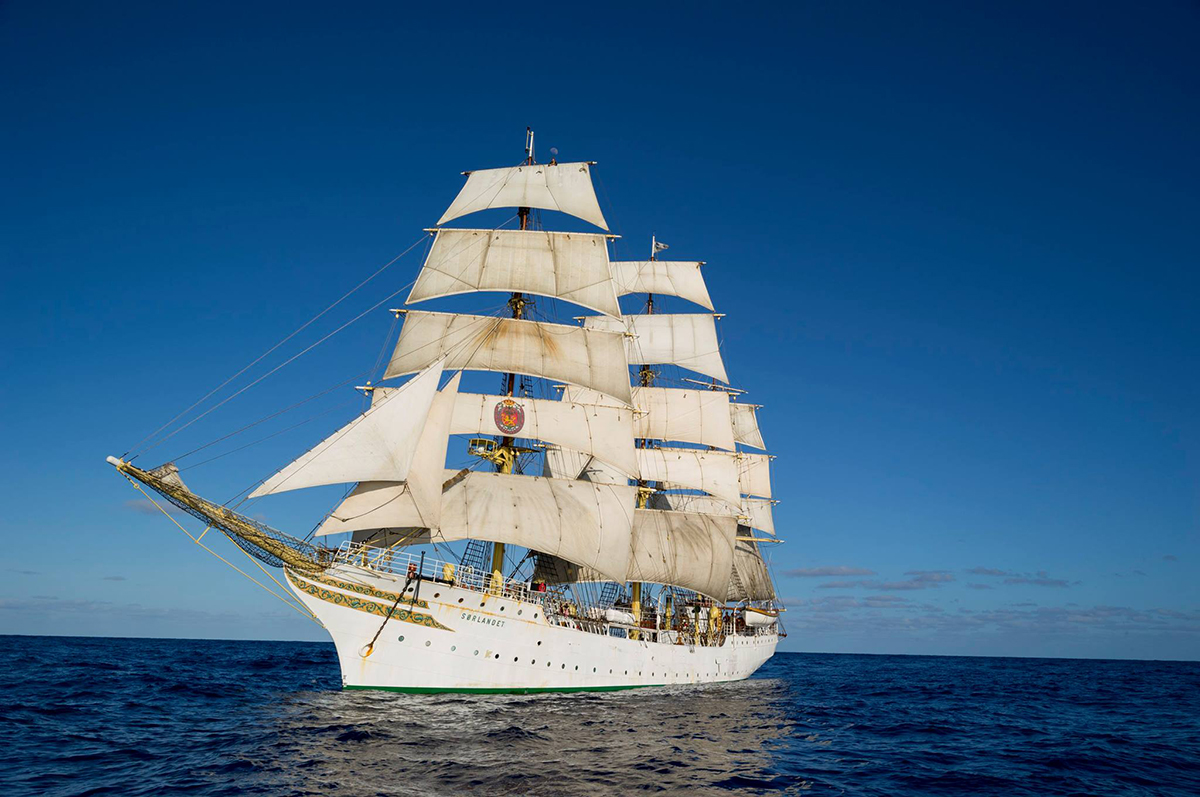 AMAZING DATA AND RECORDS
She is 499 gross tons, 56 meters long and 9 meters wide, 4.5 meters of draft, 27 sails, 15/20 permanent members of the crew, capacity of 70 passengers on navigation and maximum 150 passengers at port, sail area 1.240 square meters.
These are the records of the ship:
Oldest full rigged ship in the world still in operation;
First Norwegian training ship to cross the Atlantic Ocean in 1933;
First sail training ship in the world open to women (1981);
It participated to the first international Tall Ships Race in 1956;
It has participated to many port festivals in Europe and the United Stated
You can admire the sailing ship at dock 5 of the Port of Civitavecchia from 10am on the 25th October to 6pm on the 30th October 2017.
Useful information
Civitavecchia: historic Sørlandet arrives at the port​
Visit the official site
HOW TO GET THERE

TIMETABLES

Sørlandet will be moored at dock 5 of the Port of Civitavecchia from 10am on the 25th October to 6pm on the 30th October 2017.
It can't be visited inside, but you can admire it from the outside and take pictures from dock 5.